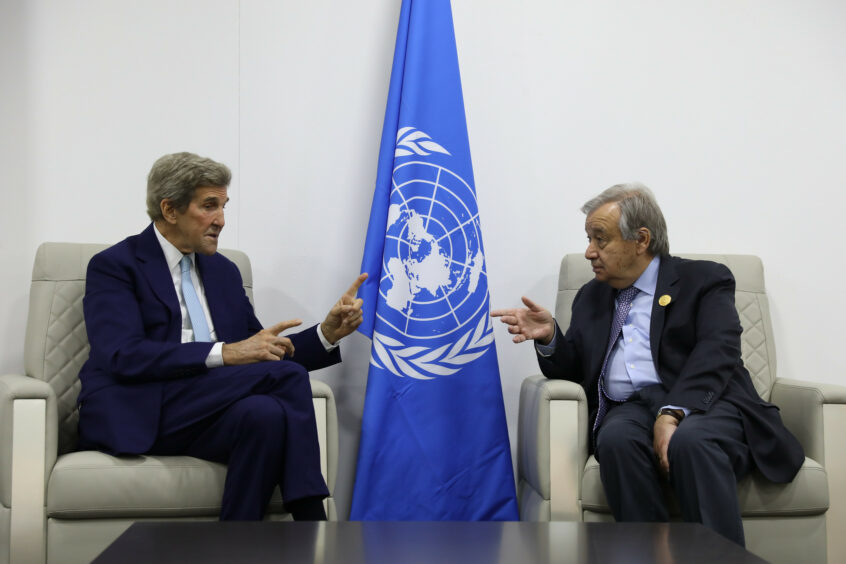 John Kerry announced the launch of the Energy Transition Accelerator (ETA) at a side event at COP27. It is a new initiative intended to use the voluntary carbon markets to scale up investment in renewable energy and help phase out coal-fired power in emerging markets.
The ETA offers an opportunity to scale up climate finance and action.
The initiative already has support from philanthropy and emerging market leaders, though experts express concern about the impact on climate finance and the voluntary carbon markets.
Serious questions remain as to how to develop a credible process that results in actual emissions reductions.
As he launched the initiative, Kerry said: "The bottom line is the imperative urgency of keeping 1.5 alive. We can only achieve the goal we have set if we urgently and dramatically reduce our emissions. It's the only path. It's the science. It's mathematics."
"We need to accelerate the clean energy transition and that needs money. $2.5-4.6 trillion is going to be needed every year from now until 2050 and the majority needs to be spent in emerging and developing markets. Leaders say they want to transition to clean energy but the single biggest absence is the money dedicated to cutting emissions and no government in the world has the money to get the job done."
The introduction of the ETA is seen as an opportunity to engage the private sector in raising the finance for the necessary action.
The energy transition challenge in Africa
As the COP is being held in Egypt, Africa's energy needs are centre stage. One of the massive challenges in Africa facing the negotiators is how to meet growing energy demand in emerging economies while still phasing out coal. Andrew Steer, president of the Bezos Earth Fund said that we need to decommission 925 coal-fired power plants every year to stay on track.
While that might be easier in the developed world where that transition has begun, it is a harder argument to make in situations where the obverse is lack of access to electricity at all.
Burning fossil fuels for power generation in emerging and developing economies accounted for 9.8 billion tons of CO2 emissions in 2020, double the annual emissions of the United States.
Without sufficient investment to reduce these emissions, it will be impossible to prevent the worst of the climate crisis. A just energy transition offers the opportunity to connect billions of people to reliable, renewable electricity, many for the first time. Steer added: "We believe voluntary carbon markets have a role to play."
What is the Energy Transition Accelerator?
What was launched was a partnership between the US government, the Rockefeller Foundation, and the Bezos Earth Fund to work toward the creation of an accelerator intended to catalyse private capital to accelerate the clean energy transition in developing countries. Kerry said that the announcement is only the first step and that the ETA will be developed with all stakeholders.
It is intended to deliver finance at scale combined with environmental integrity. The idea is that it will be an independent initiative to drive private investment in comprehensive energy transition strategies that do two things: accelerate the deployment of renewable power and the retirement of unabated coal-fired power using the carbon markets.
Given the report of the HLEG for Net zero and its recommendations that only high-integrity credits should be used on a path to net zero, and never as a substitute for emissions reduction – effectively calling for fewer and higher quality credits – it is going to be interesting to see how the US proposal works in practice.
Obviously, given the history of the carbon offset market, there would be concerns about misuse and greenwash. Kerry was adamant however that the lessons of the past mean that it's now possible to institutionalise safeguards around credit use. He said: "Some past abuses have discredited credits but with the right safeguards, accountability and credibility it is a tool that can work."
As a starting point for example, in order to buy the credits companies (fossil fuel companies are excluded) must have a net zero target, an SBTI goal and not use those credits as a substitute for action on emissions.
Kerry pointed to Al Gore's announcement of Climate TRACE which, he says, provides data which can effectively trace not only the carbon footprint of a country but also the total supply chain of a business. Such technologies will make it possible to hold companies accountable for their commitments and their actions. Kerry was clear: "no double counting, no greenwash".
One of the most popular elements in the announcement was the news that 5% of the proceeds will go directly towards adaptation finance. Critically, it will be a time-limited mechanism, running to 2030/2036 in order to stimulate early action on scaling finance and reducing emissions.
How will the ETA work?
The ETA will take a jurisdictional approach, similar to approaches currently employed in the forestry sector, to help avoid emissions leakage, ensure that emissions reductions are real and additional, and align a jurisdiction's power sector policies, investment priorities, and just transition strategies.
While incentivising system-wide transformation, jurisdictional arrangements can also help steer finance to discrete projects producing deep, rapid emission reductions. Participating jurisdictions will have the option of issuing marketable carbon credits on verified emissions reductions. The credits could then be purchased by companies, including through advanced purchase agreements, which would create a predictable finance stream to de-risk and leverage other forms of finance.
Revenue raised through the ETA is intended to supplement other sources of climate finance being mobilised by governments, donors, and multilateral and private financial institutions, not replace it.
There are also a range of provisions under discussion that are intended to establish strong transparency requirements and address how companies' investments in verified emissions reductions through the ETA could be recognised.
For instance, companies could use credits to support mitigation above and beyond their interim targets, to contribute to climate finance or other voluntary goals, or to contribute to a host country's NDC achievement.
Another approach to be explored is the use of some credits to address a limited portion of Scope 3 emissions within a company's near-term target, in which case companies would be required to pay for additional credits solely to magnify the ETA's financial and climate benefits.
Stephen Donofrio, managing director at Ecosystem Marketplace said: "Governments may have the will to finance transition but they don't have the funds. It doesn't look as though this is intended to replace project based approaches and it adds funding to adaptation and resilience, an important equity play. If we can bring healthier energy to these economies faster, it will improve air quality and living conditions at the same time. Although there's much work left to be done to materialise it, this an encouraging new concept to drive the clean energy transition using a several decades old climate finance mechanism– carbon credits."
Potential partners
Chile and Nigeria are among the developing countries expressing early interest in exploring the ETA's potential benefits. Bank of America, Microsoft, PepsiCo, and Standard Chartered Bank have also expressed interest in informing the ETA's development, with decisions on whether to formally participate pending the completion of its design.  The ETA will also be open to sovereign government investments and engagement.
In order to ensure that a wide range of input is provided into the development of the ETA, Kerry said that a wide range of stakeholders will be consulted on the ETA's technical aspects as well as environmental, social, and just transition safeguards.
Organisations to be consulted include the Science Based Targets Initiative (SBTi), the Voluntary Carbon Markets Initiative (VCMI), the Integrity Council for the Voluntary Carbon Market (ICVCM), and the World Resources Institute (WRI) for GHG Protocol.
Critics have raised their voices against the ETA
While Kerry gave an impassioned speech there were critics of the proposal, not least of which was a heckler in the crowd who was swiftly hustled away.
One of the core criticisms is that of funnelling finance towards projects that would have happened anyway. Another is concern that these new credits could prove a cheaper and easier means of decarbonisation than current investments in new technologies such as carbon removals.  In order to be a success, there must be unquestioning clarity around the extent to which such credits actually result in emissions reductions.
The HLEG for Net Zero's recent recommendations focus on the need for absolute reductions, and that's not something that can be guaranteed within a voluntary carbon market framework.
There are reasonable questions to be asked about how such GHG reductions are going to be verified and certified. Bloomberg has reported that the World Bank has been proposed, despite a lack of expertise in the area. Existing standards, such as Verra and Gold Standard, don't count renewable energy projects towards additional decarbonisation where they were likely to happen anyway.
There are supporters though. Fred Krupp, President of the Environmental Defence Fund, said: "This promising initiative can make an important contribution to accelerate the shift from fossil fuels to clean energy in a way that supports the people most affected by the transition. Using high-quality carbon credits from large-scale programs will allow the private sector to provide significant financing to developing countries – which will help them to meet their Paris targets, adapt to a changing climate, and help local communities and workers."
While seems to be an interesting opportunity with the ETA, there are serious questions remaining to be answered. With Kerry wanting to operationalise the ETA by COP28 at the latest, they're going to need to be answered soon.