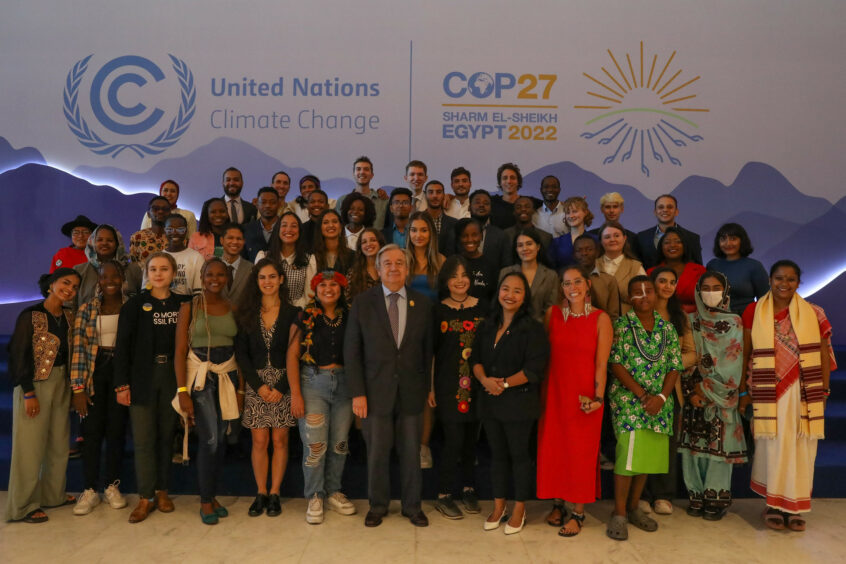 Adaption finance led the agenda during Finance Day at COP27, acknowledging the need for at least $1.4 trillion in finance for emerging markets annually to 2030. Unfortunately, countries continue to diverge in approaches.
Finance Day saw an increasing divergence between countries on political questions around finance.
Adaptation was the theme of the day, acknowledging the need for urgent, near-term scaling up of finance and emissions reduction.
Day 4 is themed for science and youth – two stakeholder groups pushing for accelerated action.
Despite a range of announcements and commitments, there was a clear message that public finance will not be able to meet the investment requirements. Yet there were few new commitments from the private sector, rather a focus on how the carbon markets could be used to scale up finance.
What has been a consistent theme is the importance of inclusivity in moving forward. Collaboration has been a key theme, working together against the climate crisis rather than against each other. The just transition is often mentioned and the need for a rights-based transition. There seems to be a stronger awareness of just how important stakeholder buy-in and fair and equitable behaviour are going to be in achieving change.
How are the negotiations moving forward?
In terms of the negotiations themselves, with anticipated climate finance already delayed there are three core questions to be resolved. These are whether or not quantitative goals should be part of the post-2025 plans, whether or not the donor base should be expanded and, of course, should climate finance cover loss and damage – the cost of existing impacts from extreme weather and ecosystem loss.
Pakistan's climate minister Sherry Rehman put the cost of the recent floods at least $30 billion, a sum which the country simply cannot afford to pay. New Zealand has joined Scotland, Ireland and Austria in agreeing funds for a loss and damage facility and its expected that negotiations are going to be extremely difficult.
Germany and Denmark announced EU 170 million for its Global Shield against Climate Risk, to provide climate insurance and disaster assistance for vulnerable countries. It should also lead to stronger coordination within the global climate and disaster risk finance and insurance (CDRFI) architecture across G7, V20 and other climate-vulnerable economies. There is a need to ensure coherence across different institutions' and donors' approaches to insurance and disaster risk reduction at the global, regional and national levels.
Given that estimates put emerging markets' finance requirements at $1.4-2.6 trillion a year annually to 2030, these sums amount to a drop in the bucket. Agreeing on further finance against the current economic background is going to be a massive challenge. There is also the issue of the type of finance under consideration. Much climate finance has become commercialised and poorer countries are demanding grant-based finance, so as not to add to an already difficult debt burden.
Hypocrisy was also put on blast, as Ugandan President Yoweri Museveni accused the EU of "brazen hypocrisy" in its return to the use of coal-fired power following the Russian invasion of Ukraine.
Domestic and international politics underpins climate negotiations
Unsurprisingly, politics also dominated the discussions, with the US mid-terms a hot topic. The fact that US special presidential envoy for climate John Kerry sat with his counterpart, China's Xie Xenhua, despite frosty relations between the two countries, was seen as a hopeful sign.
On the issue of loss and damage, Xie Zhenhua said that China was prepared to consider a loss and damage facility for developing countries, while making clear that China itself should be considered a developing country. He referenced the extreme weather events affecting China, with its worst drought in six decades and a heatwave affecting over 900 million people.
Heat is becoming a significant risk around the world
The impact of extreme heat was also part of the discussion as Arsht-Rock announced the Cool Capital Stack, a $750 million investment pipeline to protect the world from extreme heat. The idea is to use a mixture of different forms of finance – a call echoed by many presentations on the day – to take advantage of "the full capital stack", which includes philanthropy, concessional and blended finance, parametric insurance, and traditional debt and equity capital.
Today 350 major cities are facing temperatures above 35°C and that number is expected to rise to a thousand by 2050. In India this year there was a fifteen streak of temperatures over 40°C, which is barely liveable. At a thousand cities, that puts 1.6 billion people in areas where they will struggle to survive.
The challenge is that such temperatures create a vicious cycle with air conditioning. Much air conditioning today is supplied by fossil fuel power. The hotter it gets, the more air conditioning is used, and the more fossil fuel is used. That drives emissions, which increases heat over time, which only leads to more demand for air conditioning.
Data and transparency are key to action
Former US vice president Al Gore was on the ground as his data project, Climate TRACE, reporting fossil fuel emissions three times higher than self-reported data suggests. As the discussions focused on the role of carbon markets, Gore said that the markets are in the "early stages of a sustainability revolution".
Significant safeguards are going to need to be in place if the private sector is going to play an effective role in cutting emissions. Not only are fossil fuel emissions far higher than the self-reported data suggests, but a new report from Global Witness warns that members of Glasgow Financial Alliance for Net Zero (GFANZ) still have forest-risk investments worth an estimated $8.5 billion. The report focused on members of the Net Zero Asset Managers initiative (NZAM) and Net Zero Asset Owners Alliance (NZAOA), both of which are members of GFANZ.
Day 4: Science Day
On the science side, there are new reports on the latest science and suggestions on how to address the challenge. The Race to Resilience campaign is launching a dashboard to track adaptation implementation, and hoping to motivate 3,000 insurance companies to join in the protection of vulnerable populations. The Mangrove Breakthrough will be launched today, focused on a unified global approach to the restoration and conservation of mangroves.
One of the challenges at the COP is that the world is now in what has been called a 'polycrisis' era. There are so many multiple economic, conflict, cyber, inequality and other issues that it can prove difficult to bring attention to the climate and nature/biodiversity crisis. What can be hoped is that continued learning shows how interrelated so many of these problems are, and that we can find new ways of addressing the challenge.
Warnings from the scientific community are increasingly stark as the change of the world hitting climate tipping points come ever closer. The UN has already warned that there is no credible path to the 1.5 C, so it is hoped that some of today's announcements and discussions will provide solutions and a pathway forward.
Day 4: Youth Day
There are two thematic days in tandem on day 4 and the second is on youth. While there is an increasing focus on youth as key stakeholders in decision-making, there is little sign that leaders are listening. With a global estimate of 1.8 billion young people aged 10 -24, this generation of youth is the largest in history. Many civil society bodies have called on governments to champion and support young climate activists as valuable agents of climate change.
Young people, particularly those in the Global South, are disproportionately affected by climate change. As a result of extreme weather conditions, including droughts, tropical cyclones, and floods, they are facing high levels of unemployment, school closures, and extreme poverty. Yet they rarely get a seat at the table. While young representatives will be able to present their statements and key policies for driving climate ambition to high-level policymakers today it doesn't mean they have to pay attention.
One programme is trying to change this dynamic, the Climate Youth Negotiator Programme. In the last year, it has trained 60 younger people from 27 countries to act as negotiators in an effort to break the current negotiations from its sclerotic process and bring younger voices into discussions.
Another area getting a lot of attention is education. While there are often discussions about a lack of capacity in developing economies in accessing and deploying climate finance, capacity can't change without a change in education.
There's a big meeting on the Greening Education Partnership to explore how to build and deploy climate education initiatives. Jeremy Hopkins, UNICEF Representative in Egypt, said: "Quality climate change education helps students develop a strong personal connection to climate solutions, as well as a sense of personal empowerment".
Even aside from the fact that young people are going to bear the brunt of climate change, industry and politicians are increasingly interested in hearing from them. In the end, they are the next employees, customers and voters and are ignored at peril.
Ensuring that the voice of youth and future generations is heard loud and clear is one of the objectives of the COP27 Presidency and so it should prove an eventful day.