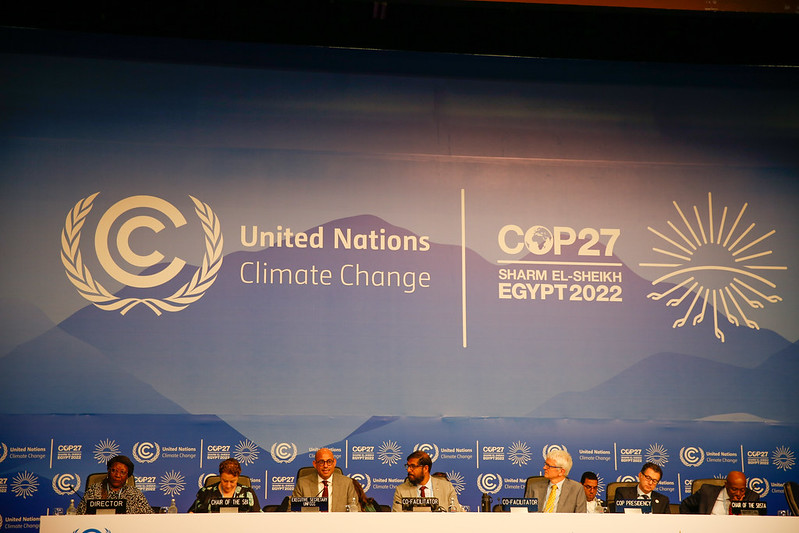 At COP27, governments representing over half of the global GDP launched a package of 25 new collaborative actions to decarbonise five sectors.
The agreements will cover power, road transport, steel, hydrogen and agriculture.
The five target sectors account for over 50% of global greenhouse gas emissions.
Collaboration across countries and industries is fundamental to reach sustainability goals that will deliver meaningful environmental and social results.
New package presented at COP27

Countries representing more than 50% of global GDP have set out specific 'Priority Actions' under the Breakthrough Agenda. They focus on five sectors: power, road transport, steel, hydrogen and agriculture.
The measures, designed to speed up decarbonisation efforts, are also intended to cut energy costs, reduce emissions and boost food security for billions of people worldwide. They will be achieved through coalitions of committed countries, which include the G7, European Commission, India, Egypt and Morocco, as well as private finance and industry initiatives.
Dr. Sultan bin Ahmed Al Jaber, Minister of Industry and Advanced Technology and Special Envoy for Climate Change for the UAE, said: "The Breakthrough Agenda provides a practical platform for partnerships between countries and across industries that will be essential to rapidly scale commercially viable solutions for climate progress."
Initiative to deliver swathe of agreements…
The package comprises 25 new collaborative actions to be delivered by COP28. These include agreements to:
Develop common definitions for low-emission and near-zero emission steel, hydrogen and sustainable batteries for credibility and transparency.

Ramp up the deployment of essential infrastructure projects, including at least 50 large-scale net zero emission industrial plants, at least 100 hydrogen valleys and a range of cross-border power grid infrastructure projects.

Set a common target date to

phase out polluting cars and vehicles

in line with the Paris Agreement. 

Use private and public spending for procurement and infrastructure to stimulate demand for

green industrial goods

.

Strengthen financial and technological assistance to developing countries and emerging markets to support their transitions.

Drive investment in agriculture research, development & demonstration to address

food insecurity, climate change and environmental degradation

.
…many of which announced at COP27 
Several deals have already been announced at COP27. For example, the First Movers Coalition was joined by 10 new corporate members including PepsiCo (NASDAQ:PEP), General Motors (NYSE:GM), Rio Tinto (LON:RIO) and ETEX, to reach 65 in total with a combined market cap of about $8 trillion. The Coalition also launched an initiative in the cement and concrete sector, with companies committing to purchase at least 10% near-zero carbon cement and concrete per year by 2030.
The event also saw financial announcements for industrial transitions: the launch of the Climate Investment Funds' new Industry Transition Programme, a $410 million green hydrogen investment in Egypt led by the EBRD. and World Bank plans to develop a $1.6 billion green hydrogen programme.
Moreover, the Mission Possible Partnership released 2030 Milestones for seven hard-to-abate industrial and transport sectors. The alliance will also provide advisory and technical support for accelerated decarbonisation projects in hard-to-abate sectors in Houston and Los Angeles, US. Similarly, the Africa Net-Zero Concrete Group was launched and the first African Net-Zero Concrete National Roadmap has been set by Egypt.
Cross-country and cross-sector collaboration is key to achieve Paris Agreement goals
The Agriculture Breakthrough has been endorsed by 13 countries amid rising food prices. France and Morocco are looking to launch a new Buildings Breakthrough, while Canada is planning to launch a new Cement Breakthrough in 2023. Cambodia became the latest country to endorse the Breakthrough Agenda as a whole, which now counts on the support of 47 countries.
The achievement of the Paris Agreement goals will require cross-country and cross-sector collaboration, as the world needs a systemic transformation. In fact, the UN 2030 Agenda highlights the need for interconnected thinking across all sections of society. 
As summarised by US Special Presidential Envoy for Climate, John Kerry: "The Breakthrough Agenda is galvanizing action in this decisive decade across the world's most important economic sectors to decarbonize. Government cooperation, in collaboration with the private sector through the First Movers Coalition, can scale critical technologies and create new markets. I congratulate our close partners the United Kingdom on the continued success of the Breakthrough Agenda."