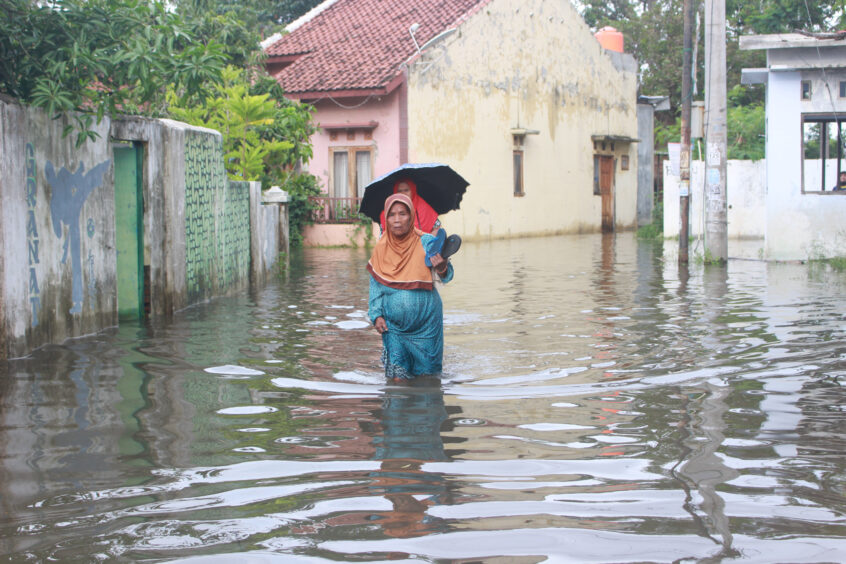 As negotiations continued, the COP conference highlighted the importance of action on water and gender on Monday, while Tuesday will see a focus on climate action, empowerment and civil society – and of course the role of energy.
The final negotiation text is expected by Wednesday despite wide differences between parties.
Water and gender days took a closer look at the role of women in addressing climate, as well as the related vulnerabilities.
Energy, civil society and action on climate empowerment are Tuesday's themes and emphasise the importance of localised action.
Simon Stiell, UN Climate Change Executive Secretary reminded negotiators that the world is waiting for bridges to be built if the negotiations are to agree on "meaningful and tangible outcomes". India's call for the phasing down of all fossil fuels is said to be getting some backing, but few expect it to make it to the final text. Especially given that the number of fossil fuel lobbyists at COP outnumbers some countries.
Egypt's climate president said in a TV interview that he is confident that an agreement can be reached on loss and damage, but warned that parties need more time to discuss mitigation, adaptation, gender and agriculture and, of course, loss and damage. So far two versions of an approach to the latter have been released: one to see the commitment to establishing an independent loss and damage fund by 2024, and the second an agreement to a technical pathway.
While rich countries are likely to prefer the second option, it seems unlikely that vulnerable countries will agree to another two years of talks before deciding on how such a programme would be funded. Suggestions have been made that an overall negotiations text could be ready for debate as early as Wednesday.
Given that this is an 'African COP' there is strong momentum for action now. "There's a huge injustice, where the people who were polluting less are suffering the consequences of global warming,'' said Hassanein Hiridjee, chief executive of pan-African industrial AXIAN Group. He continued: "In Africa we see massive typhoons, massive drought, and massive warming. It's time for the rest of the world to work with us to combat the crisis.''
Despite just passing its Corporate Sustainability Reporting Directive (CSRD) the EU has lost a great deal of credibility in the negotiations due to its response to the Russian gas crisis, and huge pivot towards the use of gas. While many countries are touting the role of gas as a transition fuel, recently released research shows how methane leaks are upending statements on emissions reduction and the widespread deployment of gas over the medium term could prove a climate disaster.  The bloc has said it will increase renewables and emissions targets by 2% but those will still have to be transcribed into domestic state legislation.
Day 8 Water and Gender
The two themes came together at COP because of the importance of the role of women in driving effective climate solutions, and the important role that water access can play in the education of women. At a macro and a micro level, there is a need to include women as agenda setters in the negotiations, rather than have them simply be acted upon as decisions are made without their input.
Gender has an important role to play in tackling climate change
The UN says that women and girls face greater obstacles when trying to adapt to climate change, they suffer greater economic repercussions, must bear increased unpaid care and domestic work when disasters hit, and, on top of all this, are more vulnerable to potential violence triggered by a crisis. It also said there was evidence suggesting that their representation in national parliaments can lead countries to adopt more stringent climate change policies.
"Women and girls are essential, effective and powerful leaders to address the climate crisis. But they remain largely undervalued and underestimated with limited access to training extension services and the technology necessary for effective adaptation to the impacts of climate change," UN Deputy Secretary-General Amina Mohammed told an event focused on women in Africa.
Professor Lorraine Whitmarsh FHEA MBE, member of the Climate Crisis Advisory Group and environmental psychologist at the University of Bath, said: "Gender imbalance will not only come at a cost to women and girls, but there is every reason to expect that it will impede effective action to tackle the climate emergency.
"We've seen in the private sector that gender diversity in leadership clearly leads to better outcomes, so just as firms with diverse boards perform better than those dominated by men, we need to recognise that ensuring gender diversity at all levels of the negotiations will bring benefits for all. The ambitious and impactful climate action required at this year's COP is otherwise at risk of failing to materialise should these negotiations once again be dominated by men."
Many climate-related disasters are driven by water
Water has a critical role to play, in terms of energy provision, industrial operations and human survival. Yet too much of it in the wrong place can be incredibly destructive – Pakistan's president estimated that the floods this year have caused over $30 billion in damages.
Significant changes in the global water cycle, driven by anthropogenic climate change, are making water scarcer due to droughts and rapid evaporation, but also increasing the frequency of heavy rainfall events. UN figures reported some 40% of the world's people are affected by water scarcity; 80% of wastewater is discharged untreated into the environment, and more than 90% of disasters are water-related.
These effects are especially felt in developing countries. According to the World Meteorological Association (WMO) for example, in 2021 alone there were a total of more than 100 natural hazard events in Asia, of which 80% were flood and storm events.
Monday saw the COP Presidency launch the Action on Water Adaptation and Resilience Initiative (AWARe) to put push for water and adaptation investments for the most vulnerable communities and ecosystems in Africa. There are three priorities for the initiative: 1) to decrease water loss and improve water supply worldwide; 2) to propose and support implementing mutually agreed policy and methods for cooperative water-related adaptation action and its co-benefits; and 3) to promote cooperation and interlinkages between water and climate action in order to achieve Agenda 2030, in particular SDG6.
The importance of the role cities have to play in addressing water issues was reflected in the launch of the African Cities Water Adaptation Fund (ACWA Fund), a new Africa-focused blended finance that is expected to leverage private financing while better coordinating public sector funds alongside climate and development aid. The ACWA Fund and its supporting ACWA Platform aim to help the development and implementation of more than 200 projects in 100 African cities by 2032.
Signatories to the Glasgow Declaration for Fair Water Footprint launched a call to action to governments in both developed and developing countries to put climate-resilient and equitable water management at the heart of the global economy by 2030. Action is already underway by Peru, Malawi, Madagascar, Finland, Panama, the UK, businesses, investors and civil society across the coalition.
The Netherlands also launched the Champions Group for Deltas and Coastal Zones. The group enables harmonized action between countries and Small Island States to realize sustainable management of deltas and coastal zones in the short and medium term.
Day 9 Energy, Ace and Civil Society
Today will see the conference address the role of energy, and lack of access, to the global society and explore the role of civil society in addressing climate change. It is expected to showcase the role of civil society in shaping the global climate agenda and implementation of commitments and pledges under UNFCCC and the Paris Agreement, alongside announcements of financial and other pledges.
Civil society has a pivotal role in supporting governments to create more climate-resilient societies and economies. This transition towards climate resilience requires individuals and communities to reach an unprecedented level of awareness about the causes and impacts of climate change, as well as knowledge and skills to participate in solving the climate crisis.
ACE, or Action for Climate Empowerment is a term adopted by the United Nations Framework Convention on Climate Change (UNFCCC). It refers to Article 6 of the Convention (1992) and Article 12 of the Paris Agreement (2015), focusing on six elements: climate education and public awareness, training, public participation and access to information, and international cooperation on these issues.
The four priority areas of the 10-year Glasgow work programme on ACE (GWP), adopted by Parties at COP 26 – policy coherence, coordinated action, tools and support, and monitoring evaluation and reporting-  aim to address gaps and challenges in implementing the six ACE elements and creating opportunities to accelerate that implementation. The discussion on accelerating the GWP is expected to highlight that delivering on ACE requires a multi-stakeholder approach, including governments, IGOs, NGOs, the private sector and civil society.
The latest analysis is due from Net Zero Tracker, which is expected to announce that most entities with net zero goals are majorly off track.  We're also expecting to see the global renewables industry come together for the first time in the Global Renewables Alliance. This could prove a major breakthrough as one of the greatest strengths of fossil fuel lobbying has been its consistency while for some years the renewable energy sector has been a mosaic of different interests. Today wind, solar, hydropower, green hydrogen, long-duration energy storage and geothermal energy industries should officially join forces.
It should be another interesting day.