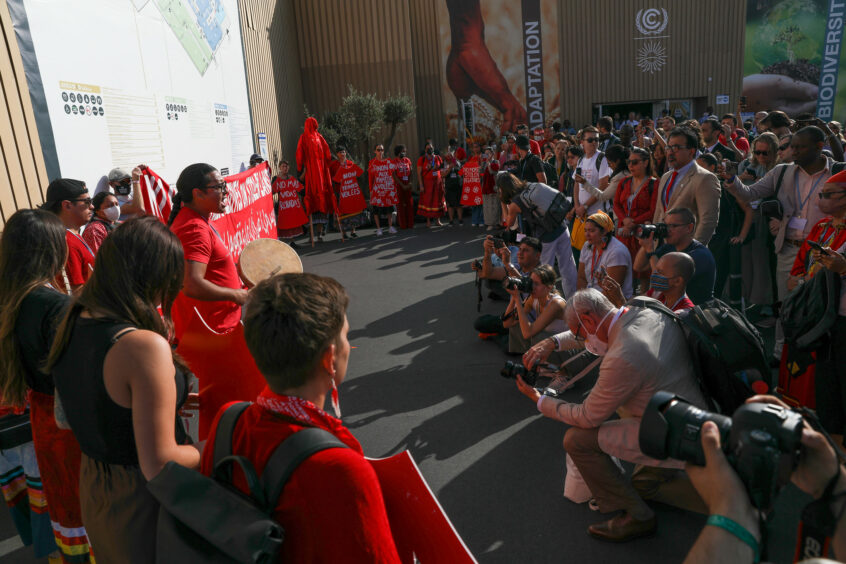 Negotiations are getting more heated, as concern is growing that the 1.5° C target will be ignored in the cover text. Many eyes are on the G20 in Bali to see what they will agree. With today being Biodiversity Day, a focus on increasing ambition and taking a holistic approach to net zero is paramount.
Concern rises about whether the 1.5°C will be included in the final Egypt agreement.
Energy security dominated discussions around energy, while civil society was recognised as an important lever for change. The importance of climate education was a strong theme.
Biodiversity Day leads with a focus on the need for a 'Paris moment' for biodiversity at COP15 in December.
There is a growing sense that consideration of a 2°C target may replace the 1.5°C in the final text due later today. And while many considered India's floating of a proposal of phasing down all fossil fuels to be a distraction from its reliance on coal (still have of its generating capacity), the concept seems to be gaining some traction. The International Energy Agency released a report saying that phasing out coal emissions is the biggest international challenge.
Tuesday also saw the launch of India's decarbonisation plan and it seems it is becoming a major player in the space. It is taking the sectoral approach and laid out a framework within which it plans decarbonisation across energy, transport, buildings and cities, industry, carbon removal and forestry. And of course, the finance it will require to deliver such a plan.
New nationally determined contributions (NDCs) have been released as the EU confirmed it will up its target by a couple of per cent. Turkey has promised to reduce emissions, but they are expected to continue increasing and then peak in 2038. Unfortunately, at the same time, there are a number of gas deals being done on the sidelines of the negotiations. More than 30 media groups have published the same editorial calling for climate action, a tax on fossil fuel companies and warning that countries have so far only agreed to one-fiftieth of the actions required to stay on track for 1.5°C.
There is growing pressure for the loss and damage facility to start delivering funds immediately, but developed countries continue to push back on the need for technical discussions. The G77 has made a loss and damage proposal which Action Aid has described as 'clear and sensible'. On Tuesday, the G77 proposed that COP27 establish a fund and then set up a Transitional Committee to develop the governance, objectives, principles and modalities, in exactly the way the Green Climate Fund was set up.
As the discussions become more contentious and some more vulnerable countries describe loss and damage as a 'red line', there is a growing fear that an agreement on a cover text, and an outcome, may be moving out of reach. What everyone agrees on is that, to be considered a success, there needs to be a tangible outcome from this implementation COP.
Day 8 Energy, ACE and Civil Society Day
An energy-themed day was perhaps most interesting in terms of its focus on energy security, rather than a laser focus on the climate crisis. The challenge is that current economic models don't factor in the cost of doing nothing on climate, or the externalities that cause destruction and chaos around the world. At the same time, politicians' short-term focus seems to have them look for energy solutions that don't solve the problem.
In the UK for example, the Truss government's focus on new oil and gas and fracking seemed to ignore that nothing would be built in time to offset the coming winter crisis, or that we'd be locked into the wrong path. That seems to be a common failing among world leaders and, with fossil fuel lobbyists swamping COP, there is a lot of pressure to maintain the status quo. China similarly is focusing on the need to boost coal use to maintain generation. Russia failed to discuss its oil and gas production, despite activists shouting accusations of war crimes.
The big headlines were the agreement of a $20 billion deal to help Indonesia move away from its economic reliance on coal. There are complex issues at play within the energy industry, not least some African countries' demands to exploit their hydrocarbon reserves. They are citing developed country hypocrisy in demanding this doesn't happen, as they search the world for alternatives to Russian fossil fuels.
Hydrogen got more focus, especially green hydrogen. A new report assessed the opportunity for sustainable industrialisation using green hydrogen across the six countries in the Africa Green Hydrogen Alliance (AGHA), concluding that by 2030 AGHA can grab up to 17% of the green hydrogen deployment needed to align with 1.5°C and create up to 4 million new jobs by 2050. Interestingly, the Saudis are reported to be pushing back on the use of 'green' hydrogen in the negotiations text.
There are concerns about how climate finance is being allocated. According to the International Energy Agency, investments in clean energy and infrastructure will need to increase threefold by 2030 to stay on track for net zero by 2050. The investment gap is particularly large in emerging economies, which will be the source of incremental energy demand. As McKinsey puts it: "Africa accounts for 39% of global renewable energy potential and yet received only 2% of clean energy investments last decade, partly due to the high risks associated with long-term investments."
Day 9 Biodiversity Day
The reality is that the focus on Biodiversity Day is ensuring that the importance of biodiversity is firmly on the agenda in the run-up to the 15th Conference of the Parties (COP) to the Convention on Biological Diversity. There is a sense that biodiversity is at a pivotal point and the post-2020 agenda must have its 'Paris moment' and agree the 30x30x30 goal.
UNEP FI has warned that, while many organisations and businesses are focusing on reducing emissions across transport, energy, infrastructure, real estate and other sectors, overlooking nature may ultimately undermine all other efforts.
Since COP26, approximately $11 billion has been committed towards activities that support restoration and conservation of nature, including via the Forests Climate Leadership Partnership and AFR 100. But in reality, trillions of dollars must shift from financing nature-depleting activities towards financing nature-positive activities.
There is a critical gap in understanding the role of nature, and biodiversity in particular, in addressing the outstanding emissions gap. For example, research is starting to highlight the role of the oceans as a climate solution, pointing to whales, fish, and seagrass beds as much bigger climate allies than previously given credit for. As an illustration, each great whale sequesters 33 tons of CO2 on average, valued by the International Monetary Fund as worth $2 million each.
Organisations must also stop financial flows to activities that destroy and damage nature, undermining efforts to meet carbon commitments as they harm the ecosystems we rely on. For example, the production and manufacturing of food, including seafood, is directly reliant on a healthy natural ecosystem in order to maintain high yields of crops both today and for future generations.
Carbon markets remain a core point of discussion, as is the potential to develop a biodiversity credit separate from existing carbon credits with co-benefits.  August saw Verra launch a Sustainable Development Verified Impact Standard (SD VISta) with a Nature Framework aimed at assessing the biodiversity impacts of carbon credit projects.
The discussions are expected to include the impacts of climate change on oceans, endangered species, coral reefs, the sustainability of protected areas to deliver ecosystem services to humans, impacts of plastic waste on the aquatic ecosystems and species, ecosystem-based solutions and their link to climate change mitigation and adaptation.
This will include the launch of the Enhancing Nature-based Solutions (NbS) for Climate Transformation (ENACT) in collaboration with the International Union for Conservation of Nature (IUCN); a report from the recently launched High-Quality Blue Carbon Principles and Guidance on what's needed to create high-quality carbon credits and Beat the Heat: Nature for Cool Cities Challenge to increase nature-based solutions in cities by 2025.
Expect to see a lot of discussion on the role of financial institutions and the need to redirect capital flows, discussion of the role of biodiversity and nature in adaptation and the need to change the unjust and exploitative business models in use today.