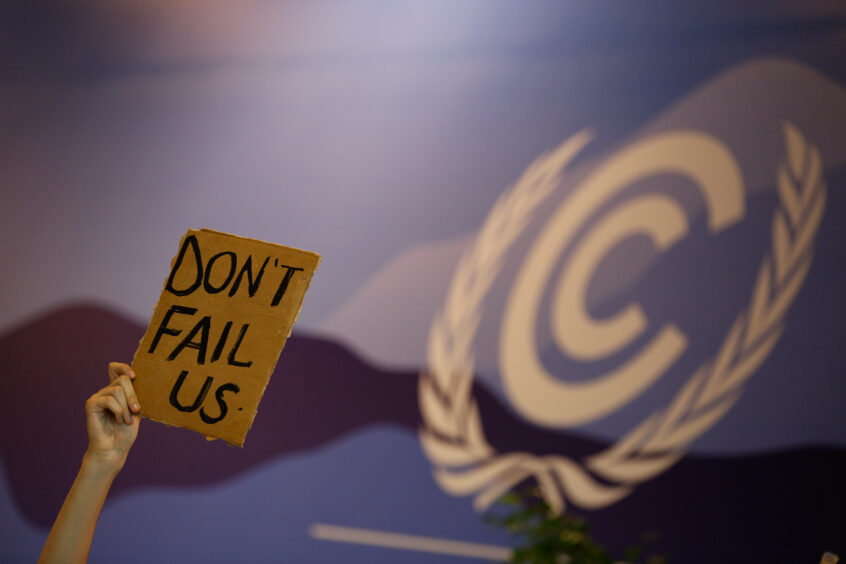 Agreement was reached on a loss and damage facility, making the cover decision of COP27 a historic agreement. But the capture of proceedings by the fossil fuel lobbying was obvious, and cause for concern.
Agreement was reached at COP27, despite remaining disputes with a final resolution on a loss and damage facility.
While the 1.5°C target remained in the document, many were deeply disappointed that there was no increase in ambition or action on phasing out fossil fuels.
Movement on the carbon markets was less significant and, without clear positive guidance from the COP, it will be up to civil society and investors to demand credible action.
After a long, intense two weeks of negotiations, and in a year constrained by competing crises,  the outcome at COP27 was hard-fought. The COVID pandemic, inflation, rise in energy and fuel prices, and crises like the war in Ukraine added new meaning to what an "implementation COP" needed to achieve to accelerate climate action on the ground.
UNDP Head of Climate Policy Cassie Flynn said: "The landmark decision on funding arrangements for loss and damage offers support to countries and communities on the front lines of the climate crisis. Climate change is here and now, and the outcome of COP27 reflects the need for countries to have the support to avert, minimise, and address loss and damage due to the adverse impacts of climate change."
It is important to remember that while we talk about 1.5°C as a target, it is actually a limit – a limit beyond which we have no idea what will happen and that we only have a 50% chance of achieving.
The final cover decision was weaker than many had hoped for, despite a historic agreement on a loss and damage facility for climate-vulnerable countries. There was no agreement to peak gas-associated emissions by 2025, no increase in ambition and no expansion of the phase-down of coal to all fossil fuels. Although UN Development Programme Administrator Achim Steiner pointed out that 90% of developing countries have increased their mitigation ambition and 95% of them have increased their adaptation ambition.
Nikki Reisch, Director of Climate & Energy at the Center for International Environmental Law, said: "The outcome of this year's climate talks turned on two central issues: phasing out fossil fuels and funding loss and damage. The colossal failure on the former undercuts progress on the latter."
The failure to address fossil fuels was no surprise. Not only was the number of major oil and gas players significantly higher profile than ever before, but some oil exporting countries also remained intransigent in discussions. Saudi Arabia and Russia refused to engage in the country discussions on the topic, while the heavy presence of the oil and gas industry had a major influence on political positioning. The final text included a reference to "low emission and renewable energy", which gives much concern that it opens a door to gas as lower emission than coal. Given that the next COP will take place in Dubai, one of the world's largest oil producers, the process is unlikely to see rapid change.
The Global Goal on Adaptation, agreed upon at COP26 in Glasgow, also got its own updated text. Plans are for a series of four workshops and a final decision at COP28 but the general mood of the discussions has been positive and there is again a growing consensus that decisions must be made in line with the science.
One of the most positive outcomes for COP27, however, was the fact that the US and China returned to formal cooperation, as relations had been cut following House Speaker Nancy Pelosi's visit to Taiwan in August 2022. The world's largest players in climate terms must work together to achieve the change we need. We're not yet there, as the science says that we're currently on track for nearly 3° C of warning. But the conversation has been taking on a different tone and it will be interesting to see the public response to the climate challenge in the coming year.
Loss and Damage
Yamide Dagnet, director for Climate Justice at the Open Society Foundations, said: "After 30 contentious years, delayed tactics by wealthy countries, a renewed spirit of solidarity, empathy and cooperation prevailed, resulting in the historic establishment of a dedicated fund for loss and damage, as part of a broader mosaic approach to mobilise resources at scale and with speed."
There are three main ways in which funds are transferred from developed to developing economies. The first is the $100 billion in climate finance to be invested every year in mitigation and adaptation, a goal which has yet to be reached. Secondly, the carbon markets (under Article 6) are expected to see funds transferred from developed to developing economies in exchange for cuts in emissions, increases in carbon storage or other forms of removal. The last is loss and damage.
Loss and damage is a term that has a very loose definition, as it sits upon a continuum – but, effectively, 'loss' refers to climate impact on infrastructure and land, while 'damage' is meant to fund the defence of ecosystems which have been destroyed by climate change. Basically, it refers to those changes that cannot be addressed by mitigation or adaptation and are unavoidable.
What made the agreement of the loss and damage facility so incredible is that developed nations have consistently refused to address the issue, as they were concerned it would result in liability and compensation. It was miraculous that the topic even made it onto the agenda at all, and it is remarkable that it resulted in action. The COP process requires consensus to move forward, making it one of the most challenging policy processes.
There are going to be roadblocks on the way, as the details need to be worked out. COP President Sameh Shoukry pledged to work out what a loss-and-damage fund will look like before COP28. Representatives from 24 countries will work on which countries should contribute, and how much, as well as where the money should be spent. These were the very issues that caused contention at COP27 so it will be a challenging process.
There is certainly a huge disconnect between the millions that are currently on offer for the fund and the billions that climate change is already costing. The cost of Pakistan's 2022 floods, for example, is estimated to be $30-40 billion – arising from just one summer in one country. Moreover, the knock-on effects of such disasters have yet to be addressed.
No matter what, the movement on this topic is hugely symbolic of a recognition of both the importance of climate justice and the fact that those responsible for most emissions must aid those at most risk of their consequences.
Carbon markets
The final decision on the Paris Agreement's Article 6.4 from COP27 has provided a greater degree of information into how the new UNFCCC-based carbon credit system would operate. However, it still stops short on the implementation of the specifics of the programs, instead requesting the Supervisory Body to return with further recommendations for deliberation at COP28 a year from now. Given the size of the climate crisis, Article 6.4 is a very important mechanism for the world to both get right and to get right quickly.
Countries were able to reach a compromise on the decision text that provides some additional clarity on how countries can use cooperative approaches to meet their emissions targets under the Paris Agreement. Nevertheless, many issues are left to be decided at upcoming COPs.
Angela Churie Kallhauge, Executive Vice President for Impact, Environmental Defense Fund said: "Additional details to be resolved should not delay the timely operation of international carbon market mechanisms. In the meantime, countries should continue to move ahead with bilateral trading approaches, confident that rules are in place for a robust, transparent and accountable carbon market that promotes more and faster climate ambition and creates a further avenue for finance flows from developed to developing countries. We look forward to the remaining details on Article 6 being agreed to next year."
Frédéric Gagnon-Lebrun, Director Climate Policy, Finance and Carbon Markets, South Pole added: "Progress on Article 6 was incremental at a time when we need it to be exponential. The proposed ability to keep information confidential between two countries under article 6.2 is also a distraction — it undermines transparency and could lead to very weak outcomes. We cannot afford to "greenhush" on progress and outcomes, however big or small they are. Every action counts and should be recognised."
Moving forward
Nigel Topping, in his final speech as a high-level climate champion, said: "In this crucial year of taking stock on global action by countries, we know commitments made by non-State actors will go way beyond what is currently accounted for in the NDCs, if delivered and scaled up at a sectoral level."
He continued: "We can transform so much faster if we dare to imagine — and if you back your people; your businesses and your banks; your communities and your cities; your Indigenous peoples and your farmers; your children; your young people; your elders. THEY ARE AMAZING." It may well prove that people working together, in what Topping calls radical collaboration, that may be the key to success.
The IPCC's Special Report on 1.5°C recognised that civil society is the only reliable engine that can drive change at the pace demanded by the climate emergency. This means the harassment of civil society seen in Egypt, and during COP, is of critical importance. Freedom of expression and the role of democracy are going to play a critical role as the world seems to be shifting away from multilateralism.
The achievement of a loss and damage facility demonstrates that civil society can force policy change in favour of greater climate justice. Given the capture of the COP process by the fossil fuel industry, in the fact of the science that says there is no more room for fossil fuels, it will in the end be up to civil society, and individuals to use their wallets, their votes and their voices to achieve the change we need to see.