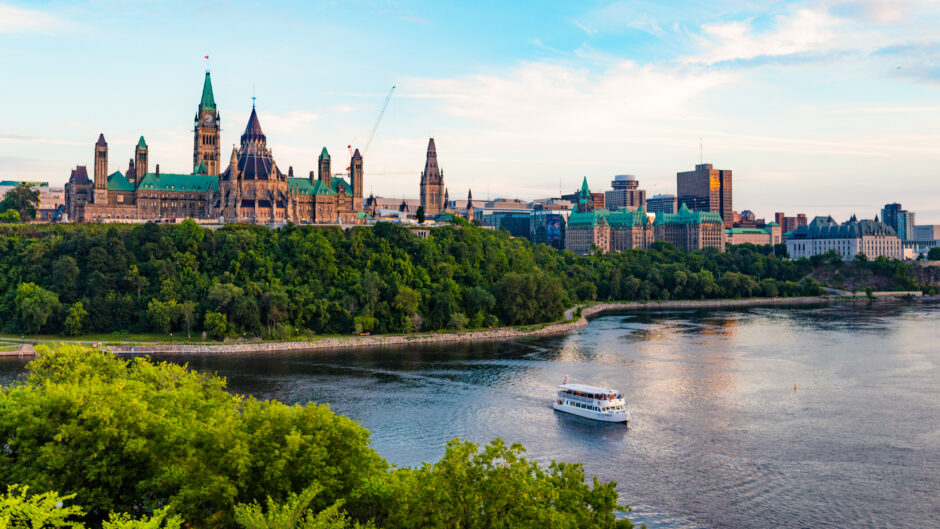 The Government of Canada has released its Adaptation Action Plan, which includes over C$1.6 billion in new federal spending to support three programmes.
Canada has allocated federal funding to support communities in addressing the consequences of climate change.
Investing in prevention and preparation has been demonstrated to save costs arising from future damage.
While it is essential to adapt to the consequences of climate change, countries must keep working on mitigation to limit global warming.
Canada's adaptation strategy
The North American country is already suffering the consequences of climate change, such as illnesses worsened by heat and air pollution, fires, floods and damages to coastal communities due to extreme weather events. Southern Canada is warming twice as fast as the global average and approximately three times as quickly in the North.
Its first-ever National Adaptation Strategy establishes a common direction across five key systems: disaster resilience; health and well-being; nature and biodiversity; infrastructure; and economy and workers. It starts with C$1.6 billion in federal spending provided to three federal programmes:
The existing

Flood Hazard Identification and Mapping Program

will advance nationwide flood mapping coverage and share all accessible flood hazard information to help keep communities safe.

The new Wildfire Resilient Futures Initiative will enhance the existing

FireSmart Canada

programme; increase resilience to wildfire while building wildland fire knowledge through research and pilot projects on fire risk reduction measures; and create a Centre of Excellence for Wildland Fire Innovation and Resilience to advance wildland fire management through innovation, knowledge exchange and supporting Indigenous fire stewardship.

The new Climate Resilient Coastal and Northern Communities programme will support systems-based approaches to adaptation actions in coastal and northern regions, building on the

Climate Change Adaptation Program

. Pilot projects will work with coastal partners, Indigenous rights-holders and stakeholders to address knowledge gaps on sea level rise, coastal erosion, permafrost thaw and glaciers, and to develop an integrated approach for regional-scale climate resilience.
The Strategy is now open to the provinces, territories and National Indigenous Organizations for 90 days of consultation on its common goals and specific measurable targets and objectives. It was designed following extensive engagement since 2021.
The benefits of adaptation
Investing in prevention and preparation can save significant amounts of money for future reparation. Research by the Canadian Climate Institute estimated that every C$1 spent on adaptation measures can lead to C$13-15 in savings. 
For example, urban forests in Toronto can generate C$3.20 for every dollar invested by lowering cooling costs, improving air quality, and reducing strains on stormwater infrastructure. Climate-resilient building codes have an estimated benefit-cost ratio of 12:1, which is equivalent to a 1,100% return on investment.
It is expected that climate impacts will slow Canada's economic growth by C$25 billion annually by 2025, corresponding to 50% of projected GDP growth. Meanwhile, the average annual losses from disasters are forecast to reach C$15.4 billion by 2030. Flooding alone has average residential costs of C$2.9 billion per year.
Investment in adaptation has been found to generate a triple dividend of resilience: it avoids losses when disasters strike, stimulates economic activity by driving innovation and productivity, and results in social and environmental benefits. Some of these benefits occur even if the absence of climate-related hazards.
Jonathan Wilkinson, Canada's Minister of Natural Resources, said: "Canadians in every region of the country are already feeling the effects of climate change, and the costs of these impacts are projected to rise to $25 billion by 2025 and to the range of $100 billion annually by 2050. Inaction is not an option. Through the National Adaptation Strategy, we will advance key resilience and adaptation measures to mitigate these changes, preserve livelihoods and protect our communities and the critical infrastructure we depend on. The result will be a stronger, safer and more prosperous place to call home."
The adaptation gap
Even though more economies are investing in adaptation, there is a considerable gap in financing flows. According to the United Nations Environment Programme, at least 84% of Parties to the UN Framework Convention on Climate Change had adaptation strategies and policies in 2022, which is a 5% increase compared to the prior year. There is also greater prioritisation of disadvantaged groups, such as Indigenous peoples, who are usually more vulnerable to climate change.
Many of these plans, however, are not being translated into action due to a lack of funding, according to the Adaptation Gap Report 2022. Global annual adaptation costs and needs are estimated to be $160-340 billion by 2030 and $315-565 billion by 2050. 
These are currently between five and 10 times higher than international adaptation finance flows, while the finance gap continues to widen. Investment needs to ramp up significantly or it will risk being outstripped by accelerating climate impacts.
Adaptation was a key topic at COP27, as developing countries are struggling to access funding to deal with climate change, which has historically mostly been at the hands of developed countries. There were major divergences in approaches, leading to modest progress on the adaptation front.
Adaptation strategies must be complemented with mitigation plans
Prevention and preparation are essential steps in dealing with climate change, as they result in the many benefits described above. A sensible climate strategy, however, must include measures to mitigate global warming. Investing in prevention will reduce the expense of adaptation. 
Moreover, the 10 New Insights in Climate Science report published in November 2022 highlights that there are limits to adaptation, and we cannot rely on these measures to continue with business as usual. For example, reaching certain temperatures will be intolerable for the human body, making some regions inhabitable. Similarly, rising sea levels will submerge certain coastal communities entirely.
Canada's climate commitments still include oil and gas industry
Canada has pledged to reach net zero emissions by 2050, and is committed to capping and cutting emissions from the oil and gas sector. It has set further goals on methane emissions reduction, clean fuel and electricity regulations and carbon pollution pricing.
The country, however, remains the fourth-largest oil producer and the second-highest carbon emitter in the G20. It is taking steps to address this: in August 2022, the Government released a paper proposing various options to establish an emissions cap on oil and gas.
It appeared that, while the authorities are willing to reduce the sector's emissions, there was reluctance on cutting production. It is also worth remembering that many technologies that the fossil fuel industry plans to rely on to mitigate its impacts, such as carbon capture and storage, are not yet developed at scale.
While the Adaptation Action Plan may serve as an example for other jurisdictions, Canada should perhaps look into reducing its reliance on fossil fuels to limit the damage altogether.