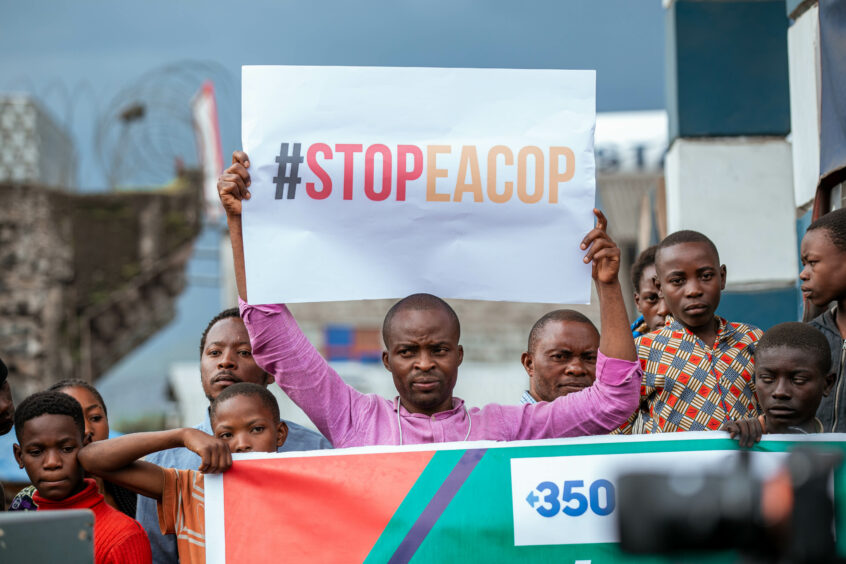 Arch Capital Group (NASDAQ:ACGL) and AEGIS London are the latest insurers to rule out support for the controversial East Africa Crude Oil Pipeline (EACOP) project, which is being developed by TotalEnergies (EPA:TTE) and China National Offshore Oil Corporation (CNOOC). 
A total of 21 insurers and 24 banks have publicly stated that they will not support EACOP following lobbying and protests.
Campaigners say that the pipeline, planned for Uganda and Tanzania, is associated with numerous climate, environmental, and social risks as well as human rights violations.
The huge backlash the project has received can serve as an example of the consequences of proposing new fossil fuel infrastructure.
What is EACOP?
The pipeline is being developed by French energy group TotalEnergies and Chinese state-owned oil company CNOOC. It will run over 1,443 kilometres from Kabaale, Hoima district in Uganda to the Chongoleani Peninsula near Tanga Port in Tanzania. Once completed, it will be the world's longest-heated oil pipeline, processing 848 million barrels of oil over 25 years.
It will transport oil produced from Uganda's Lake Albert fields to the port of Tanga in Tanzania, where the crude oil will be loaded onto tankers and exported abroad. Total investment is now estimated to be around $5 billion, from the original forecast of $3.5 billion, with the argument that it will create economic value for the two African countries. 
The idea to build a pipeline to export Uganda's oil was first floated in 2013, and it was decided in 2016 that it would run through Tanzania. It was initially intended to start construction in the same year, but the date has been pushed back various times following backlash by local communities, campaigners and even the European Parliament. The current start date is now 2025.
Environmental issues
There has been intensive lobbying to stop the project, which is said to be associated with numerous climate, environmental, and social risks as well as human rights violations. Over one million people have expressed their dissent via petitions and protests.
The project will lock Uganda and Tanzania to fossil fuels, investing billions that could otherwise be spent for projects supporting their transition, such as renewable energy infrastructure. The pipeline will generate huge amounts of higher greenhouse gas emissions and will cause significant environmental damage.
According to the US-based Climate Accountability Institute (CAI), EACOP is expected to generate 379 million tonnes of CO2 equivalent over its lifetime, 87% of which will come from its downstream emissions, which include maritime transport, refining, and combustion of carbon fuels. 
Extraction of the oil fields in Albertine Graben will most directly impact the Murchison Falls National Park and several Ramsar Wetlands of International Importance, threatening biodiversity. EACOP itself is expected to negatively affect 2,000 square kilometres of protected wildlife habitats.
Human rights issues
The pipeline will need 5,300 hectares of land to be built and operated, meaning around 14,000 households will be displaced. Acquisition efforts have already led to the resettlement of 13,161 people across 64,000 hectares. 
There were major delays in paying compensation, as the process only started after the final investment decision, which was made in February 2022. Not all Project Affected Persons have yet been compensated.
Even though Total committed to applying international best practices in its land acquisition process, this was characterised by delays, insufficient provision of information to communities, harassment and irregularities. For example, affected people previously stated that they had only a basic understanding of the project's stakeholder engagement process, and felt pressured by subcontractors. Some people reported having been forced to sign different forms without clear explanation, stamp and sign empty forms, and fill valuation forms using a pencil but signing in ink.
This led the European Parliament to condemn the pipeline in September 2022 over violations of human rights in Uganda and Tanzania. 
Total commented: "TotalEnergies formally contests the allegations made by Inclusive Development International regarding the alleged non-compliance with international standards."
There are now mistrust and concerns towards the process among the affected communities. Moreover, oil spills and pollution on nearby bodies of water will risk putting pressure on users – from individuals to businesses and governments – leading to an increase in health hazards, cross-border conflicts and loss of livelihood, among others.
The risk of stranded assets
Campaigners argue that financing this project will undermine other work by investors, regulators, and banks to address climate risk. Moreover, the International Energy Agency said that there should be no investment in new fossil fuel supply projects from 2021 if we are to reach net zero by 2050.
According to researchers at CAI, capital investment in EACOP conflicts with TotalEnergies' commitment to cut emissions in line with the Paris Agreement's 1.5°C pathway, adding that "Total and CNOOC have both ignored the broader climate impacts of this harmful project".
Campaigning and civil society support organisation BankTrack previously said: "Financiers may wish to examine the viability of the Tilenga field – and accordingly EACOP – under various oil demand scenarios."
New oil and gas assets are at risk of becoming stranded in the energy transition. In July 2022, Carbon Tracker estimated that there are $600 billion of 'unburnable' oil and gas reserves listed on global stock exchanges. 
Banks and insurers deny support
Following lobbying from campaigner groups part of the Stop EACOP alliance, a total of 21 insurers and 24 banks have publicly stated they will not provide financing or insurance to the project. The latest were insurers Arch Capital and AEGIS London, whose statement followed sustained pressure on Lloyd's of London managing agents to rule out underwriting EACOP, and days after campaigners from Money Rebellion spilt fake oil outside Arch's London offices.
Total added: "TotalEnergies reminds that it was chosen by Uganda and Tanzania as the company to guarantee the reliability of the infrastructure and the implementation of the highest social and environmental standards"
The power of civil action 
EACOP can serve as an example of the risks companies incur when disregarding the environmental and social issues arising from their projects. Banks and insurers publicly ruling out support could represent a first step in assessing their own ESG standards.
Rafela FitzHugh from Money Rebellion said: "We're happy with Arch and AEGIS' announcements, but people shouldn't still have to push for change. With deadly weather destroying lives across the world, the insurance sector should be turning its back on all new fossil fuel projects now. Citizens resisting the East Africa Crude Oil Pipeline in Uganda and Tanzania, are facing arrest and human rights abuses. We continue to stand with them and have written to Canopius Group, and Chaucer, to tell them to expect us on their door step soon if they don't rule out insuring EACOP."
Isobel Tarr of Coal Action Network added: "It's clear that insurance companies want to avoid being implicated in this disastrous project, and that hundreds of people taking small actions can compel insurance companies to take a stand. If companies want to avoid coming under this kind of pressure then they need to adopt robust exclusion policies on all fossil fuels, and this includes Lloyd's of London."