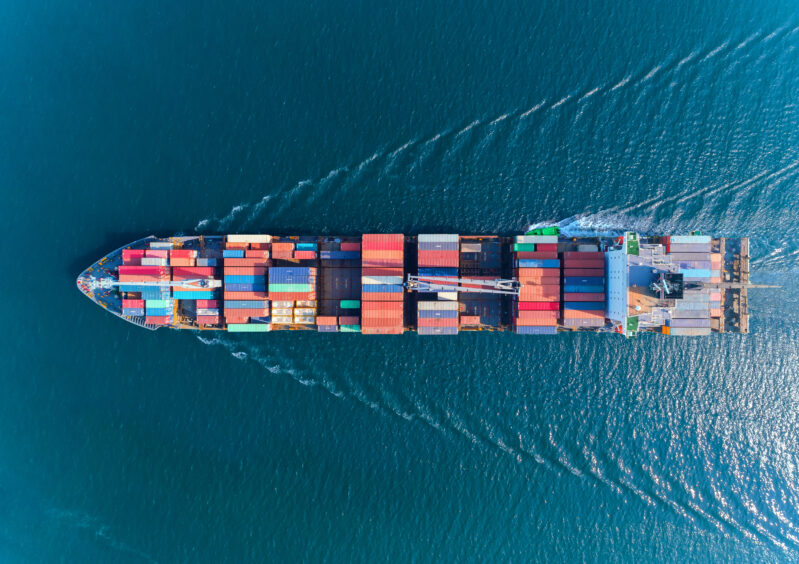 The European Parliament has voted to include the maritime transport industry within its emissions trading scheme, which means the industry will have to pay for the emissions it generates starting in 2023.
EU legislators voted to include maritime transport within the emissions trading scheme (ETS).
As a result, European maritime operators will have to pay for their carbon emissions starting in 2023.
The EU Parliament has set binding requirements for shipping companies to reduce their CO2 emissions by 40% by 2030.
The EU's emission trading system (ETS) is an example of a compliance or mandatory carbon market, mandating that companies reduce their emissions. It is viewed by the EU as a key part of helping it achieve its Fit for 55 goal by 2030 and net zero by 2050. The ETS is a 'cap and trade system' which requires entities to buy or receive emission allowances, which can be traded among them as needed.
EU legislation to include maritime transport in the ETS
In November 2022, Members of the European Parliament (MEPs) voted in favour of including maritime transport in the EU ETS, which will apply from 2023. It is part of the Fit for 55 legislative package, which requires a 55% cut in the bloc's greenhouse gas (GHG) emissions by 2030, which was increased to 57% in November 2022.
MEPs also want the maritime sector to cut GHG emissions from ships by 2% before 2025, 20% by 2035 and 80% by 2050, compared to 2020 levels. These cuts would apply to ships plying a gross tonnage 5,000 tons or higher, which account for 90% of CO2 emissions in the sector.
The reduction also applies to all energy used on board ships in or between EU ports, and to 50% of the energy that is used for travelling to or from ports outside the bloc.
Industry asks governments to drive funding
According to the World Shipping Council, including the maritime sector in the EU ETS "will encourage shipping's journey towards decarbonisation as well as accelerate emission reductions among non-maritime sectors".
The Council previously said that the regulation ignores the upstream emissions of renewable fuels of non-biological origins (RFNBOs), such as e-methanol and e-ammonia. By doing this, the existing proposal by the EU may encourage the use of fuels that have significant emissions during production, but no emissions during combustion.
The organisation said there are ships with engines that can use e-methanol and are testing ones that can use e-ammonia. What is needed, it argued, is for governments to fund the development of RFNBOs so that they can be made available to the industry at scale. 
Jim Corbett, the World Shipping Council's Environmental Director for Europe, said: "Including all GHGs – CO2, methane and nitrous oxide – in the EU ETS is an important step. But only when the EU ETS takes a full life cycle perspective will it reach its real potential, increasing the competitiveness of truly renewable fuels. A correct price signal is the key to driving investment in the green energy necessary to produce sustainable fuels. With the agreed phase-in, there is a window of opportunity to move forward with a rapid adoption of life-cycle perspectives. This will also align the EU ETS with FuelEU requirements, promoting the uptake of new fuels."
Shipping sector needs heavy investment for its transition to net zero
The industry's transition will require significant investment. A report by Marine Capital Ltd. estimates that the UK domestic shipping sector alone will need around £75 billion over the next three decades, and will require attracting new sources of funding.
Researchers said that clear policy support is key to overcoming the hurdles associated with the transformation, such as the supply of clean fuels and access to funding, corroborating the views expressed by the World Shipping Council.
Transport's decarbonisation burden requires fast answers
The International Energy Agency's (IEA) Tracking Transport report calls for a 20% reduction in sector emissions by 2030, in order to meet the 2050 net zero scenario. Based on IEA's analysis, shipping, along with heavy trucks and aviation, will see a slower rate of decline in emissions by 2030, based on the nascent stage of development of their efforts to decarbonise.
As part of a hard-to-abate industry, decarbonisation is a major burden for transport companies. With rising economic activity following the pandemic, as well as challenges to supply chains globally, changing the way the industry operates will not be an easy feat.