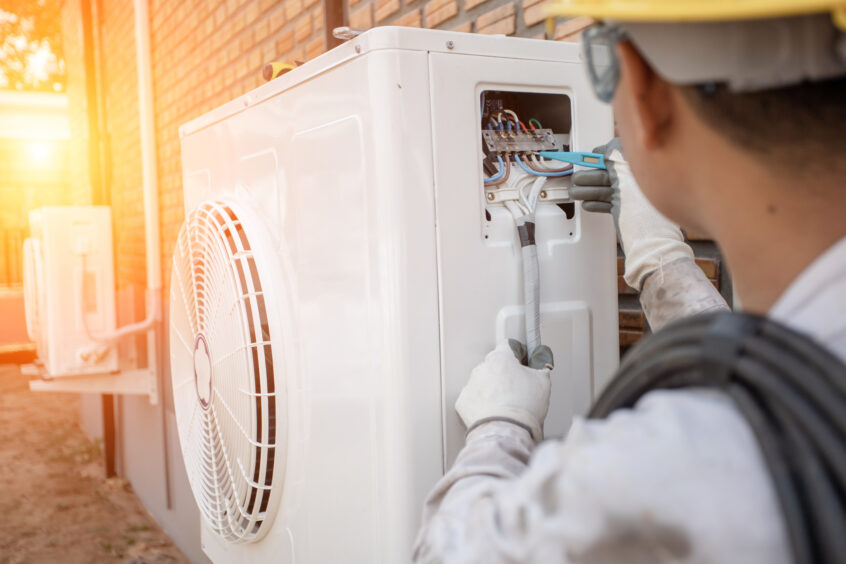 The UK Government has announced the winners of its £9.2 million funding scheme for projects that are providing training for green jobs in the energy, heating and buildings sectors. 
The funding will enable 18 separate projects to offer free or subsidised training on installing heat pumps and energy efficiency solutions.

 

Low-carbon heating and energy-efficient retrofits will be crucial in enabling the UK to meet its net zero target, but a lack of skilled workers is limiting their adoption.

 

Governmental support for green jobs training will go some way towards closing the skills gap, but industry bodies, academic institutions, investors and individuals must also get on board with the transition.

 
The Government has outlined how its £9.2 million training scheme will be used to expand the adoption of low-carbon heating and energy efficiency solutions while creating sustainable job opportunities.  
"The green energy sector is driving growth and creating jobs right across the country, and this funding will make sure we have enough tradespeople trained up and able to take advantage of these opportunities", said business and energy minister Lord Martin Callanan. "We are making homes greener and cheaper to keep warm and training thousands more skilled installers will ensure we keep accelerating the pace of creating cleaner and more energy efficient buildings", he concluded. 
How will the scheme be delivered?
Under its latest scheme, the Government will provide free or subsidised training for both existing and entry-level workers within the energy, heating and buildings sectors until March 2023. Its funding will be shared between 18 different projects covering three priority areas including retrofit assessment and coordination, heat pump installation and the provision of domestic insulation. 
Through these projects, 8,900 separate courses will be delivered by accredited centres across England. Those who complete their course will gain a recognised qualification, as well as access to ongoing development courses. 
According to the Government's announcement, the funding will help thousands of individuals to take advantage of the employment opportunities created by the country's transition to net zero, while also enabling households to improve their efficiency and reduce their energy bills. 
The role of green skills in delivering a just transition to net zero
With the electricity and heating consumption of buildings accounting for around 17% of global greenhouse gas emissions, there is an urgent need for the rapid adoption of low-carbon technologies. Estimates suggest that improvements in energy efficiency could deliver up to 40% of the energy-related emissions reductions needed by 2040 but the global average energy intensity of buildings had only dropped by 2% between 2015 and 2019. 
According to the United Nations Environment Programme, the emissions intensity of residential buildings must be reduced by between 45 and 65% by 2030 if net zero is to be remotely achievable by 2050. For commercial buildings, this figure rises to between 65 and 75%. 
Existing technologies such as heat pumps or advanced insulation could go a long way towards decarbonising the built environment. Given that, in developed economies, around 80% of the buildings that will be used in 2050 have already been built, the adoption of these technologies will largely rely on retrofit work. 
As such, building retrofits and the replacement of oil and gas boilers with low-carbon alternatives are considered critical factors in the UK's ability to achieve its legally binding target of reaching net zero by 2050. This strategy cannot be delivered, however, without the rapid and long-lasting transformation of the construction sector. 
Nascent technologies require different skill sets from those of their conventional counterparts, and a sizeable labour force will be needed to enable their widespread adoption at the required pace. Investing in the development of green skills, therefore, will be vital in driving the UK's transition to net zero. It also provides an opportunity to create sustainable job opportunities for unemployed workers and to ensure the long-term security of livelihoods that depend on technologies that will eventually be phased out of use. 
The UK skills gap
Currently, the UK is significantly lacking in the green skills necessary to decarbonise its built environment. The Construction Industry Training Board estimates that the number of building retrofits needed to achieve the 2050 net zero target would require 12,000 workers to be trained each year until 2025. With around 750,000 UK construction workers set to retire by 2035, this figure will continue to rise far into the future. 
A 2022 report from UK innovation charity Nesta, meanwhile, indicates that the country currently has only 3,000 trained heat pump engineers. It recommends that between 4,000 and 6,000 individuals will have to be trained each year to ensure that at least 27,000 skilled workers are available by 2028. 
These numbers can appear daunting, and are made even more so when the barriers to potential training opportunities are taken into account. The high costs of training and accreditation have been an ongoing issue, with many individuals being disincentivised from investing in new skills. For example, it is currently more expensive to become an accredited heat pump engineer than it is to be certified as a Gas Safe boiler installer. For many, the cost difference of between £891 and £991 is a major hurdle to overcome. 
Although the UK's skills gap raises questions as to its ability to reach net zero, the Government's latest announcement presents an opportunity to bolster the national economy and support British citizens in coping with the current financial situation. By improving energy efficiency and switching to low-carbon heating solutions, additional benefits such as household cost savings, improved air quality and reductions in public health issues could also be realised. 
What more can be done?
The latest funding will be useful in addressing financial barriers to training opportunities, while also sending a clear signal of the future pipeline of work that the Government intends to support. In order to close the UK skills gap once and for all, however, stakeholders across the board will need to be engaged.
Given that the training sector is largely demand-led, potential trainees will have to understand the benefits of getting involved. This will partially depend on the demands of buildings occupants themselves, as there is little point in training to install a solution that no one is willing to pay for.  
The current energy crisis appears to be driving public demand for energy-efficient homes, with a recent survey from Legal & General concluding that 62% of UK households see energy efficiency as an attractive investment that could provide a long-term solution to their increasing bills. According to its research, home buyers are now willing to pay a premium of up to 20% for 'low carbon properties' while renters would consider paying 13% more. 
This shift in the buildings, energy and heating markets could be complemented by private investment,  further efforts to raise awareness among both homeowners and potential labourers, and the introduction of policy measures such as tax incentives or regulatory standards. The broader construction industry should also be involved, such as by helping to balance regional supply and demand, while academic institutions can contribute through the new courses that line with future needs. 
Such collaboration will be crucial in closing the UK building sector's green skills gap and maximising the opportunity for sustainable growth.