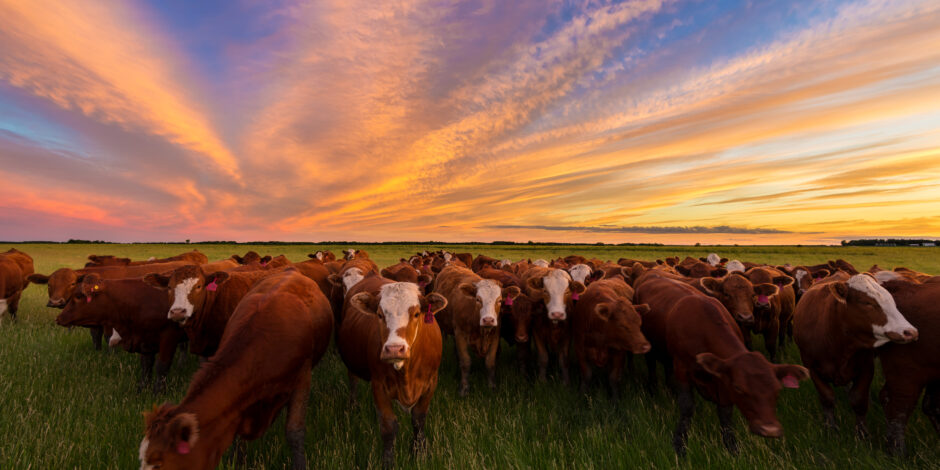 As the biodiversity COP kicks off in Montreal, the FAIRR investor network warns that the meat and dairy industries are failing to manage their impacts on biodiversity leaving companies exposed to various regulatory, legal and reputational risks.
The FAIRR investor network, responsible for $70 trillion, has warned that many major meat and dairy companies, as well as associated retailers, are highly exposed to biodiversity risks.
Moody's Investors Service says $1.9 trillion is exposed, as biodiversity loss is a multiplier of other nature-related risks.
Agreement of a global biodiversity framework at COP15 will require fundamental transformation of the meat and dairy sector.
Data from the fifth annual Coller FAIRR Protein Producer Index (the index) shows that the global meat and dairy sectors perform poorly on three biodiversity metrics that are expected to be part of a legally binding biodiversity agreement at COP15: deforestation, nutrient pollution and freshwater conservation.
Action on these metrics will become increasingly important as the need to cut emissions moves far beyond the decarbonisation of the energy system. With the food system accounting around one-third of global GHG emissions, it is likely to become a priority for urgent action.
The Montreal biodiversity conference (COP15) presents an opportunity to reach a 'Paris Agreement for Nature', including a set of proposed targets to halt and reverse global biodiversity loss. The data from FAIRR highlights how unprepared the world's biggest meat and dairy producers are in terms of being able to meet the targets expected in such an agreement.
Rachel Crossley, Head of Stewardship, Europe, BNP Paribas Asset Management, said: "As the reality hits home that the loss of biodiversity poses as great a risk to global economic stability as climate change, we expect regional and national governments, as well as capital markets, to take increasingly robust action to drive fundamental changes in those sectors that threaten the water, soils, and forests we all depend on.
"The evidence in the Coller FAIRR index … should remove any doubt that the meat and dairy sector must urgently improve its practices to eliminate deforestation and vastly improve its management of waste and fertiliser."
Where and how is the industry failing on biodiversity?
The Index assesses 60 publicly-listed animal protein producers worth a combined $360 billion against ten environmental, social and governance (ESG)-related factors. Collectively, these producers were found to be failing in three key areas: deforestation, waste and freshwater management.
The biggest driver of deforestation is animal food, with the index showing that 75% of the Amazon's forest loss is due to the use of soy for animal feed. While there has been some progress towards deforestation targets, they are usually inadequate in one way or another.
Given the tipping point that has already been reached in the Amazon, is there any point in setting a 2030 target? Deforestation in the supply chain needs to end as soon as possible, with the Science-Based Targets Initiative suggesting that targets should be set for 2025 at the latest.
Most major operators do not have an effective traceability programme and, where they do, it is often applied only to their own farms – excluding their external suppliers. Although there are some regional traceability programmes in place, these do not include supply chain participants beyond their geographical boundaries.
Thalia Vounaki, who manages the Index, explains that the research also looked at the deforestation commitments of ten different retailers. There are apparently some that claim to have already reached their 2021/2022 targets, despite having suppliers that do not provide disclosures on any related metrics.
Regarding waste management, the sector's main challenge is the reduction of pollution such as the nitrogen and phosphorous released by animal waste. The index reveals, however, that the majority of companies do not require their suppliers to have waste management plans.
The waste generated by animal protein giant JBS alone is equivalent to the human waste generated by the whole of India, yet manure used as fertiliser is often unregulated. Instead, it is simply left on the land where it is rarely fully absorbed. This then results in contaminating runoff that damages aquatic ecosystems.
Freshwater consumption has been raised as an additional challenge. The animal protein industry consumes around a third of the freshwater consumed by human activities, while the world is already facing a crisis of water scarcity.
In 2022, the US saw its driest summer in a thousand years, while Europe saw its driest in 500 years. A third of US cattle herds had to be relocated in order to find food and water and, where ranchers didn't have enough food, they were forced to rely on increasingly expensive feed. This makes the index's exploration of farms that are operating in water-stressed areas particularly alarming. Its findings showed that 87% of the assessed companies are not currently disclosing on water scarcity.
As Vounaki points out, it's difficult to say that you're taking action on these issues when the company either fails to make relevant disclosures or to demand such disclosures from within their supply chain. There are clear risks associated with this lack of action, whether they be financial, reputational, regulatory or legal.
What are the key targets for COP15?
There are four overarching goals and 21 targets up for discussion at COP15 (although recent statements from the UN suggest that there will now be 23 targets to negotiate). Coming to an agreement on all of these issues is likely to be a challenge, given that any verdict reach must be fully unanimous.
One of the most important goals is the agreement of the 30×30 target, which would see the Convention's 200 signatories agreeing to protect 30% of the world's oceans and land by 2030. While many countries have already signaled their support, countries including Brazil, Indonesia and South Africa have so far objected to such a commitment.
There is some hope that an agreement to reverse biodiversity loss by 2050 could be made, alongside short-term or immediate targets to prevent key tipping points from being reached. The integration of nature-positive actions with broader climate plans could also be realised, and there could be some movement towards the inclusion of indigenous rights.
Perhaps most importantly, there could be an agreement on businesses' disclosure of biodiversity risks. This would serve to drive fundamental transparency around corporate operations, which would undoubtedly be critical in realigning capital flows with the protection of nature.
Such an agreement, however, is likely to be one of COP15's greatest challenges. The conference's framework has identified a nature funding gap of around $700 billion, a far greater amount than the climate finance gap that became the subject of great controversy during COP27.
Connecting the Index findings to proposed COP15 biodiversity targets
FAIRR's findings are central to at least three of the proposed targets in the 'Post-2020 Global Biodiversity Framework' being discussed at COP15. The table below highlights the proposed targets alongside relevant findings of FAIRR's Index report.
COP15 proposed target
Coller FAIRR index finding
Target (2) to protect freshwater and related ecosystems.

 


* 87% of meat, egg & dairy firms (41 of 47) do not assess if their farms are located in water-stressed areas, despite most farms being in regions already suffering from extremely high-water stress, or expected to in future. One example of this is Cal Maine Foods.* Just two companies, Marfrig and WH Group (owners of Smithfield), provide guidance and technical assistance to feed farmers to help manage water availability and risk – despite 98% of meat & dairy's water footprint coming from feed farming.
Target 7 to reduce pollution including reducing nutrients (such as nitrogen and phosphorus) lost to the environment by least half.

*  83% of meat, egg and dairy firms (39 of 47) do not require suppliers to have management plans to prevent nitrogen and phosphorus from animal waste polluting waterways and stimulating toxic algae, including JBS and Tyson.* 70% of Index companies also pose a risk to the environment through antibiotic waste, altering bacterial communities that underpin ecosystems.
Target 8 to minimize climate change's impact on biodiversity by, for example, preventing deforestation.

* at least 60% of Index companies source soy for feed from areas at high risk of deforestation and have still not set deforestation targets. Even high-street brands like Nestlé and McDonald's with strong deforestation commitments continue to use suppliers such as Fujian Sunner and New Hope that do not track deforestation.
What could a biodiversity agreement mean for the meat and dairy industry
"Investors are focused on material financial risks for companies, and a global agreement on nature at COP15 would see the intensive animal agriculture industry face increased regulatory, legal, tax and reputational risks" says Jeremy Coller, Chair of the FAIRR investor network.
Diane Roissard, Biodiversity Lead, La Banque Postale Asset Management, pointed out that financial institutions in France are already required to disclose biodiversity-related risks, as well as strategies for reducing impact. With the Task-force for Nature related Finance Disclosures (TNFD) having recently released its third draft, it seems likely that other countries will follow suit.
As Roissard explains: "An agreement on a global biodiversity framework at COP15 will add further urgency and importance to companies' disclosure and performance on biodiversity.
The full results of the Coller FAIRR Protein Producer Index 2022 are freely available to the network's members, and can be integrated with other ESG data to help in assessing the 60 leading companies included.
The key point, however, is that while the assessed companies have made some progress, far less has been achieved over the past five years than FAIRR had hoped. As Thalia Vounaki says: "Despite four reporting cycles there is a long way to go. There is some improvement in disclosure recognition, but it doesn't address risk."
Evidently, the sector is failing to manage some major challenges. If COP15 does result in a global biodiversity agreement, it will be faced with a number of financial, regulatory and litigation risks that will have to be addressed. Such an agreement would see a post 2020 Framework being put in place, but it is important to differentiate between the targets it sets and the action that is delivered in order to achieve them.
During COP27, the UN Food and Agriculture Organization announced its plans to develop an agricultural roadmap that would help in aligning the sector with the goals of the Paris Agreement. This has provided some momentum for the discussions of COP15, leading Jeremy Coller, Chair of the FAIRR network to comment that: "We can be confident this trend will continue to gain momentum as companies adapt to the inevitable transition to a more sustainable food system."
For now, we will have to wait and see.