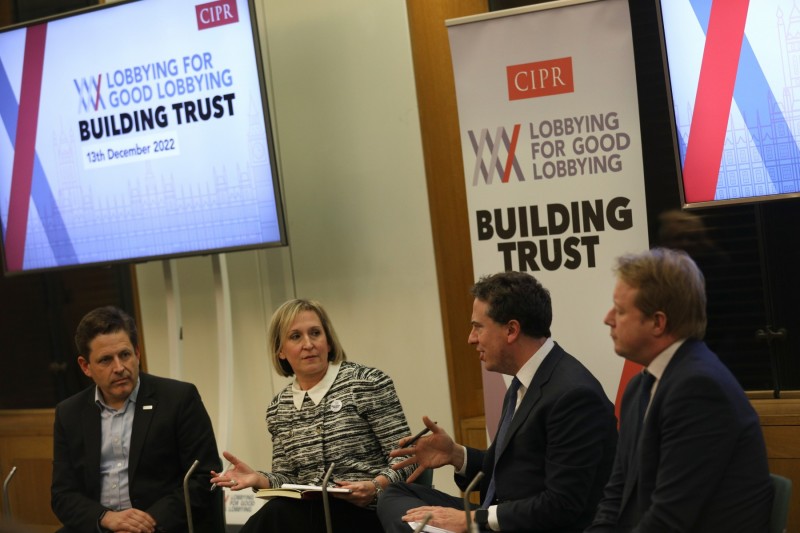 The Chartered Institute of Public Relations (CIPR) has launched a new campaign, calling for dramatic reforms to improve the transparency and accountability of UK lobbying. 
The 'Lobbying for Good Lobbying' campaign calls for regulatory changes that could improve public trust in the UK's democratic processes.

 

A number of high-profile scandals have demonstrated the failings of the UK's lobbying legislation, raising concerns that its lack of transparency could stand in the way of action against climate change and biodiversity loss.

 

As the risks associated with political lobbying become more widely understood, measures to improve transparency will continue to emerge. Their effectiveness, however, remains to be seen.

 
The CIPR launched its 'Lobbying for Good Lobbying' campaign at a UK Parliament event attended by MPs, journalists and representatives of the lobbying industry. Alastair McCapra, chief executive of CIPR, introduced the campaign as a call for dramatic reforms to improve the transparency and openness of UK politics. 
"It has been nearly 9 years since the Lobbying Act was passed with the intention of improving trust and transparency in our politics – by any measure, it has failed. That is why today we are launching our Lobbying for Good Lobbying campaign," he explained. 
"For 9 years, we have been calling for change. Now we're campaigning for it. We're campaigning for a change to the legislation and a lobbying register that captures all lobbying activity. We're campaigning for greater transparency. And we're campaigning for a level-playing field."   
The systemic failings of lobbying regulation
Lobbying, the act of seeking to inform and influence public policy or legislation, can play an important role in democratic processes. When conducted ethically and transparently, it enables individuals or organisations to share their expertise, explain legitimate needs and provide evidenced reasoning that can serve in the creation of better policies. 
On the other hand, lobbying can also include bribery, corruption, secretive communications with government officials and the promotion of agendas that are purely profit-driven. The UK's lobbying industry has been somewhat tainted by these issues. 
Numerous scandals have occurred, such as the Westferry Affair, in which certain individuals were able to secure access to a Minister by paying a substantial bribe, or former Prime Minister David Cameron's informal lobbying for Greensill Capital to be awarded a sizeable loan under the COVID-19 corporate financing facility. 
These events have resulted in substantial criticism of the country's failure when it comes to appropriately regulate its lobbying industry. Researchers have said that, despite the introduction of the Transparency of Lobbying, Non-Party Campaigning and Trade Union Administration Act in 2014, the vast majority of UK lobbying is not publicly recorded or discussed. 
According to a wide-ranging analysis published in 2020, less than 4% of the organisations known to have met with government ministries are publicly registered. The same study shows that the minutes of ministerial data provide little record of around 70% of the clients contracted with professional lobby firms. 
The lack of transparency in political lobbying has implications that span far beyond the UK, as such practices are increasingly being used to obstruct vital actions for the protection of our planet and all its inhabitants. 
In 2021, undercover journalists highlighted this issue when they published their footage of a senior US lobbyist explaining how ExxonMobil (NYSE:XOM) had lobbied for natural gas to be included in the drive for a clean electricity standard. The video sees him admitting to "aggressively" fighting against known climate science and joining shadow groups to strengthen the company's influence. He goes on to describe the company's actions as "looking out for our investments" and claims that officials can be easily swayed. "They know they need you and I need them," he says. 
UK think-tank InfluenceMap provides further examples, with its reports identifying numerous cases of successful lobbying against climate and biodiversity policies that would impact the profits of heavy industries such as the fossil fuels sector.  
This influence is starting to be recognised as a major threat to global climate action, but significant changes are yet to be made. The COP26 climate summit was attended by 506 fossil fuels lobbyists, despite campaigners' warnings that their conflicting interests could undermine any agreements reached. At 2022's COP27 convention, the number of fossil fuels lobbyists present increased to 636 individuals – outnumbering the representatives of indigenous communities. 
Lobbying for Good Lobbying
CIPR's campaign will promote the importance of responsible lobbying within the UK in a bid to improve the public's perception of such practices. Ultimately, it believes that lobbying should be recognised as a force for good that can rebuild trust in the political system and play an essential role in democratic processes.  
The campaign calls upon MPs, lobbying professionals, campaigners, commentators, decision-makers and influencers from across the political spectrum to come together in supporting its goals. By appealing to a wide range of stakeholders, CIPR hopes to accelerate the implementation of the recommendations outlined in its lobbying policy proposal. 
These recommendations include expanding the UK's existing lobbying register, which applies only to consultant lobbyists that have been hired externally, to capture all lobbying, regardless of who is involved. CIPR suggests that the register should be one of activity, rather than of actors, and that this would require the Office of the Registrar of Consultant Lobbyists to be reorganised as the Office of the Registrar of Lobbying. 
Providing an example of how such a system would work, CIPR says that it would mean charity executives that met with Ministers about relevant policy areas would be required to register their activity. Constituents would not be required to register on personal interests, but businesses lobbying their local politicians would be captured by the requirement.   
The register should also be underpinned by a clear code of conduct, through which all individuals that participate in lobbying could be held fully accountable. CIPR recommends that this code be administered externally and underpinned by a transparent process for making and dealing with any complaints before delivering the appropriate sanctions.     
Under CIPR's proposal, Ministers would also be required to publish diaries of their communications with lobbyists in a timely manner, providing information on what topics were discussed and with whom. The organisation suggests that technological solutions could be explored to minimise any administrative burden that this could incur. 
Finally, the proposed policy would require lobbying regulations to be reviewed at least once in every five years. A review of the time taken between Ministers leaving office and becoming professional lobbyists is also recommended. 
In return for the implementation of its policy proposals, CIPR has said that it will double down on its efforts to promote transparent and ethical lobbying. It has demonstrated its willingness to make a short-term investment in the improvement of the lobbying register, and has promised to form a representative standing committee that would lead and oversee work on lobbying regulation and professional standards. 
Is time up for irresponsible lobbying?
The exposure of malpractice by the lobbying industry has led to the emergence of several initiatives to improve its transparency. The UK Government has already launched its own inquiry into the failings of its current legislation, while COP27 saw 57 companies from a range of different industries committing to aligning their policy engagement with the goals of the Paris Agreement. 
As investors have begun to acknowledge the financial, legal and reputational risks associated with poorly governed lobbying, they too have taken an interest. This has resulted in legal action being taken against companies that have refused to disclose their climate lobbying activity, as well as the development of a Global Standard on Responsible Lobbying framework to help investors engage responsibly with lobbying corporations. 
These developments provide some hope that time may be up for irresponsible lobbying. No matter how strict the legislation on registration, disclosure and accountability, however, there will always be a risk of malpractice occurring behind closed doors.