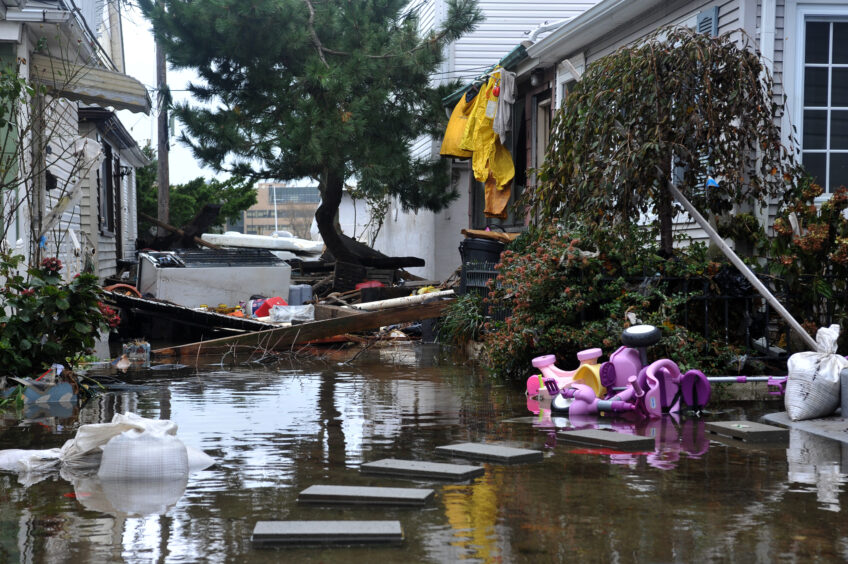 New York State Governor Kathy Hochul has signed a new bill that will require landlords to disclose flood risks and previous flood history to renters, creating a 'right to know'.
The new flood risk disclosure law will be enforced from June.
New York has lagged behind other US states in terms of flood risk disclosure.
As extreme weather events are expected to increase due to climate change, it is paramount to give people the necessary information to protect themselves.
The bill, proposed by Senator Brad Hoylman and Assembly member Robert Carroll with the support of activist group Waterfront Alliance, will create a 'right to know' for tenants across New York State. It will require residential leases to include notice of flood risk and flood history of the premises, alongside a notic to tenants of flood insurance available to them.
'Right to know' for tenants vital as extreme weather increases
"As flooding becomes more frequent and intense due to climate change, we must make sure New Yorkers have the information they need so that they can protect their property and their families," said Carroll. "New York State has lagged behind other states when it comes to flood risk foreclosure for tenants and this legislation is an important step forward."
New York catches up with other US states
According to the nonprofit Natural Resources Defense Council, New York is not providing as much protection in terms of flood disclosure compared to other US states, such as Alaska and Oregon. Its law requires the seller to disclose whether any or all of the property is located in a designated floodplain and, if so, whether there have been any flooding problems that resulted in standing water on any portion of the property. 
If a seller does not provide this information, however, they owe the buyer a $500 credit toward the purchase price at the closing. The nonprofit said: "In practice, many New York sellers view this incredibly low penalty as an opportunity to opt out of having to disclose issues concerning the property. As such, New York's disclosure law stacks the deck against buyers when it come to learning about a property's flood risks or past flood damages much like a 'buyer beware' jurisdiction."
The official protection of renters could be the first step in addressing this shortcoming. Waterfront Alliance previously said that the passage of the 'right to know' bill for tenants will pave the way for full flood risk disclosure for homeowners.
Adapting to extreme weather events
Hurricane Ida killed 17 people in New York State in 2021, many of whom resided in basement and ground floor housing, especially in lower-income communities. Thousands were displaced and total damage was estimated at between $7.5 and $9 billion, according to the National Hurricane Center.
Meanwhile, sea levels in New York City are rising nearly twice as fast as the global average due to climate change and more storms are expected to cause damage and threaten people's safety in the future. Global warming is causing rain precipitation to increase, with hurricanes becoming more intense and therefore more destructive.
Moreover, people of colour in the state have been found to be more affected, as they live in areas at a higher risk of flooding. This is because investment in infrastructure has historically been driven to more affluent areas, according to FloodNet.
Even though it is key to mitigate the effects of global warming, we need to find new ways to cope with its consequences. As weather events become more extreme, it is paramount to provide people with the right tools to adapt to climate change so that they can make informed decisions on their living situation.