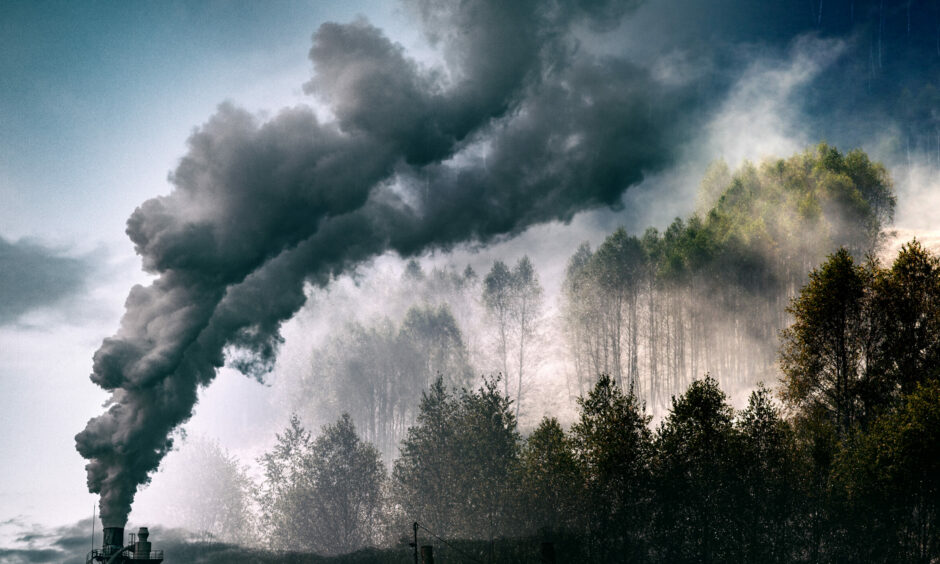 A Dartmouth study calculates the economic impacts of climate change and warming from greenhouse gas emissions (GHGs) by individual countries. Not only did it identify $6 trillion in damages from five countries over 25 years; it calculated that damages from the US and China are responsible for $1.8 trillion in annual losses over the same period. The same methodology could be used to calculate the economic impact of individual companies.
The study, published in the journal Climatic Change, was undertaken by the Dartmouth Climate Modelling & Impacts Group (CMIG). It is the first to assess the economic impacts that individual countries have caused to other countries through their contributions to global warming.
The research draws direct connections between cumulative emissions per nation of heat-trapping gases to losses and gains in gross domestic product (GDP) in 143 countries for which data are available.
Tracking economic impacts of climate change
Among the data, the research found that five national emitters of GHGs caused $6 trillion in global economic losses through warming from 1990 to 2014. According to the study, emissions from the US and China, the world's two leading emitters, are responsible for global income losses of over $1.8 trillion each in the 25-year period from 1990.
Economic losses caused by Russia, India, and Brazil individually exceed $500 billion each for the same years. The $6 trillion in cumulative losses attributable to the five countries equals about 11% of annual global GDP within the study period.
When you consider that the discussions about historical responsibility for the emissions that have driven anthropogenic climate change cover a period since the Industrial Revolution, the fact that such impacts can be identified over an only 25-year period is phenomenal. It certainly provides a scientific basis for further discussion of what has proved one of the most contentious points in global negotiations on climate finance, loss and damage.
A new science based argument for the loss and damage debate?
Loss and damage is where vulnerable nations from the global South have requested payment from the more insulated countries of the global North in recompense for economic losses tied to climate change and the emissions driving its acceleration.
For years, researchers have worked to establish direct legal links between economic loss and emissions of GHGs such as carbon dioxide, methane and nitrous oxide. Previous studies have provided estimates on the total, global level of economic loss but could not determine the warming attributable to individual nations, undermining efforts to hold emitting countries accountable for legal damages because of the uncertainties involved.
By creating an analytical framework that links emissions from individual countries to the losses and gains in every other country, the Dartmouth research team hopes to help resolve questions of climate liability and national accountability to inform climate policy.
Emissions drive conditions that affect economic growth
"Greenhouse gases emitted in one country cause warming in another, and that warming can depress economic growth," says Justin Mankin, an assistant professor of geography and senior researcher of the study. "This research provides legally valuable estimates of the financial damages individual nations have suffered due to other countries' climate-changing activities."
This includes a range of issues arising from changing temperatures, which are beginning to be felt in heavily industrialised countries today, from lower agricultural yields, reduced labour productivity and decreasing industrial output.
The study focuses solely on the economic impacts of temperature change as a consequence of emissions, not other effects of emissions such as those on air quality. Data presented in the study quantifies economic impacts based on distinct GHG emissions accounting schemes, considering those emissions that happened within a country's territory versus the emissions embodied in international trade.
Poor air quality exacluded from impacts of climate change
This could significantly under-assess the amount of economic damage done, as the morbidity and mortality rates associated with high areas of air pollution have a significant impact. In fact, it has been argued that a significant driver of China's commitment to action on climate change, and the focus on the environment in the 13th Five Year Plan, was driven by the negative economic impact of poor air quality, smog and high levels of particulate matter.
Not only does the research identify the contribution from various emitters, but it also underscores the disparity, and inequality, in emissions to date. The top 10 global GHG emitters are reported to be responsible for more than two-thirds of all global losses.
Countries that lose income are warmer and poorer than the global average and are generally located in the tropics and the global South. Countries that gain income are cooler and wealthier than the global average and are generally located in the middle latitudes and the North.
Making the link between country emissions and economic cost
A major challenge for the research was to account for large uncertainties at each step in the causal chain from emissions to global warming, from warming to country-level temperature changes, and from country-level temperature changes to impact.
To overcome this difficulty, the research team combined historical data with climate models in an integrated framework to quantify each nation's culpability for historical temperature-driven income changes in every other country.
The study sampled 2 million possible values for each country-to-country interaction. In total, 11 trillion values were calculated on a supercomputer operated by Dartmouth's Research Information, Technology and Consulting.
"This is the first research to integrate and quantify all of the uncertainties in each step of the chain between emissions and economic impact," says Callahan. "We are not addressing the question of whether fossil fuels have been good or bad for economic growth, but how to compensate for the damage caused by the warming from those emissions."
According to the research team, future work can use the same analytical approach to determine the contribution of specific emitters, including individual corporations, to economic loss and gain.
As climate litigation appears to be on the increase, this could be a serious concern for those companies known to be major contributors to climate change. After all, analysis done by CDP in 2017  said that 71% of industrial emissions could be linked to just 100 fossil fuel producing companies (across the value chain from production to end use), including ExxonMobil, Shell, BHP Billiton and Gazprom.  The ability to link climate damage to individual corporations could make future court cases that much harder to defend.