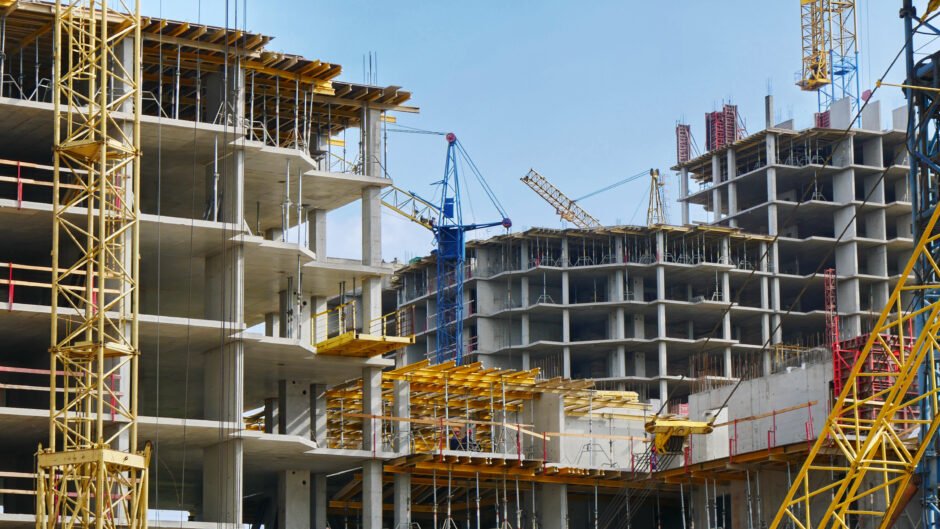 A new initiative, ConcreteZero, has seen the concrete industry commit to the use of 100% net zero low-emissions concrete by 2050. While there are increasing net zero commitments across industry, this stands out as a bold bid due to its short term targets of using 30% low-emission concrete by 2025 and 50% by 2030.
Overall, the initiative is being led by the non-profit climate and energy specialist The Climate Group, in partnership with the Green Building Council (GBC) and the World Business Council for Sustainable Development (WBSCD).
What is fascinating is the acceptance that no supply chain can be transformed without collaboration. Industrial partners in the initiative include Buro Happold, Skanska UK, Laing O'Rourke, Canary Wharf Group, Ramboll, Carey Group and Wilmot Dixon.
Concrete responsible for 8% of global emissions
Concrete production contributes to 8% of global annual carbon emissions and has a significant role in terms of embodied carbon in buildings. The chemical process used to make traditional limestone cement is very energy intensive, emitting significant levels of CO2. Inclusion of cement in the concrete mix drastically increases the level of carbon emissions associated with the end product.
Projections suggest that construction equivalent to an area the size of Paris will be built globally every single week for the next 40 years, and the demand for concrete is significant.
Concrete is likely to remain a key material in the delivery of buildings, and it is therefore imperative to find ways to drive down its embodied carbon to zero.  The concrete industry becoming net zero is vital to halving carbon emissions by 2030 and limiting global temperature rise to 1.5°C.
Net zero means we must avoid a race to the bottom on price and product
One of the greatest challenges to supply chain transformation lies in preventing a 'race to the bottom' on price – in the same way that sustainable and ESG investments favour sustainable choices, the concrete industry needs a framework to encourage positive action.
At the same time, lack of clarity about the eventual demand for low emissions concrete has proved a barrier to large-scale investment in new technologies and processes.
What the ConcreteZero commitment does is provide a clear signal as to the industry's direction of travel. As such, it provides not only a pathway for the sector to engage with the risks around climate change, but also a clear sign as to demand levels. While this is clearly positive, it is actually in another area where the members can have most impact, and that is in the realm of data.
Critical to define what is meant by low emissions concrete
A real problem has been the lack of a definition of exactly what net zero or low-carbon concrete actually is. The founding members of ConcreteZero are addressing this by making a commitment to measure and report on the carbon emissions associated with the concrete they use. This data will enable the industry to set a global standard of what low-emission and net zero concrete is, giving another clear signal to suppliers and policymakers.
ConcreteZero founding members include:
Buro Happold – an integrated consultancy of engineers, consultants and advisers
Byrne Bros – UK's premier concrete frame contractors
Canary Wharf Group – commercial and residential property developer, owner and manager
The Carey Group – construction business that operates across the UK and Ireland
Clancy Group – one of the largest privately owned construction firms in the UK
Grimshaw Architects – architects and designers
Grosvenor – international property developer, manager and investor
Joseph Homes – multi-award-winning property developer
Laing O'Rourke – international engineering and construction company
Mace – global consultancy and construction firm
Morrisroe – UK's leading concrete specialists
Multiplex Construction Europe – leading construction company
Ramboll – global engineering, architecture and consultancy company
Skanska UK – one of the world's leading project development and construction groups
Thornton Tomasetti – leading global scientific and engineering consulting firm
Wilmott Dixon – UK's leading independent construction and property services
WSP – plan, design and manager long lasting engineering solutions
The industry collaboration is modelled on similar Climate Group initiatives including a pledge to boost the use of renewable energy in partnership with CDP, the RE100, and a low-carbon steel programme to source low-carbon steel, SteelZero, run with Responsible Steel.