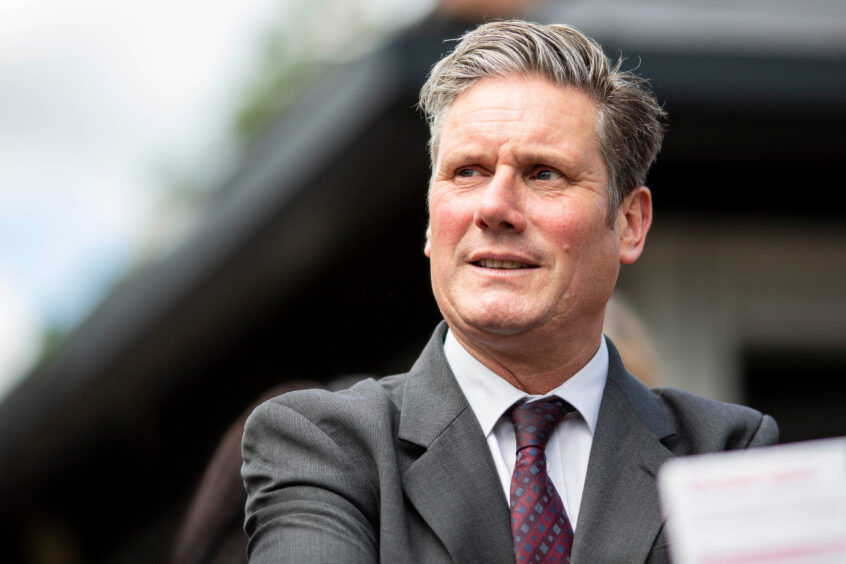 A Labour Government would block fresh investment in North Sea oil and gas, its leader has confirmed.
Starmer speech at Davos says there will be no new oil and gas investment under a Labour government.
The IEA's 2050 net zero scenario says there is no room for investment in new oil and gas.
No new oil and gas doesn't mean no money spend on the sector – it is expected to play a significant role in energy transition for decades.
"What we've said about oil and gas is there does need to be a transition," Keir Starmer told a panel at the World Economic Forum in Davos.
"Obviously, it will play its part during that transition, but not new investment, not new fields up in the North Sea, because we need to go towards net-zero, we need to ensure that renewable energy is where we go next."
But his comments have drawn criticism from industry chiefs, who have accused the Labour leader of failing to properly engage with the sector.
UK oil and gas industry responds – 'words have consequences'
Offshore Energies UK (OEUK) said that the suggestion that there would be no new oil and gas under Labour would be deeply upsetting to the many workers and communities committed to providing the UK with energy.
Jenny Stanning, Offshore Energies UK's external relations director, said: "We all know that the UK must transition to low carbon energies as fast as possible. Our industry has pledged to work with the UK's governments to reach net zero by 2050. But, in the three decades till then we will need gas and oil.
"About 24 million homes (85% of the total) rely on gas boilers for heat and we get 42% of our electricity from gas. We also have 32 million vehicles running on petrol and diesel. So, we need gas and oil. The companies providing those fuels are the same companies that are investing in the transition. The Office for Budget Responsibility has costed the transition at £1.4 trillion by 2050 with £1 trillion of that coming from private investors – many of them our members.
She warned Starmer that "words have consequences", and invited him to engage more closely with industry.
Climate activists welcome the proposed approach
Ami McCarthy, political campaigner for Greenpeace UK, said : "Over the last year, as both the climate impacts and the profiteering of the gas giants have become unignorable, public support for climate action has risen. The most important climate action any country can take is to leave oil and gas behind by boosting home insulation and transitioning to renewables as quickly as possible. Labour's latest announcement shows they understand this.
"Going into the next election, it's becoming increasingly clear that if any party wants to get ahead, now is the time to set out their vision for delivering the green economy of the future that the UK desperately needs. Any UK party still putting their trust in oil and gas lobbyists rather than scientists is going to look naive at best, and very isolated in a world economy racing towards net zero."
The Stop Rosebank group, set up in opposition to the development of Equinor's West of Shetland oilfield, tweeted: "To deal with the UK's cost of living and climate crises we need to free ourselves from oil & gas.
"This is change. This is moving in the right direction. We need a just transition and mass investment in renewables and insulated homes. Rishi Sunak and Grant Shapps need to realise it."
In the first poll of 2023, Labour extended its lead over the Tories to 20 points, consolidating an already substantial lead – the next UK general election will be held in 2024.
No new oil and gas doesn't cut off finance to the sector
While all the major scenarios that have explored how the world might achieve net zero have agreed that there is no room for new oil and gas, that doesn't mean that no money will be spent on oil and gas.
The International Energy Agency's (IEA) net zero report from 2021 said existing fields would need additional financing and investment. It sees 2020 financing levels maintained to 2030 and subsequently declining.
HSBC recently announced its plans to align its lending with net zero goals. The bank is aiming for a 34% reduction in on-balance sheet financed emissions for oil and gas by 2030. It also requires a net zero by 2050 target from clients.