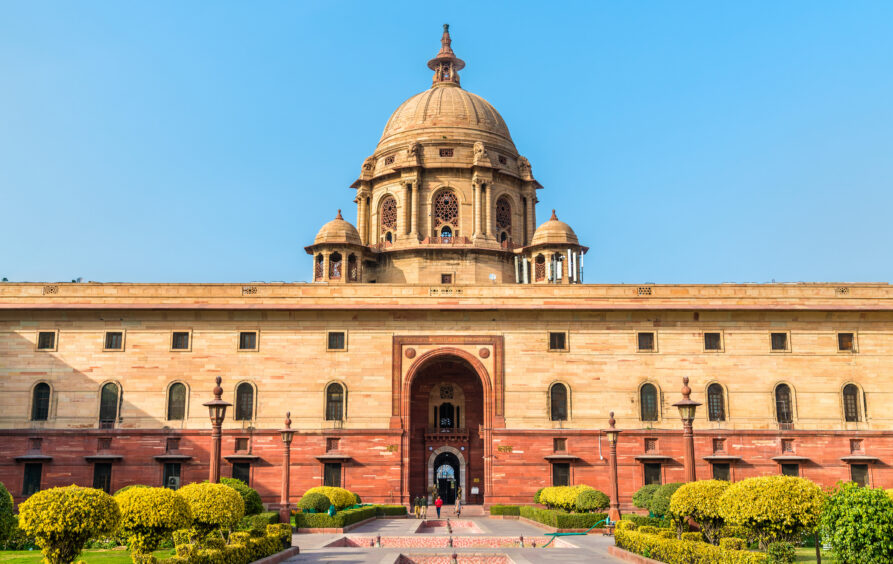 In its latest budget, India targets green growth as a priority with substantial outlays to finance the energy transition, similar to many other major economies. Plans include funding renewable energy generation and transmission plans in remote regions, which may have to stand the test of near-term economic turmoil and elections in 2024.
The Indian government has allocated ₹35,000 crore ($4.3 billion) towards energy transition and net zero objectives, and ₹8,300 crore for the transport of renewable energy.
Besides supporting the country's decarbonisation goals, green growth is expected to create high-value jobs on a large scale and boost India's competitiveness.
It could be a transformative opportunity to drive India to become a developed economy by 2047-48, but much may depend on shared social progress in the country.
India's Nationally Determined Contribution (NDC), a climate action plan to cut emissions and adapt to climate impacts, was set in 2015 under the Paris Agreement on a 'best-efforts' basis. The country initially set its climate goals for 2030 based on the economy's emissions intensity. It called for increasing installed electric capacity and creating an additional carbon sink through forest and tree cover, compared to 2005 levels.
It updated its interim and long-term goals at COP26, pledging to achieve zero emissions by 2070 while also raising its goal of reducing the economy's emissions intensity to 45% by 2030, from 33-35% previously. This included plans for renewables to account for half of the energy mix, instead of 40% previously, as well as a target of reducing total projected carbon emissions by 1 billion tonnes between 2022 and 2030.
What commitments have been made to renewable energy and green growth in India's latest budget?
Green growth has been set as a priority in the 2023-24 budget and is also seen as a long-term economic growth opportunity in India's vision for the next 25 years. The total capital investment outlay is planned to be ₹10 trillion, or just under $123 billion, which is aimed at job creation, incentivising private investment and providing a buffer against cyclical economic headwinds. 
A total of ₹350 billion has been earmarked for energy security, energy transition and achieving the country's net zero objectives. Plans for battery storage systems with a capacity of 4,000 MWh will be supported by viability gap funding, designed to provide capital support to public-private partnership projects which would not otherwise be financially viable.
Focusing on renewable energy, the budget allocated ₹207 billion for renewable energy generation in the state of Ladakh, in the Himalayas. This will include an inter-state transmission system to transport energy and integrate with the national grid, with the central government guaranteeing ₹83 billion.
The state of Ladakh provides a great location for setting up renewable energy generation projects, as it has nearly 300 days of sunlight and low precipitation. Its relatively cool climate is ideal for solar power generation, as heat can reduce the power of solar panels to produce energy.
The country has also launched the National Green Hydrogen Mission, supported by funding of ₹197 billion, with a goal to reach 5 million tons of production by 2030. India sees hydrogen as a low-carbon option to reduce its dependence on imported fossil fuels.
In her speech to the Indian Parliament, the Finance Minister, Nirmala Sitharaman, said: "Hon'ble Prime Minister has given a vision for "LiFE", or Lifestyle for Environment, to spur a movement of environmentally conscious lifestyle. India is moving forward firmly for the 'panchamrit' and net-zero carbon emission by 2070 to usher in a green industrial and economic transition. This Budget builds on our focus on green growth." 
How will green growth drive high-value jobs?
To achieve its vision of "Make AI in India and Make AI work for India", the government will fund three centres of excellence for artificial intelligence (AI) in top educational institutions, intended to create an AI ecosystem that serves agriculture, healthcare and sustainable cities. 
The AI strategy seeks to encourage leading technology players to collaborate and conduct research, targeting new applications and innovations to scale. The budget also includes plans to set up 30 Skill India International Centres across the country to upskill young workers.
Areas of focus include Industry 4.0, AI, robotics, mechatronics, IoT, 3D printing, drones, as well as soft skills. A digital ecosystem for skilling will include the launch of a unified Skill India Digital platform that envisages creating demand-based skills, linking newly trained workers with small- and medium-sized employers, and providing access to entrepreneurship.
There is also a plan to create a National Apprenticeship Promotion Scheme, which will provide paid apprenticeships to support nearly 50 million young workers, and will be applied across the country.
India's response to plans by global economies to benefit from the green transition
India's latest budget lays out short-, medium- and long-term plans that could position it to become a developed economy by 2048. According to estimates by Ernst and Young, its gross domestic product could reach $26 trillion by 2047-48, 100 years after its independence, making its growth projections the highest of any major economy.
While India's 2023-24 budget has been structured with the country's longer-term goals, many of the features appear to aim at a competitive stake in the global green transition, similar to announcements made by other major economies.
Indeed, it comes days after the EU announced plans for its Green Deal Industrial Plan, which was designed to boost its competitiveness and economic resilience amid the green transition. The bloc's plan was in response to similar moves by other major economies of the world, such as the US, the UK, Canada and Japan.
A major challenge for India, however, will be to ensure social inclusion across a vast population of over 1.3 billion people. This is part of the Competitive Roadmap for India@100. which is based on '4S' guiding principles: social progress, shared across regions, environmentally sustainable, and available to face external shocks.
The success of this roadmap, and indeed India's ability to achieve the targets set in its budget, may depend heavily on progress in its social policy in the near term. This may be challenged by persisting global economic uncertainty in 2023 and the looming 2024 general elections.