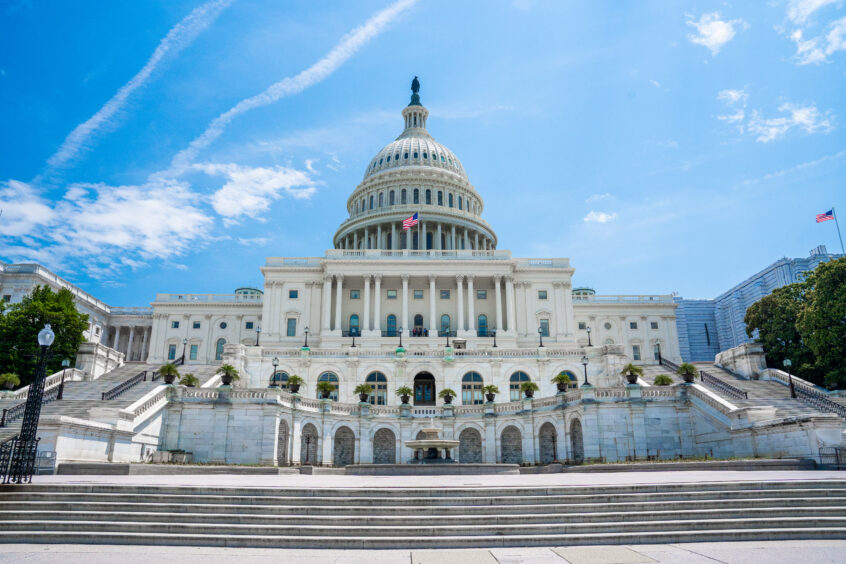 Despite the failure of Biden's climate action plan due to pushback from Senator Joe Manchin, a new deal has been struck including climate action in a bill aimed an addressing energy security and inflation.
$369 billion. That's a big number, a number that dwarfs the annual GDP of most developing countries. But this number could be what the US spends on fighting climate change and future-proofing its economy over the next decade.
On 27 July, many were surprised when Democratic Senators Joe Manchin and Chuck Schumer struck a deal on the "Inflation Reduction Act of 2022", a far-reaching bill that includes the biggest package the US has seen to back up its climate action. After a leak to new reporters in mid-July that Manchin told Schumer that he couldn't support tax hikes amid inflation concerns, many thought that any chance at a climate bill was dead.
But alleged 'secret talks' in a Capitol basement between the two Senators revived the bill, and Manchin surprised everyone on Wednesday with a full reversal of his previous stance. "I support a plan that will advance a realistic energy and climate policy that lowers prices today and strategically invests in the long game", said Manchin.
Manchin previously criticised the package (originally the 'Build Back Better' package) as being a political tool to advance the Democrats' political agenda. "Build Back Better is dead, and instead we have the opportunity to make our country stronger and by bringing Americans together", he added.
Although not nearly at the level of the ambitious $1.9 trillion that President Joe Biden had hoped for as part of his 'Build Back Better' package, Biden claims that this deal is "the most important investment that we've ever made in our energy security, and developing cost savings and job-creating clean energy solutions for the future".
"Our legislation [the Inflation Reduction Act of 2022] will put the US on a path to roughly 40% emissions reductions by 2030, all while creating new good-paying jobs", said Schumer on Twitter.
What's in the bill (and what's not)
The full package covers energy, benefits, health and tax policy, with the total of the full bill amounting to $739 billion. Agreement on the proposal is being driven by the need to address rising concerns about inflation, energy security, and need to reduce the national deficit by $300 billion.
If passed, the legislation will raise revenues through multiple streams, including a corporate minimum tax of 15%, prescription drug pricing reform, Internal Revenue Service (IRS) tax enforcement, and closing the carried interest loophole for "biggest corporations and ultra-wealthy to pay their fair share'.
With over half the raised revenue covering climate and energy, here is a breakdown of how these funds will be spent:
$30 billion for 10-year extensions of existing tax credits for wind and solar projects
$60 billion in tax credits and financing for ramping up domestic manufacturing of clean energy technologies
Establishing a royalty fee on all methane extracted from public lands and a fee for oil and gas companies that emit above a certain level of methane
$9 billion home energy rebate program to support retrofits and electrifying home appliances
$1 billion to support making public housing more energy efficient
Tax credits up to $7,500 to buy a new electric vehicle or fuel cell vehicle, and $4,000 for used until 2032;
$15 billion for clean energy and emissions reductions initiatives specifically for low-income and disadvantaged communities;
$3 billion in grants for programs that clean up abandoned mines, monitor air quality, and increase resilience for extreme weather events
$27 billion towards a clean energy technology accelerator
It is certainly a momentous bill, with unprecedented spending to boost clean energy and environmental justice in the US. However, it remains a watered down version of the original proposal from President Biden and includes some compromises in terms of the oil and gas sector.
The bill ties offshore wind leasing back to the oil & gas sector by putting in place a 10-year window in which an offshore wind lease can't be issued unless an oil and gas lease sale has also been held the year prior. It also reinstates an offshore oil and gas lease sale of 80 million acres (the largest in US history) in the Gulf of Mexico that had previously been shut down due to insufficient environmental review.
Although the bill seems significant, the spending earmarked for climate and energy over the next decade is still a drop in the water for the wider US budget. For example, in 2022 alone the US is projected to spend up to $777.7 billion on the military – nearly double the spending on climate and energy under the bill in just one year versus ten.
The leniency on oil & gas companies may not come as a surprise to some, as it has been reported that Manchin received $875,000 in campaign donations from the oil & gas industry over the past five years.
"With this legislation, we're facing up to some of our biggest problems and we're taking a giant step forward as a nation…This bill is far from perfect, it's a compromise, but that's often how progress is made: by compromises", said Biden.
The fight isn't over yet…
There has still been much praise for the bill despite the ambitions gap. Al Gore, one of the original American politicians to push for climate action, said on Twitter that the bill "has the potential to be a historic turning point… This bill is long overdue and [a] necessary step to ensure the US takes decisive action on the climate crisis".
Already the bill is having a positive impact on the economy. After the bill was announced, renewable stocks showed record gains according to Bloomberg. The US's largest residential solar installer, SunRun Inc., saw a jump of 34% in their stock the day following the announcement. TPI Composites Inc, a US wind turbine manufacturer, also saw their stock climb up by 38% – the company's largest gain ever.
"The entire clean energy industry just breathed an enormous sign of relief. This is an 11th hour reprieve for climate action and clean energy jobs, and America's biggest legislative moment for climate and energy policy", said Heather Zichal, CEO of the trade association ACP.
Not everyone is happy about this bill. Senate Republican leader Mitch McConnell condemned the bill saying that the tax hikes included in the bill will make the inflation worse, not better. "Democrats […] want to pile on giant tax hikes that will hammer workers and kill many thousands of American jobs" McConnell tweeted.
Other Republican leaders also echoed McConnell's concerns. Senator Job Cornyn of Texas said: "raising taxes on job creators, crushing energy producers with new regulations, and stifling innovators looking for new cures will only make this recession worse".
In order to get the bill through Senate and sent to the House of Representatives, President Biden will need the support of all 50 Democratic senators, along with Vice President Kamala Harris's tiebreaking vote. The Senate should take up the bill next week, and if passed, the House of Representatives could pick it up in late August.
However, there is still a lack of certainty if all 50 democratic senators will vote in favour of the bill, which could throw a wrench in this climate plan. Senator Krysten Sinema has previously not been in favour of any tax hikes, and has not commented on the new bill since the announcement on Wednesday – a deafening silence which is worrying many Democrats.
In any case, the fight is not over yet as the bill heads to Senate next week, with McConnell already warning the Democrats that the Republicans will "be really aggressive in opposition".