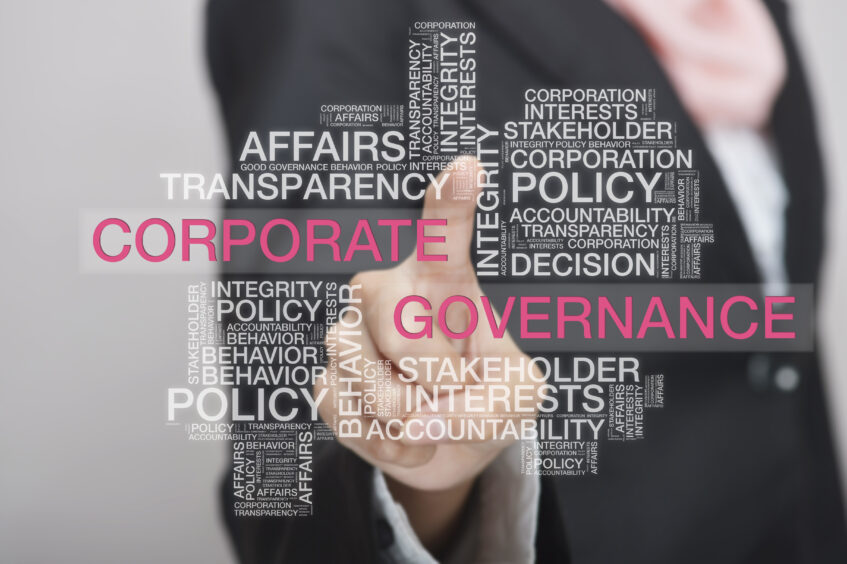 ESG is becoming a competitive differentiator and is of increasing relevance to investors, regulators and consumers. It's a means of showing how accountable a business is for its performance on a range of stakeholder issues. But it's one thing to decide that action should be taken and another to identify who should take on that responsibility and how.
Drivers for action on ESG range from risk management, regulatory requirements and demands for transparency from investors and consumers. Clearly that makes ESG a governance or board issue – but that doesn't answer the question of exactly where responsibility for action and implementation lies.
Nor does it address the fact that effective action may well require company-wide operational and procedural transformation. One way to explore how this could be identified is to think about purpose: is it a response to climate change, to net zero, to a particular set of ESG factors?
Understanding why ESG strategies are being implemented is fundamental. If it's primarily to manage risk, to explore new opportunities, to ensure compliance, respond to customer expectations or even access cheaper capital, there will be a difference in approach. And those differences can help define how ESG should be implemented.
Long-term sustainability needs good ESG corporate governance
Perhaps the most pertinent reason for implementing an ESG strategy is to protect the long-term viability of a business, protecting the future valuation of investments – such as oil and gas giants adjusting to a net-zero environment for instance. The same applies to corporates.
When investors pay a premium for ESG assets, the corporate's cost of capital will fall. If the share price rises off the back of improved ESG credentials, it will be cheaper for the corporate to issue shares to fund itself.
The same applies to the debt market, where some sustainable bonds attract lower interest rates and therefore the debt costs less to issue. Part of the difficulty is that today many ESG activities are not integrated across the business – so how can we work out where the buck stops?
Where does responsibility for sustainability lie within a company?
While the initial high-level ESG strategy and tone is usually set by the leadership team, it is then implemented and corporate governance maintained by a company's sustainability department. Some corporates have a chief sustainability Officer, although it's worth noting that their presence does not guarantee the corporate is serious about sustainability.
CSO's have historically been focused on external reporting and communication with shareholders. For smaller businesses, the responsibility may lie with the comms department, especially given ESG's development out of corporate social responsibility activities. If there is no head of sustainability or CSO, often a business will rely on a 'de facto' head of sustainability.
Today these are increasingly operational roles, with operations directors and even chief financial officers being made responsible for sustainability given the increasing discussions of financial risk and the importance of data and metrics expertise.
There is little question that data lies at the heart of ESG strategies and capability in this area can only be of benefit. The challenge is the breadth of expertise required to develop and implement a holistic company-wide programme. Different industries are going to have different priorities and concerns, and effective ESG and sustainability is even more complex for investors.
ESG strategy not always a top priority
As John Willis, director of research at financial think-tank Planet Tracker points out, "For investors, the difficulty stems from aligning an ESG strategy with the strategy of the portfolio manager. It's important to remember that each portfolio manager is rewarded based on their performance, so this will always be their top priority.
There will be clear differences between how a portfolio manager engages with sustainability issues on an ESG fund than with an income fund. Right now, there is increasing pressure for directors to take into consideration all of their stakeholders, like customers, suppliers and communities – not just their shareholders." What this reminds us is how important it is to align KPIs and remuneration with the ESG goals of the business.
In many cases, sustainability managers are tasked with implementing and incorporating ESG strategies into other departments across a business. However, Mauro Cozzi, CEO and co-founder of Emitwise, believes that ESG implementation should be driven by functional areas – that such a shift will embed ESG within the business in a way that is reflected in daily activities.
He says: "As an example, a sustainability manager shouldn't be fighting alone to reduce a facility's carbon footprint. The facility manager should have a personal target to reduce the facility's carbon footprint, while finance and procurement support with processes and policies, and the sustainability manager provides appropriate tools; it's a shared mission."
ESG corporate governance not limited to the company itself
Antoine Halff, co-founder of satellite data company Kayrros, which is working with the European Space Agency, agrees but points out that responsibility for ESG also lies beyond the borders of the company too.
He says: "Ultimately, it's not just the company itself, every aspect of it, that's responsible for ESG implementation; it's also investors, regulators, NGOs, local communities, academe, civil society, the public at large.
We are entering an age of transparency where companies operate in a glasshouse and everyone is empowered to hold them accountable for their ESG performance. In that sense everyone is sharing the responsibility of ESG implementation."
That means that companies must pay attention to the changing environment in which they operate and the impact they have outside their boundaries. At the very least, according to Hanno Ronte, partner, Monitor Deloitte UK, it means that "different industries are going to have to work together to agree new sets of responsibilities, measurements and reporting stands, and a clearer definition of the role of ESG in business."
Connection on ESG is key
Given the wide range of issues, topics, expertise required to be successful in implementing ESG strategies, it's important to think about the ownership of problems and accountability for their solutions.
Connections have got to be made across silos and communication between departments must be clear. It's critical that teams understand their responsibilities and are accountable for them both internally and externally. For an organisation to achieve its goals and ESG corporate governance to be effective there must be connection across the business.
For decades, organisations have allocated funds to change management – now they need to implement strategic change with purpose, and at the heart of successful implementation is a top-down overarching ESG strategy that drives every element of the business towards the same goals.
At its best, ESG is an ambitious, long-term process of self-transformation that calls for robust multi-stage planning cutting across the entire organisation. Effective ESG implementation is about understanding where you are, where you want to be, how long you've got to get there, and who is responsible for the journey and the goal. To be successful, as Halff puts it, "You must know where the road goes and where it starts."
Allocating responsibility for ESG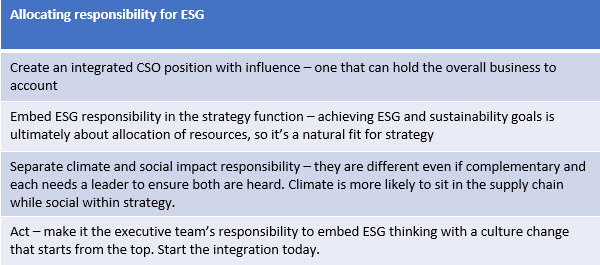 Source: Monitor Deloitte UK