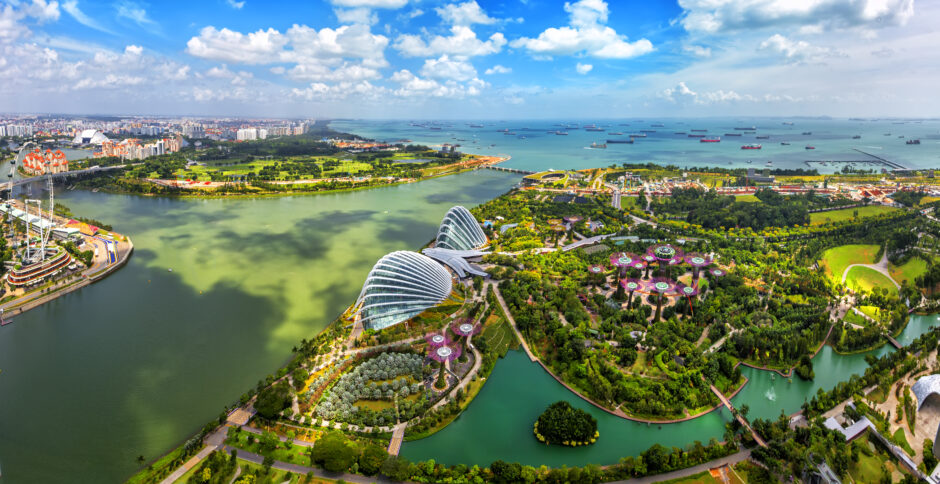 Singapore has been certified as a sustainable tourism destination under the criteria of the Global Sustainable Tourism Council (GSTC), advancing its potential for green economic growth. 
Singapore's achievement makes it the first destination to be GSTC-certified at the national level.
The sustainability of the tourism industry can vary significantly but, with careful risk management, it can provide various social, economic and environmental benefits.
The GSTC certification is likely to drive further investment into Singapore's sustainable development.
The GSTC is an independent non-profit organisation that provides international accreditation for sustainability certification bodies within the tourism sector. Its criteria serve as the globally accepted standards for sustainable destinations and industry operators. 
Based on its performance across four key pillars, Singapore has emerged as the first destination to be certified at the national level. Its official tourism board will now continue to build on the state's existing strengths and identify opportunities for further improvement. 
"Being certified is just the beginning of our journey. Tourism businesses must do more to internalise sustainability as part of their offerings, so that they can contribute to making Singapore greener and more liveable. Our vision is to become one of the world's most sustainable urban destinations and we now know we are on the right track," said Keith Tan, chief executive of the Singapore Tourism Board. 
Four pillars of sustainable tourism
The sustainability of the tourism industry is not to be taken for granted. Prior to its downturn during the COVID-19 pandemic, the sector was estimated to account for around 8% of global CO2 emissions, while also being linked to biodiversity loss and social exclusion.  
The development of related infrastructure and facilities can lead to deforestation, wetland drainage or other forms of land-use conversion that disrupt local ecosystems, while overcrowding and littering can result in the degradation or pollution of fragile environments. Local communities may face a lack of vital supplies, and independent businesses may be outcompeted by international conglomerates. 
When managed these risks are effectively managed, however, tourism can have several benefits. It can serve as an alternative to more ecologically damaging industries such as mining or logging, while creating an incentive to conserve the natural environments it so often depends on. With the proper support, local businesses can increase their revenues and create various job opportunities. 
Given the diversity of tourism's impacts, there is a need for a standardised framework that enables the identification and differentiation of sustainable approaches. The GSTC criteria provide such a framework, carefully organised under four key pillars: sustainable management, socioeconomic impacts, cultural impacts and environmental impacts.  
In order to be certified, applicants must demonstrate a high level of performance against each of these themes. Since each destination has its own unique culture, environment, customs, and laws, the criteria are designed to be adapted to local conditions. 
Sustainable tourism in Singapore
As Singapore has advanced its Green Plan 2030, a whole-of-nation approach to the delivery of the State's commitments under the UN Sustainable Development Agenda, it has improved its performance against each core pillar of the GSTC criteria. 
The implementation of various multi-year strategies, such as the Tourism Sustainability Strategy or the Hotel Sustainability Roadmap, has demonstrated its commitment to sustainable management. It delivered socio-economic impact through the provision of support for local entrepreneurs and the launch of a Tourism Careers Hub, which facilitates local job matching and upskills workers in line with changing requirements. 
Singapore has also introduced various initiatives to conserve and enhance its domestic culture. These include regulatory guidelines for the protection of culturally important buildings and historical districts, as well as the promotion of cultural events such as the Chinatown Mid-Autumn Festival Celebration, Deepavali celebrations and the Hari Raya Light-Up. 
In terms of environmental impacts, Singapore has implemented a range of measures to enhance greenery, strengthen ecological connectivity between green spaces, and conserve its biodiversity. For example, the OneMillionTrees movement aims to plant one million additional trees by 2030. The country is also charting concrete targets and demonstrating real-world sustainability applications to manage its scarce resources. 
Tourism products and experiences have also been built with sustainability in mind. Several hotels have received awards for their incorporation of sustainable design features, and tour operators have started to offer 'sustainable tours' that showcase local biodiversity and unique management systems for water, power and waste. 
Creating the conditions for sustainable development
Singapore's certification could unlock various opportunities for economic growth. Sustainable tourism is rapidly expanding its share of the broader travel and tourism market, with projections indicating that it could be worth around $8.4 trillion by 2032. In 2022, an Expedia Group survey of 11,000 individuals from 11 global markets revealed that 90% of consumers are seeking sustainable options when travelling, with around 50% being willing to pay an average premium of 38%. 
A thriving tourism industry may also be a significant driver of foreign investment. Indeed, tourism investment has become a highly competitive business in many countries, given its potential contributions to economic growth in the face of constrained public budgets and a shortage of investment capital. 
Although there are several factors that can influence the decision about where, when and how much to invest, such as the potential returns or the ease and cost of the investment process, initiatives that encourage sustainable growth are becoming increasingly attractive. Investors are searching for projects that have a positive social and environmental impact, and are prioritising those that preserve natural ecosystems while supporting local communities. 
Already, Singapore is among the largest global recipients of foreign direct investment. Of the $175 billion that was channelled into South-East Asia in 2021, Singapore received the largest single share of around $99 billion.  
This trend has not emerged out of nowhere. Rather, Singapore has made dedicated efforts to create a welcoming environment for foreign investors, as it maintains an open economy with attractive laws, taxation, customs and intellectual property protection. With its unique urban context, the city-state has established itself as a centre of research and innovation, with its sandbox approach allowing companies and academic institutions to develop and scale their ideas. 
As the global financial community has narrowed in on sustainability, Singapore has made a number of commitments that may help to reassure investors that their funding will be spent in line with their priorities. It has promised to reach net zero by 2050, while its targets for 2030 include reducing its emissions, supporting the creation of local jobs and increasing its resilience against the impacts of climate change. Providing further reassurance that investments can be made on a transparent basis, it has also followed in the footsteps of the EU, the UK and a number of others in introducing mandatory sustainability disclosure requirements. 
Given its vulnerability to the impacts of climate change, with rising sea levels and extreme weather events threatening to devastate its land, Singapore's transition is likely to require a significant amount of investment. With its various policies, commitments and credentials, the country provides a noteworthy example of how Governments can create an enabling environment for prosperous and sustainable growth.