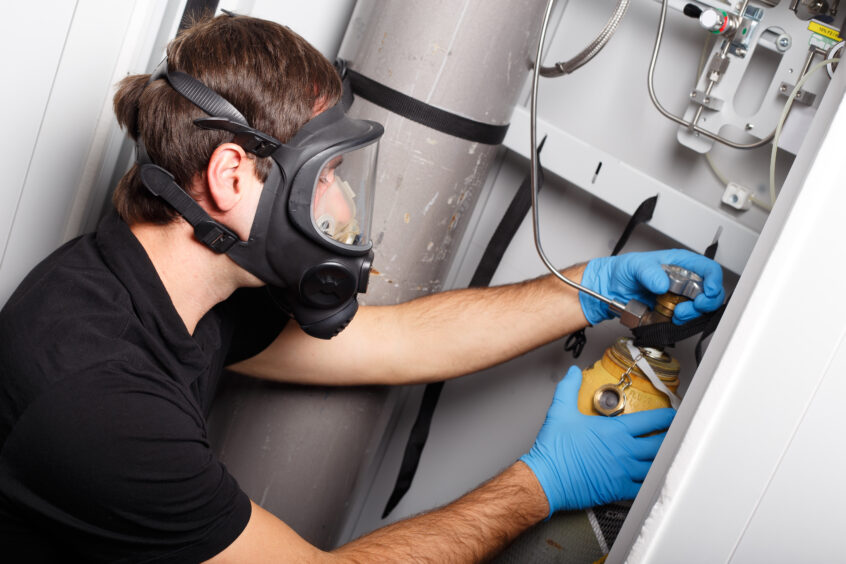 The European Union has updated its regulation on F-gases, requiring their phase-down in production by 2030 and complete phase-out in usage by 2050, amid a push to meet the goals of its 'Fit for 55' package.
The EU's Committee on the Environment Public Health and Food Safety (ENVI) has voted to revise the EU regulation on reducing fluorinated greenhouse gas (GHG) emissions.
GHG emissions from these gases are several thousand times stronger than CO2 in their impact on global warming, but action has so far been slow.
Efforts to reduce their footprint need to scale up immediately if we are to meet global net zero goals.
Fluorinated greenhouse gases, or F-gases, are commonly used in appliances such as refrigerators, air-conditioners, heat pumps, fire extinguishers, foams and aerosols. They account for 2.5% of the EU's total GHG emissions and are covered by the Paris Agreement, along with CO2, methane and nitrous oxide.
Their emissions, however, doubled from 1990 to 2014 compared to other GHG, as F-gases replaced ozone-depleting substances that were prohibited to protect the ozone layer, as required under the 1987 Montreal Protocol. F-gases include hydrofluorocarbons (HFCs), perfluorocarbons, sulphur hexafluoride and nitrogen trifluoride, all with a high potential to increase global warming.
In 2016, under the Kigali amendment to the 1987 Montreal Protocol, a decision was made to impose an 80% reduction of HFCs over the following 30 years. It is estimated that this amendment could save up to 0.4% of additional warming by the end of the century. 
What does the new EU regulation on F-gas emissions cover?
To meet its climate goals and to align with its 'Fit for 55' legislation, the EU Parliament has decided that an additional reduction of F-gas emissions is needed. This will contribute to achieving the bloc's climate objectives and comply with the Kigali Amendment to the Montreal Protocol on Substances that Deplete the Ozone Layer.
The revised regulation has three main objectives: to speed up the move towards alternative solutions, hasten the transition to climate neutrality, and prevent illegal trade in these gases by improving enforcement.
The plan is to prohibit the use of F-gases by speeding up the development of alternative solutions and imposing a steep phasedown in F-gases between 2039 and 2050. For sensitive sectors, such as heat pumps and semiconductors, Members of the European Parliament (MEPs) have recommended that the Commission will "monitor market developments". For example, they recommended that the Commission ensures that phasing-down HFC use does not hinder the deployment of heat pumps under the REPowerEU programme. 
The report from ENVI is expected to be adopted during the plenary sitting on 29 and 30 March 2023. It will provide the basis by which the EU Parliament will negotiate with Member States on the final implementation of the legislation.
Rapporteur Bas Eickhout said: "F-gases are not well known, but have major implications for our climate, as they are very powerful greenhouse gases. In most instances, natural alternatives are readily available. That's why we voted for an ambitious position to fully phase out F-gases by 2050 and in most sectors already by the end of this decade."
Non-CO2 GHG emissions need urgent mitigation
According to the Intergovernmental Panel on Climate Change, an immediate reduction of non-CO2 gases is crucial to limit global warming to no more than 1.5°C above pre-industrial times by 2050. In fact, HFCs, which are used in heating and cooling systems, risk adding to global warming by several thousand times more than CO2.
Initially excluded from the Montreal Protocol, as they did not contain the same chlorine and bromine molecules typically associated with severe ozone depletion, HFCs were later added under its 2016 Kigali Amendment. This was because of the recognition that HFCs' acceleration of molecular reactions could still result in ozone losses of around 0.035% by 2050.
Updating new technology
The demand for heating and cooling will continue to rise, however, as growing middle classes consume increasing amounts of power, and as extreme weather events become more common. Much of today's technology is inefficient, requiring innovation and more climate-friendly solutions.
Improving the management of these systems will also be equally important, which will have an impact on energy usage and efficiency. According to a report by the European Climate Foundation, buildings account for 40% of the EU's total energy consumption and 36% of CO2 emissions. 
The EU's F-gas regulation takes into account the imperatives placed by the IPCC's special report and the Fit for 55 legislation, which in its latest form is imposing a 62% reduction in GHG emissions by 2030. The F-gas regulation is also intended to ensure that industry participants are provided with the basis and the support needed to make effective changes.
There are also proposals for more action on illegal trade in these gases with minimum administrative fines for non-compliance. MEPs also want customs authorities to seize and confiscate F-gases imported or exported in violation of the rules.
Eickhout added: "We are providing clarity to the market and a signal to invest in alternatives. Many European companies are already at the forefront of this development and will benefit from it, because of their market position and export opportunities."