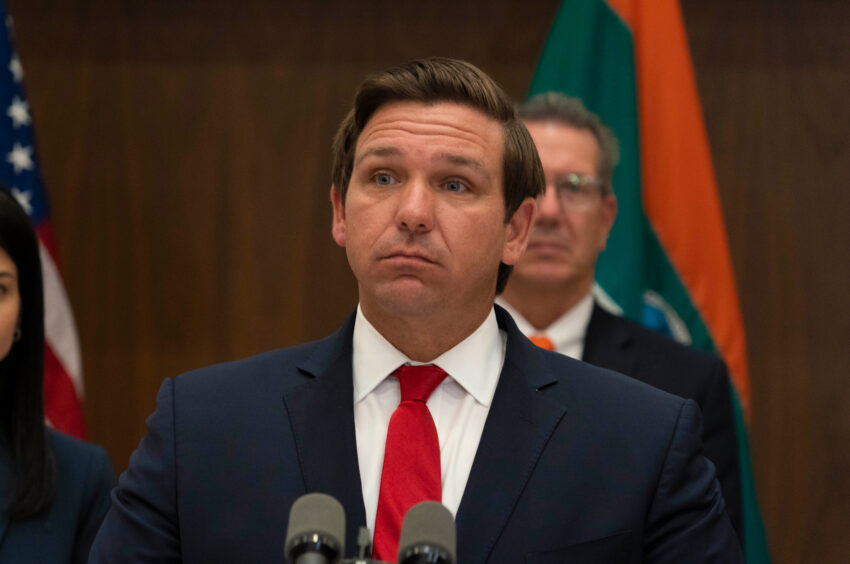 Florida's Governor Ron DeSantis has launched a new alliance of 18 Republican states, as they fight a rule that allows pension managers to consider ESG risks.
The new alliance is looking to impose anti-ESG investing measures in the states involved.
It comes after President Biden committed to vetoing a resolution to overturn a pro-ESG rule.
The Republican crusade has already led to billions of dollars of losses, and is bound to further hit the finances of the very citizens it claims to protect.
In the latest escalation of the anti-ESG war in the US, Florida's Governor Ron DeSantis has launched a new alliance of 18 states: Alabama, Alaska, Arkansas, Georgia, Idaho, Iowa, Mississippi, Missouri, Montana, Nebraska, New Hampshire, North Dakota, Oklahoma, South Dakota, Tennessee, Utah, West Virginia, and Wyoming.
Why was the alliance formed?
The initiative comes after President Biden committed to vetoing a Congressional Review Act (CRA) bill intended to overturn a Department of Labor (DoL) rule. 
In November 2022, the DoL issued a final ruling that allowed investment managers to consider ESG risks in their decisionmaking around pension plans. This removed previous obstacles to considering ESG risks in the provisions of the Employee Retirement Income Security Act, reversing policies put in place by the previous administration, including restricting shareholders from engaging with companies via proxy voting.
Republicans subsequently took legal action against this rule, as well as acting by voting to overturn it under the CRA in the House and Senate. Joe Biden, however, said he would use his veto power to keep the rule. 
According to the non-profit foundation As You Sow, rolling back the rule would narrow fiduciaries' ability to protect their beneficiaries and restrict basic freedom of choice. Biden's decision to veto the bill is aligned with the administration's goal of upholding basic tenets of the free market and protecting workers' retirement savings from climate change, injustice, and other material financial risks.
What is the alliance planning to do?
In a joint statement, the 18 states committed to certain efforts to "protect individuals from the ESG movement that threatens the vitality of the American economy and Americans' economic freedom".
They said that they will consider blocking the use of ESG in all investment decisions at the state and local level, ensuring that only financial factors are considered to maximise the return on investment. This may also include eliminating consideration of ESG factors by state and local governments when issuing bonds or prohibiting state fund managers from considering ESG factors when investing taxpayer money.
They are looking to ban the financial sector from considering 'Social Credit Scores' in banking and lending practices aimed to prevent citizens from obtaining financial services such as loans, lines of credit, and bank accounts. This may also include stopping financial institutions from discriminating against customers "for their religious, political, or social beliefs", such as "owning a firearm, securing the border, or increasing our energy independence".
Florida to enshrine proposals into law
Florida has already announced legislation to prohibit big banks, trusts, and other financial institutions from discriminating against customers for their religious, political, or social beliefs, and considering 'Social Credit Scores. It prohibited banks that engage in corporate activism from holding government funds as a Qualified Public Depository and the use of ESG in all investment decisions at the state and local level.
All state and local entities, including direct support organisations, from considering, giving preference to, or requesting information about ESG as part of the procurement and contracting process, while state and local governments cannot use ESG factors when issuing bonds, including a contract prohibition on rating agencies whose ESG ratings negatively impact the issuer's bond ratings. 
This proposed legislation builds upon a resolution passed in Florida in August 2022, specifying that investment decisions "must be based only on pecuniary factors [which] do not include the consideration of the furtherance of social, political, or ideological interests" and stipulates that the SBA "may not sacrifice investment return or take on additional investment risk to promote any non-pecuniary factors" when making investments or proxy votes.
ESG is a risk-adjusted investment lens, not a political tool
Even though DeSantis claimed that the stability of the US economy "is threatened by woke executives who put their political agenda ahead of their clients' finances", it is important to remember that ESG is a way to invest with a long-term view, positioning a portfolio to deal with the risks presented by climate change and the energy transition, among others. 
In fact, the anti-ESG crusade is already leading to significant financial losses. For example, days before the alliance was unveiled, the Kansas Public Employees Retirement System asked the state not to pass its anti-ESG bill due to cost impacts. The pensions administrator calculated that it would lead to $1.14 billion of forced divestitures and reduce total returns over the next decade by about $3.6 billion.
Meanwhile, a study published earlier in 2023 found that, if Kentucky, Florida, Louisiana, Oklahoma, West Virginia and Missouri had passed laws similar to those already existing in Texas, they could have faced upwards of $708 million per year in additional interest charges on municipal bonds. Indeed, a previous analysis found that the anti-sustainable investing law in Texas raised costs to the public by as much as $532 million in its first eight months.
What has been calculated so far is only a fraction of the total damage, which is still challenging to estimate as many states have yet to implement some of these proposals. It is clear that anti-ESG investing measures do more harm than good, and are bound to further hit the finances of the very citizens they are claimed to protect.
"The 18 state anti-ESG coalition has just declared war on business. This is pure political theater and not based on economics. The six states that have adopted anti-ESG legislation flushed $1.3 billion down the toilet by paying a premium on state bond issuances. Kansas, Indiana and Texas found that the anti-ESG plans would cost pensioners billions of dollars over the next decade," commented Andrew Behar, chief executive at As You Sow.
"In Indiana the warning from state financial officials prompted lawmakers to revise their anti-ESG legislation when making investment decisions. North Dakota bankers forced the state to not pass the anti-ESG legislation. If returns are the only metric – then once again the states would be forced to pick pro-ESG mutual funds. This is simply theater and will harm the hard working people in these states."