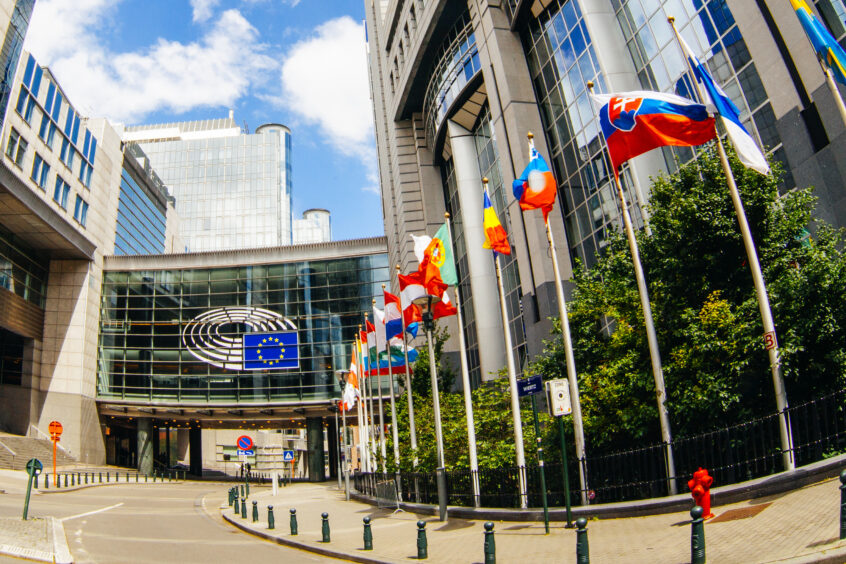 The EU has unveiled a series of new measures to progress with its Fit for 55 package.
The EU has announced updates to regulations to comply with the Fit for 55 package.
The plan is to halve its emissions by at least 55% by 2030 compared to 1990 levels and reach climate neutrality in 2050. 
The latest updates cover transport, effort sharing, land use and forestry sector, market stability reserve and the future gas and hydrogen market.
Presented by the European Commission in July 2021, the Fit for 55  package will enable the EU to reduce its net greenhouse gas (GHG) emissions by at least 55% by 2030 compared to 1990 levels and achieve climate neutrality in 2050. The EU has announced updates on CO2 emissions for new cars and vans, charging and fuelling stations for alternative fuels, effort sharing, land use and forestry sector, market stability reserve and the Member States' position on future gas and hydrogen market.
CO2 emissions for new cars and vans
The European Council has adopted a regulation setting stricter CO2 emission performance standards for new cars and vans, revising rules last amended in 2019. The aim is to reduce emissions from road transport, which accounts for 71.7% of the transport sector's footprint, which in turn is responsible for about a quarter of the bloc's total CO2 emissions.
The proposal is also intended to push the automotive industry to shift towards zero-emission mobility while ensuring continued innovation in the industry.
The new targets are 55% CO2 emission reductions for new cars and 50% for new vans from 2030 to 2034 compared to 2021 levels; and 100% CO2 emission reductions for both new cars and vans from 2035. Progress will be reviewed in 2026, taking into account technological developments, including with regard to plug-in hybrid technologies and the importance of a viable and socially equitable transition towards zero emissions.
A regulatory incentive mechanism for zero- and low-emission vehicles will be in place from 2025 until the end of 2029. As part of this mechanism, if a manufacturer meets certain benchmarks for the sales of zero- and low-emission vehicles it can be rewarded with less strict CO2 targets. The benchmark is set at 25% for cars and 17% for vans. 
The regulation contains a reference to e-fuels, whereby following a consultation with stakeholders, the Commission plans to make a proposal for registering vehicles running exclusively on CO2-neutral fuels after 2035.
Charging and fuelling stations for alternative fuels
Remaining in the transport sector, MEPs and the Swedish Presidency of the Council agreed on mandatory national targets for the deployment of infrastructure for alternative fuels for cars and trucks. The informal deal asks Member States to present their plans on how to achieve them.
Electric charging pools for cars with at least a 400 kW output will have to be deployed at least every 60 kilometres along core TEN-T network by 2026, with the network's power output increasing to 600 kW by 2028. For trucks and buses, charging stations need to be installed every 120 kilometres. In all cases, there will be exemptions for outermost regions, islands and roads with very scarce traffic.
The EU also wants drivers to be able to pay easily and conveniently at recharging or refuelling points with payment cards, contactless devices or QR codes, with clear pricing instructions.
Fabian Sperka, vehicles policy manager at Transport & Environment, said: "Charging is often cited as the big obstacle to a faster roll-out of zero emissions trucks, but lawmakers have now removed that roadblock. The EU's charging law unlocks more ambitious climate targets for truckmakers, which will in turn green European road freight. MEPs and governments can ramp up CO2 targets for trucks with confidence that there will be plenty of charging available."
Effort sharing
The bloc adopted a new effort-sharing regulation that sets an EU-level GHG emission reduction target of 40% compared to 2005, by 2030, for road and domestic maritime transport, buildings, agriculture, waste and small industries. It assigns each Member State a national target and adjusts how to use flexibilities to meet the targets.
Land use and forestry sector
The land use, land-use change and forestry (LULUCF) regulation covers the emission and removal of CO2 from the atmosphere in non-agricultural use of soils, trees, plants, biomass and timber. Emissions and removals generated by the LULUCF sector are taken into account in the EU's overall 2030 target.
The new regulation sets an overall EU-level objective of 310 million tons of CO2 equivalent of net removals in the LULUCF sector in 2030. For the period from 2026-2030, where removals should exceed emissions, each Member State will have a binding national target for 2030. They also commit to achieving a sum of net GHG emissions and removals between 2026 and 2029. There is flexibility for the Member States to reach these targets.
Market stability reserve
The market stability reserve intends to address the surplus of emission allowances that has built up in the EU emission trading system (EU ETS) since 2009 and to improve its resilience to major shocks by adjusting the supply of allowances to be auctioned.
The change to the market stability prolongs beyond 2023 the increased annual intake rate of allowances of 24%. Further changes will be adopted as part of the revision of the EU ETS expected to be announced soon.
Future gas and hydrogen market
Finally, the Council agreed on its negotiating positions on two proposals that set common internal market rules for renewable and natural gases and hydrogen. The purpose is to design the transition of the gas sector towards renewable and low-carbon gases, in particular biomethane and hydrogen.
The package consists of a proposal for a regulation and for a directive, intended to create a regulatory framework for dedicated hydrogen infrastructure and markets and integrated network planning, as well as setting rules for consumer protection and strengthening the security of supply.
"Europe is on a journey to shift away from natural gas to renewable and low-carbon gases and we have to create the right market conditions for that to happen, in a way that promotes competitiveness, protects consumers and advances our climate-neutrality objective for 2050," said Ebba Busch, Swedish Minister for energy, business and industry.