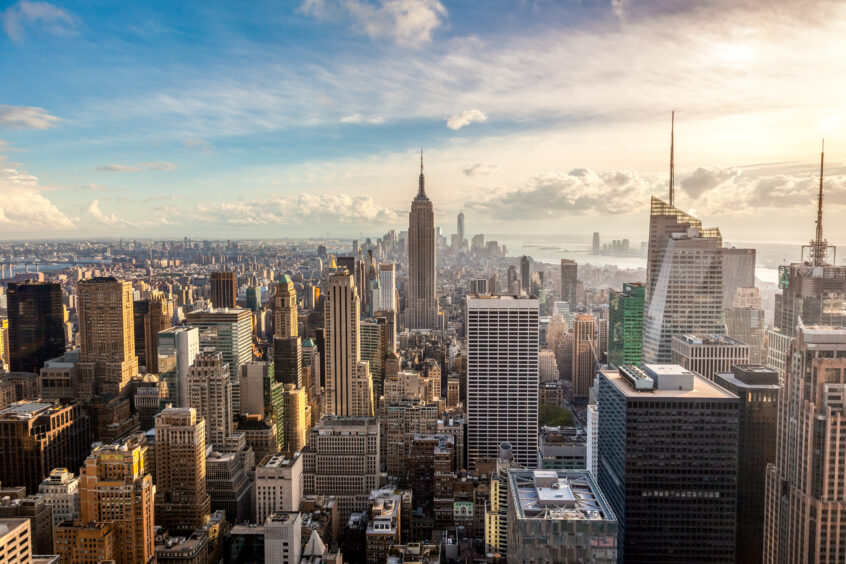 New York State is stepping up efforts to make clean energy more affordable and decarbonise buildings.
In the 2024 Budget, the state has allocated significant investments to accelerate progress towards its climate goals.
Alongside measures to decarbonise buildings and help citizens with energy bills, it has given more power to the New York Power Authority (NYPA) to expand renewable capacity.
Local campaigners have described the move as a "historic victory" that will ensure that renewable energy is a public good benefitting residents. 
New York State Governor Kathy Hochul announced investments in sustainable buildings, energy affordability, and clean energy development as part of the 2024 Budget. They are intended to contribute to a clean economy and commit to green infrastructure, reducing emissions from the building sector, and protecting clean water.
Expanding clean energy capacity
The state has pledged to reach 100% zero-emission electricity by 2040. To help it achieve it, NYPA is building transmission lines by partnering with the private sector. 
Building on the progress made so far, the Budget enables NYPA to expand its renewable portfolio by working on its own and with private sector renewable energy developers to build new renewable generation.
It also directs NYPA to provide a plan for the phase out of its "peaker" plants by 2030, to contribute up to $25 million annually to the Department of Labor to support a Just Transition for energy workers, and to establish the Renewable Energy Access and Community Help Program, allowing customers in disadvantaged communities to benefit from renewables by receiving bill credits from renewable energy projects that are owned, developed, or contracted for by NYPA. 
Decarbonising the built environment
Buildings account for more than 30% of state greenhouse gas emissions. The plan is to advance zero emission construction in new buildings seven stories or lower, except large commercial and industrial buildings, by December 2025, and all other new buildings by December 2028. There are exemptions such as emergency backup and standby power, manufacturing facilities, commercial food establishments, laboratories, car washes, laundromats, hospitals, crematoriums, agricultural buildings, and critical infrastructure.
Additionally, the state called on the NYPA to complete decarbonisation action plans for 15 of the highest emitting state facilities. These will accelerate progress towards a cleaner building sector, lead to the creation of high-quality jobs at future decarbonisation projects, including thermal energy networks, and move the state closer to reaching its climate goals.
Making energy more affordable
The Budget includes $400 million to help residents experiencing high electric bills as well as lower energy burdens through electrifications and retrofits. An extra $200 million will provide relief to people who are experiencing high electric bills. 
The Department of Public Service will provide a monthly discount to more than 800,000 electric utility customers who are making less than the state median income and have not been eligible for the State's utility discount program. A further $200 million will also be allocated for New York State Energy Research and Development Authority's EmPower Plus home retrofits programme, intended to help 20,000 low-income families retrofit their homes by adding insulation, installing energy efficient appliances, and switching to clean energy. 
Advancing the cap-and-invest programme
The Budget is also intended to create  the financial foundation required to support an economy-wide cap-and-invest programme. The scheme is expected to establish a declining cap on greenhouse gas emissions, invest in programmes that drive emissions reductions in an equitable manner prioritising disadvantaged communities, and limit costs to economically vulnerable households.
The state will also create a new Climate Investment Account which will direct two-thirds of future proceeds to support the transition to a less carbon-intensive economy. 
"Historic victory"
According to campaigning group Public Power NY Coalition, the Budget includes most of the provisions of the Build Public Renewables Act (BPRA) that Public Power advocates have been fighting for over a four-year long campaign. It deemed it a "historic victory" that will be "a model" of how to rapidly ramp up the production of renewable energy for the rest of the US. 
"The Build Public Renewables Act will create a new era of green union jobs in renewable energy production, slash rising energy bills, and shut down polluting fracked gas power plants in Black and brown communities – finally fulfilling the promise of the Green New Deal. The new policy will enable New York to meet its bold climate goals set in the Climate Leadership and Community Protection Act (CLCPA) with a publicly-owned system that is accountable to New Yorkers, not shareholders," the Coalition said. 
"Ninety years ago, FDR established the New York Power Authority to create power for the people. Over the decades, FDR's vision for NYPA has been diminished. Today we reclaim that power, ensuring NYPA serves us, and that renewable energy is a public good."