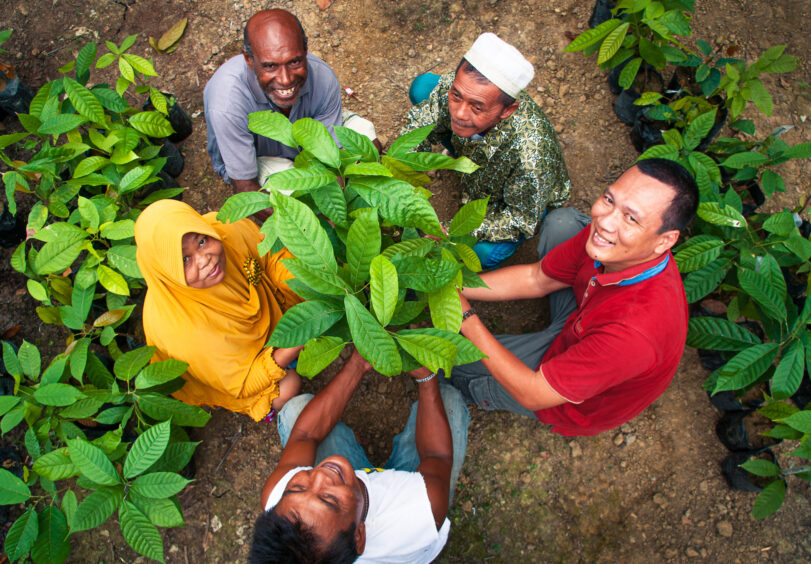 A basic income paid to those in protected areas could encourage conservation while helping to alleviate poverty, all for a lower cost than the current annual subsidies that are allocated to fossil fuels. 
The Wildlife Conservation Society has proposed the introduction of a basic income scheme for those that are living in key conservation areas.

With its holistic approach, the proposed scheme could encourage ecological stewardship while alleviating poverty, reducing inequalities and promoting economic development.
Such approaches could accelerate progress towards development objectives, but their implementation will depend on whether governments can be persuaded to absorb the associated costs.
A team of conservationists, led by the Wildlife Conservation Society (WCS), has proposed the development of a Conservation Basic Income (CBI) scheme. Their research suggests that such an initiative could encourage ecological stewardship while improving the living conditions of vulnerable communities. 
The CBI would be delivered as regular cash payments made to those that are living in existing protected areas, biodiversity-rich locations or lands considered necessary for the protection of the natural world. Recipients would not be required to meet any additional conditions beyond proving their residence in an eligible area. 
When assessing the potential of their proposal, the researchers modelled three different scenarios with three different rates of payment. They found that a daily payment of $5.50 to anyone living in a protected area of a low- or middle-income country would come in at an annual $478 billion, while the cheapest option would cost around $351 billion per year.  
Although these costs are substantial when compared to government spending on conservation in previous years, they are significantly lower than the record-breaking subsidies that were awarded to fossil fuel companies in 2022. With the latest research concluding that 55% of the world's GDP is moderately or highly dependent on nature, the proposed CBI could be seen as an attractive and reasonable investment. 
Promoting conservation without the leverage of established conditions
A CBI would resemble the concept of a universal basic income (UBI), in that its payments would be awarded on an unconditional basis. Recipients would not have to commit to conservation nor demonstrate their achievements at a later date. 
Still, the WSC's analysis suggests that a CBI would be largely successful in encouraging ecological stewardship. Providing a regular, guaranteed income could dissuade vulnerable individuals from depending on unsustainable livelihoods or illegal activities, such as logging or poaching. On a national level, it could help governments to break free from intensive or extractive industries by providing an alternative flow of cash into local economies. 
There is also research to indicate that, simply by including the word "conservation" within its name, a CBI would evoke an inherent sense of duty to protect the environment. It follows that recipients would not have to be forced into ecological stewardship, as language alone would persuade them to do so.  
Perhaps a more compelling reason for why an unconditional CBI scheme may be effective in promoting conservation lies in its subtle difference from a UBI. Rather than being awarded to everyone, its payments would target those that are living in priority areas. 
Under the proposed system, the vast majority of CBI payments would be given to indigenous peoples and local communities (IPLCs). Several studies have shown that these groups tend to provide more effective conservation than external 'helpers', but their knowledge and experience is often ignored. With a regular inflow of unconditional payments, they would be able to practice their stewardship without relying on controversial economic mechanisms such as carbon markets or biodiversity credits.  
Holistic approach could drive progress on multiple issues
A CBI would provide several additional benefits alongside its promotion of ecological stewardship. A consistent, guaranteed payment would help to alleviate poverty while reducing inequalities by ensuring that each individual within a given community was receiving the same viable sum. 
As explained by Dr Emiel de Lange, lead author of the WCS paper: "CBI more equitably distributes the costs and benefits of conservation because basic income schemes improve wellbeing, reduce poverty, and redress inequalities including gender inequity."
"Inequalities, including gender, are key drivers of biodiversity loss. CBI could enable communities to pursue their own visions of a good life and avoid exploitation by extractive industries. Moreover, through redistribution of wealth from affluent populations and/or harmful industries, CBI can reduce aggregate global consumption and environmental impact."
"Receiving basic income can be a powerful tool to shift recipients' mental state from a scarcity mindset to an abundance mindset," says Jim Pugh, co-director of the Universal Income Project. "As someone who has studied the impact of basic income for years, the findings here make perfect sense."
"In a scarcity mindset, people only focus on their immediate needs, without regard for the long-term consequences for themselves or their environment. In an abundance mindset, people think about their future and make choices that benefit themselves and their community in the long run."
By increasing the cash flow of an entire community, the CBI could also be used to improve local standards of education, healthcare and similar services. It could unlock funding for vital infrastructure, including adaptive measures such as flood barriers or cooling systems. 
With just seven years remaining until the UN's Sustainable Development Goals (SDGs) are to be met, the need for holistic solutions is growing increasingly urgent. The UN itself has said that the goals are intrinsically interconnected, meaning that they will not be achieved in isolation. As global progress continues to falter, the proposed CBI could be seen as a perfect example of the integrated approaches that ought to be pursued. 
Can the world come to terms with the costs of a CBI?
Despite the clear potential of a global CBI, the solution is not without its challenges. Its development would require clear definitions to be agreed upon by multiple stakeholders, while its implementation would necessitate various safeguards. 
Of course, the main barrier to the proposal is the investment required for its implementation. With the cheapest analysed option coming in at just over $350 billion per year, the minimum costs of a CBI would significantly exceed the $133 billion that governments allocated to conservation in 2020. 
When considering the costs of inaction, however, the proposal becomes far more reasonable. Recent analysis suggests that more than half of the world's GDP is dependent on natural assets and services that are rapidly declining under the current system. Climatic changes are impacting global migration, leaving millions of people vulnerable while governments struggle to cope with the resulting imbalance of resources. 
Climate-induced migration may be driven by fast-onset events such as flooding or wildfires, or by slow-onset conditions including soil desertification or rising sea levels. While the former tend to have a more direct and immediate impact, typically resulting in forced displacement, the latter are more likely to have a gradual economic effect that leads to voluntary movement in pursuit of financial security. 
In either case, a CBI could provide a solution. Its support for conservation could reduce the occurrence of fast-onset events while its economic reassurance would provide an alternative source of income as well as funding for adaptive measures. 
The example of climate migration provides a useful anecdote when it comes to assessing the costs of proposed measures. Ultimately, a number that seems daunting at first glance is nothing in comparison to the scope of disaster it could potentially avert.