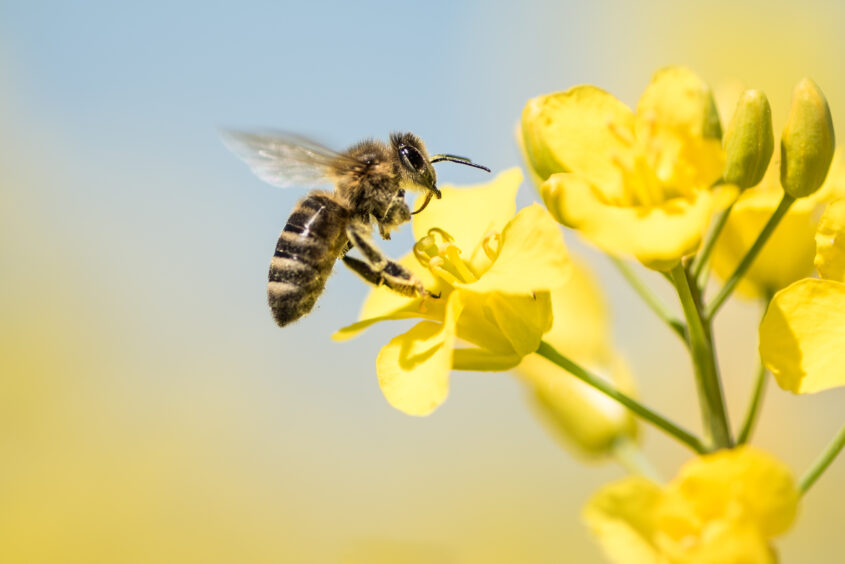 The US Environmental Protection Agency (EPA) is facing legal action for its failure to close a regulatory loophole that allows toxic insecticides to slip through the net. 
The EPA has acknowledged the dangers of seeds that are coated with toxic insecticides, but it has allegedly refused to ensure they are regulated.

 

Harmful pesticides are driving the decline of pollinating species, threatening the wellbeing of the planet, its people and their prosperity.

 

Whether or not the case is successful, the signal remains clear: the world is waking up to pollinators' decline and those that exacerbate it will soon be held to account.

 
The Center for Food Safety (CFS) and the Pesticide Action Network North America (PANNA) have filed a lawsuit against the EPA for failing to ensure the regulation of seeds that have been coated with toxic pesticides. If the case is upheld, the EPA could be legally required to close an age-old loophole that has allowed these seeds to slip through the net. 
"Despite knowing the ongoing grave harms caused by coated seeds, EPA has still unlawfully refused to close the loophole allowing them to escape any regulation," said Amy van Saun, senior attorney on CFS' behalf. "That decision is as unlawful as it is irresponsible. EPA is supposed to protect these species and habitats, not enable their peril." 
"For too long, EPA has allowed pesticide-coated seeds to jeopardize threatened and endangered species," added Margaret Reeves, one of PANNA's senior scientists. "EPA must close the regulatory loophole for toxic pesticide-coated seeds to prevent further harm to wildlife, ecosystems, and people." 
Harmful pesticides continue to escape regulation
The EPA is responsible for updating and enforcing pesticide regulations within the US. As a government organisation, it is bound by its duty to follow federal laws when registering, labelling and restricting the use of harmful substances as informed by the latest science. 
Currently, however, federal laws do not apply to seeds that have been coated with a layer of pesticides prior to their sale or plantation. This means that treated seeds can be traded and deployed without being independently registered or subjected to regulation. 
With this gaping regulatory loophole, the use of pesticide-coated seeds has become commonplace across the country. Corn, soy and similar crops are frequently grown from seeds that have been coated with neonicotinoids, a category of pesticides that acts on the nervous systems of invasive insects. 
Unfortunately, this class of chemicals is unable to distinguish between incoming pests and critical pollinators or other valuable species. When consumed by bees, butterflies or birds, they tend to result in severe paralysis or immediate death. 
The harm being caused by neonicotinoids is hardly a recent discovery. In 2022, the EPA released an evaluation of their possible risks to endangered species. Its research had been legally mandated on the back of a citizens' petition and subsequent cases in court. 
Having conducted biological evaluations of clothianidin, imidacloprid and thiamethoxam – the three main types of neonicotinoid – the results were abundantly clear. Each insecticide was officially recognised as being "likely to adversely affect" a listed species or critical habitat. Overall, neonic insecticides were found likely to impact up to 75% of the US' endangered species. 
Despite its acknowledgement of the harms that may be caused by neonicotinoids, the EPA has yet to take action against their use. Coated seeds remain exempt from federal regulations, while insect populations continue their rapid decline. 
Why all the fuss over tiny insects?
Currently, more than 90% of the world's most important crop types are pollinated by bees, butterflies and other insects. Without their contribution, global crop production could fall by as much as 8% and vital sources of nutrition would be increasingly scarce. 
With lower supplies of fruits, vegetables, nuts and legumes, human societies will have less protection from noncommunicable diseases such as heart disease, diabetes or certain types of cancer. Already, the shrinking availability of critical nutrients is thought to be causing over around 427,000 premature deaths on an annual basis. 
Beyond our physical health, society's dependence on pollinating insects includes an enormous amount of economic activity. From the upheaval of rural agriculture to the disruption of commodity supplies, the continued decline of pollinator populations could result in global losses of up to $577 billion per year. 
In this context, the legal action being taken against the EPA seems all the more justified. Far from being a case of zealous environmentalists merely making a fuss, this ought to be seen as a fundamental plea for human survival. 
The world is shifting towards the protection of pollinators
Although the court's decision remains to be seen, the US case comes as part of a wider global movement in support of pollinating species. World leaders are beginning to take the issue more seriously and have started to consider pollination within their broader focus on biodiversity. 
In 2018, for example, signatories to the COP14 Convention on Biological Diversity expressed their commitment to supporting pollinator conservation. The EU took centre stage with the introduction of its Pollinators Initiative and its outright ban on the outdoor use of imidacloprid, clothianidin and thiamethoxam. 
Since then, international representatives have held subsequent conventions on the importance of biodiversity. In 2022, they formalised their agreement to a Global Biodiversity Framework which included quantified targets for the restoration and maintenance of natural pollination. 
This strengthening of ambitions places the US even further behind its fellow powerhouses when it comes to the regulation of harmful pesticides. Where the country's agricultural productivity has traditionally taken priority, it may be forced to reconsider its position in relation to global goals. When considered with reference to the long-term impacts of pollinators' decline, the two outcomes may not be so separate after all. 
With this in mind, agrichemical producers ought to be wary of future regulation and potential competition from sustainable alternatives to conventional products. Food and agricultural businesses should consider the reputation of different pesticides and account for changing demand when engaging with relevant stakeholders. 
If the court decides to uphold the complaint against the EPA, then concrete steps will be taken to restrict the use of harmful pesticides. On the other hand, if the lawsuit is unsuccessful then the signal remains clear: the world is waking up to the crisis of pollinator's decline, and those that exacerbate it will face increasing levels of scrutiny.