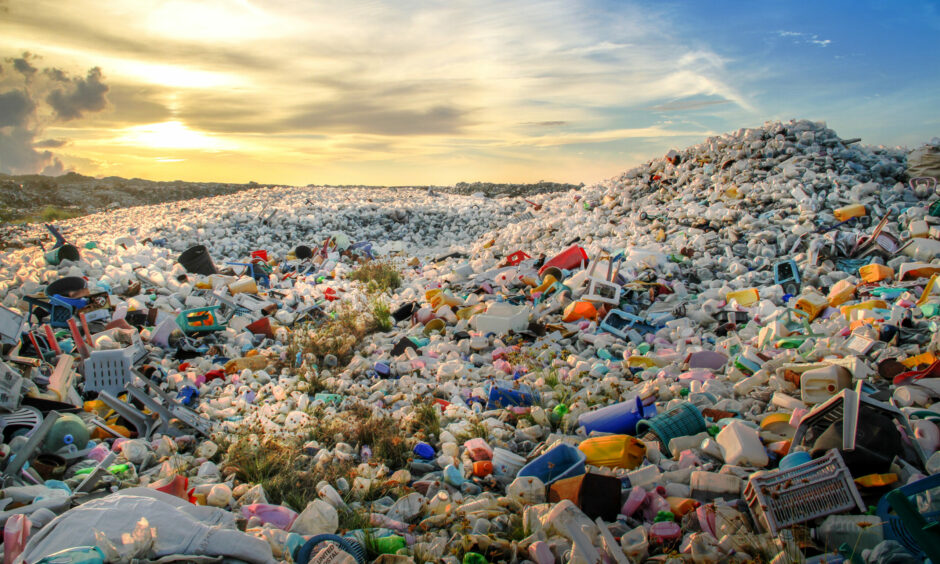 A UN committee has agreed to prepare a draft of a plastic pollution agreement this year, paving the way for a global treaty.
The Intergovernmental Negotiating Committee (INC) concluded its second session in Paris and is due to reconvene in Nairobi in November 2023.
The talks are intended to develop an international legally binding instrument to address the growing problem of plastic pollution.
Although this represents a crucial step towards the establishment of the treaty, some countries engaged in delaying tactics that could slow progress at the next meeting.
The second session of the INC to develop an international legally binding instrument on plastic pollution, including in the marine environment has concluded in Paris. It was attended by more than 1,700 participants, including over 700 Member State delegates from 169 Member States and over 900 observers from NGOs.
Why is the UN working on a plastic pollution treaty? 
In February 2022, the United Nations Environment Assembly agreed to develop a global, legally binding plastics treaty with the ambition to complete the negotiations by the end of 2024. It will be based on a comprehensive approach that addresses the full life cycle of plastic, which could include both binding and voluntary measures.
It is based on recognition that the rapidly increasing levels of plastic pollution represent a serious global environmental issue affecting the environmental, social, economic and health dimensions of sustainable development. Under a business-as-usual scenario and in the absence of necessary interventions, the amount of plastic waste entering aquatic ecosystems could nearly triple from some 9-14 million tonnes per year in 2016 to a projected 23-37 million tons per year by 2040.
In just 30 years it is believed that fish in the ocean will be outnumbered by pieces of plastic. This issue is exacerbating the triple environmental crises of climate change, nature loss and pollution. Exposure to plastics harms human health and potentially affects fertility, hormonal, metabolic and neurological activity, while open burning of plastics contributes to air pollution.
What was the outcome of the meeting?
The INC agreed to prepare a zero draft of the agreement ahead of the next session, due to take place in Nairobi, Kenya, in November 2023. In its decision, the secretariat was requested to invite submissions from observers by 15 August and Members by 15 September on elements not discussed at the meeting in Paris, dubbed INC-2, such as the principles and scope of the instrument, and any potential areas for intersessional work compiled by the co-facilitators of the two contact groups, to inform the work of the next session.
"The world is calling for an agreement that is broad, innovative, inclusive and transparent, one that leans on science and learns from stakeholders, and one that ensures support for developing nations," said Inger Andersen, executive director of the UN Environment Programme (UNEP). "Plastic has been the default option in design for too long. It is time to redesign products to use less plastic, particularly unnecessary and problematic plastics, to redesign product packaging and shipping to use less plastic, to redesign systems and products for reuse and recyclability and to redesign the broader system for justice."
WWF observed that 135 States are now specifically calling for binding global rules, which would apply to all countries equally rather than a voluntary agreement where governments have the option to pick and choose actions. Additionally, 94 States called for the treaty to prioritise bans or phase-outs of problematic polymers, chemicals and high-risk plastic products. Japan, Gabon and Mauritius are joining the High Ambition Coalition to End Plastic Pollution and the coalition's statement from more than 55 ministers.
Many countries, however, called for national action plans when addressing many substantive obligations, such as reduction and reuse targets and criteria on alternatives, campaigning group Break Free From Plastic noted. Some countries continued to push for chemical recycling, and many were still predominantly focused on recycling and managing plastic pollution downstream. Meanwhile, industry representatives present at the negotiations promoted what campaigners deem 'false solutions', such as plastic offsetting.    
"We have seen many consumer-facing businesses commit to reducing their use of plastic packaging. Yet, this week, the INC-2 negotiations have shown how the same companies promoting these schemes are given space to influence the talks," said Yuyun Ismawati, Founder of Balifokus (now Nexus 3) and convenor of the Indonesian Zero Waste Alliance.
"Future discussions must focus on real solutions that genuinely tackle the source of the plastic pollution crisis. A real reduction in plastic production, combined with a redesign of packaging that focuses on toxics-free materials, will prevent plastics from ending up in landfills or being burned and poisoning communities."
Delaying tactics feared to derail next meeting
WWF expressed concern over "active delaying tactics" that could derail negotiations at INC-3, the summit that will take place in Nairobi. For example, a group of states challenged previously agreed procedural rules around voting mechanisms in an attempt to delay the process, resulting in a stalemate that lasted almost half the week. While suspended for INC-2, the attempt to remove the option of a vote, which could result in a situation where one country could veto the text and block the adoption of the treaty, could re-emerge at future negotiations.
According to the Center for International Environmental Law (CIEL), the debate over the draft Rules of Procedure significantly abbreviated the already ambitious three days of substantive work into a handful of sessions, resulting in a cascade of effects, from curtailed observer participation to pushing significant work and necessary progress to intersessional periods.
Jane Patton, plastics and petrochemicals campaign manager at CIEL, noted: "It's no surprise that those responsible for such obvious delay tactics also want to increase plastic production. Disputes over procedural details and calls for ever-more research in the face of such a visible and well-documented crisis are desperate attempts to prevent the inevitable: the world must – and can – reduce plastic production and use to protect our health, climate, and ecosystems. Civil society, Indigenous Peoples, rightsholders, and people living on the frontlines of the crisis will not be deterred or silenced in our steadfast advocacy to ensure an effective treaty to end this plastics crisis once and for all."
"After a week of negotiations, the world is one step closer to the unmissable opportunity of a global treaty to end the plastic pollution crisis," aded Marco Lambertini, WWF special envoy. "The first draft of the treaty that will now be developed must reflect the ambition shown by the vast majority of countries here in Paris, and include the global bans and control measures that are needed to reduce and eliminate production and consumption of unnecessary and harmful plastic products and materials and turn the tide on plastic pollution. Ahead of the next round of negotiations, governments must continue in the spirit and determination shown here this week and work together to realise the ambitious world-changing treaty needed to halt plastic pollution."