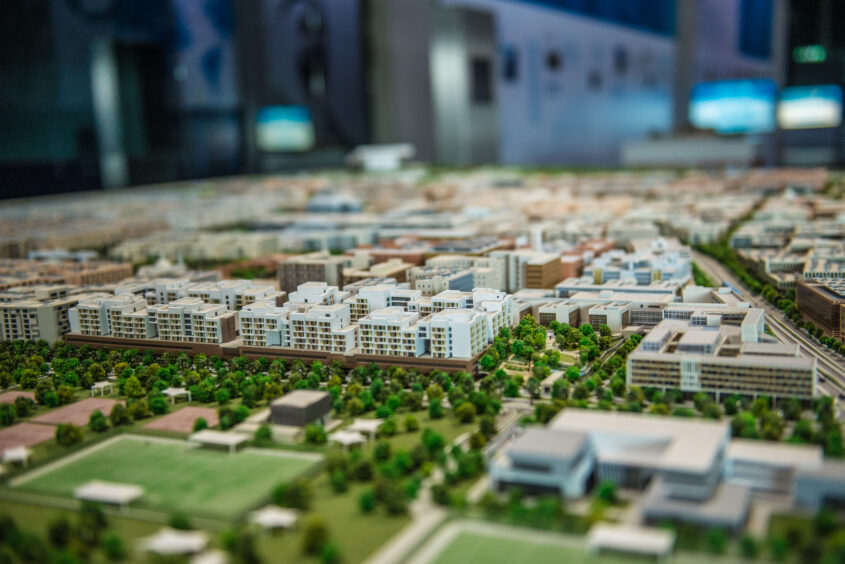 The Government should "put in place a coherent framework to support local climate action, backed by appropriate funds, resources and skills", according to a report published by the Place-based Climate Action Network (PCAN).
PCAN calls for new governance models for climate collaboration across sectors are emerging, often tailored to a particular place.
Green Alliance has called for government subsidy of climate tech and development of clusters of excellence in areas of industrlal specialisation.
Cross government department policy, incentives and strategic place-based thinking are going to be required to accelerate the UK's climate action alongside economic development.
Pressure is mounting on the UK to respond to the US Inflation Reduction Act and the EU Net Zero Industries Act. But the UK's economy is currently flagging, experiencing challenges with lack of purpose, low productivity and a growing skills gap in sustainability and climate tech. How best to tackle climate action when facing such challenges?
Research on the potential for place-based action, both from a planning and policy perspective and from an investment and economic opportunity point of view, suggest that far more could be achieved at a local level. Of course, government support needs to be in place at a national level, but its how that support is delivered that that makes the difference – is it simply subsidies and incentives or is it something more complex? Recent research and announcements suggest that framing national action around city, local and place-based interventions may be the key.
Swenja Surminski, Professor in Practice, Adaptation Research at the Grantham Research Institute on Climate Change and the Environment, a member of the PCAN, said: "Encouraging people to become 'place protectors' is a good way to support them to 'act locally, think globally' in relation to climate adaptation and mitigation.
"As climate change impacts are most often experienced locally, place-based adaptation is essential to respond to the unique ways in which these climate impacts manifest and to ensure local priorities, values and knowledge are incorporated into adaptation action.
PCAN and the climate commissioners
Dr Candice Howarth, lead author of the report and co-director of PCAN, from the London School of Economics, said: "The UK is not on track to substantially reduce emissions or to address challenges in adapting to a changing climate. However, we can see countless examples of local communities coming together to form partnerships that can galvanise action." We now need to see politicians supporting local climate action with the required funding, resources and proper leadership.
The PCAN report provides 16 recommendations for government action, but its primary focus is the role of Climate Commissions and how their impact could be scaled up. Climate commissions are city-wide partnerships that bring together people from the public, private and civic sectors to work collaboratively with the local authority in order to accelerate climate action. 
There are currently 20 climate commissions or partnerships facilitating collaboration between local communities, businesses and local authorities across the country.  Businesses are showing their interest in working alongside cities to catalyse action at a municipal level, and many cities around the world are exploring their potential role as a network between locals and government policy.
The PCAN report highlights the need to tackle institutional and policy barriers holding back local climate action, to prevent national policy uncertainty and top-down approaches from hindering the energy, commitment and resources that place-based action can mobilise. It also says that local businesses should play their part in leading and supporting place-based programmes of emissions reduction, recognising that the benefits of a net zero local economy cannot be delivered by local authorities and public investment alone. On the wider level, it talks about the need for collaboration and partnership in approaches to climate action, to mobilise the energy and expertise of private, public and third sector actors.
What matters is that climate action is integrated into  issues such as planning, economic development and health, creating a holistic and cross-sectoral approach that is are consistent with and supporting of the delivery of place-based climate leadership.
Growing interest in clusters and place-based development
As ever, it's not simply a question of understanding where and how place-based action can help turn rhetoric into reality – there is also an economic opportunity. Understanding the importance of action on a geographical basis is not new – the investment approach to building regional clusters of expertise has proved very successful. Just recently, during London Tech Week 2023, we saw the launch of the Europe climate tech supercluster, with the goal of accelerating European Climate Tech hotspots and spearhead developments of clean technologies.
Over 3,000 climate tech startups and scaleups are already part of the European supercluster region, with a market worth of over $1 trillion, spanning across the UK, France, Belgium and the Netherlands – to date 44% of all European unicorns and 46% of all European startups by value have emerged from this significant geographical area.
The initiative was launched by analyst firm Liminal, Cambridge Cleantech and Oxfordshire Greentech, and has partnerships with Zinc, Sustainable Ventures, RethinkX, Founders Forum, Climate Connection and Climate KIC.
Its initial focus will be on connecting numerous tech hubs that are home to leading universities such as Oxford, Cambridge and Imperial in the UK, The Delft University of Technology in the Netherlands, Vrije Universiteit Brussel in Belgium, and Ecole Polytechnique in France, where many have been pioneering clean technologies in recent years.
It iss not just venture investors who are interested in the approach. In the UK, Lloyds Bank recently announced the launch of its partnership  with Octopus, Shell and National Grid to form the Local Low Carbon Accelerator (LLCA), with the aim of working alongside local government to accelerate the delivery of green infrastructure projects.
Green Alliance on developing UK climate tech clusters
Advancing our understanding of tech clusters' potential, Green Alliance has recently released its report: The cluster effect: why the UK needs a place-based green industrial strategy.  A previous analysis has shown that with deliberate policy choices, productivity growth could be a major outcome of the transition to net zero. The place-based report explores how this could play out at a regional level.
Green Alliance has mapped where the green industries of the future could be located based on underlying regional economic and geographical strengths, and demonstrated that a place-based industrial strategy is the most efficient way to reach net zero while widening economic prosperity across the country.
The analysis showed Scotland is likely to benefit from the net zero transition, due to its location advantages (proximity to offshore wind and carbon capture and storage sites in the North Sea) combined with its sectoral strengths. East and North East Scotland could house renewable energy generation clusters, with the Glasgow city region well placed for a green services cluster.
Eastern England has a comparative advantage in professional, scientific and technical services, access to offshore wind sites in the North Sea and high grade agricultural land. It could host clusters of renewable energy generation, agri-tech and alternative protein production. While the Solent has strengths in transport and storage services and refining, and professional, scientific and technical services. The Solent industrial cluster already intends to become a leader in the production of sustainable transport fuel.
The analysis initially suggests that Cornwall and the Isles of Scilly would do poorly based on  based on exports per head data. But the report says "net zero transition could provide the region with significant opportunities as it has geographic advantages, including being close to floating offshore wind sites in the Celtic Sea, and having reserves of critical raw materials and potential sites for geothermal energy."
Obviously, areas with existing industrial clusters will be attractive to those green and climate tech companies looking to disrupt industries, because of the presence of relevant infrastructure and a pre-existing skills base.
In order to accelerate such cluster development, the Green Alliance report recommends a package of policy tools government can use to address the constraints holding regions back and provide targeted support to meet the needs of new green industries:
Tailoring ambition to a region's specific geographic and economic characteristics, such as the skills base or potential for renewable energy.
Long term, government funding that de-risks movement for the private sector and gives it time to establish supply chains.
Unwavering political commitment, as the UK demonstrated with its decade-long political consistency in scaling up and cutting the cost of offshore wind.
Supportive institutions at national and regional level.
The combination of government incentives and a focus on place-based climate action could help to transform both public perception and economic potential.
As summarised by Sam Fankhauser, research director of Oxford Net Zero: "This report documents the importance of place in the fight against climate change. Local engagement and partnerships are essential to turn the rhetoric of climate emergency declarations into tangible actions for net zero and climate resilience. The government must put in place a much more coherent support frameworks to promote local climate action."
SGV Take
There are many reasons why place-based climate action is a positive idea, particularly when we consider its ability to address the challenge at multiple scales and in ways that are appropriate for particular regions. One thing is clear though, and that is the importance of a more holistic approach to policy making and problem solving. Collaboration and consistent support, going beyond mere incentives, are going to be necessary if the UK is to compete on the international stage.