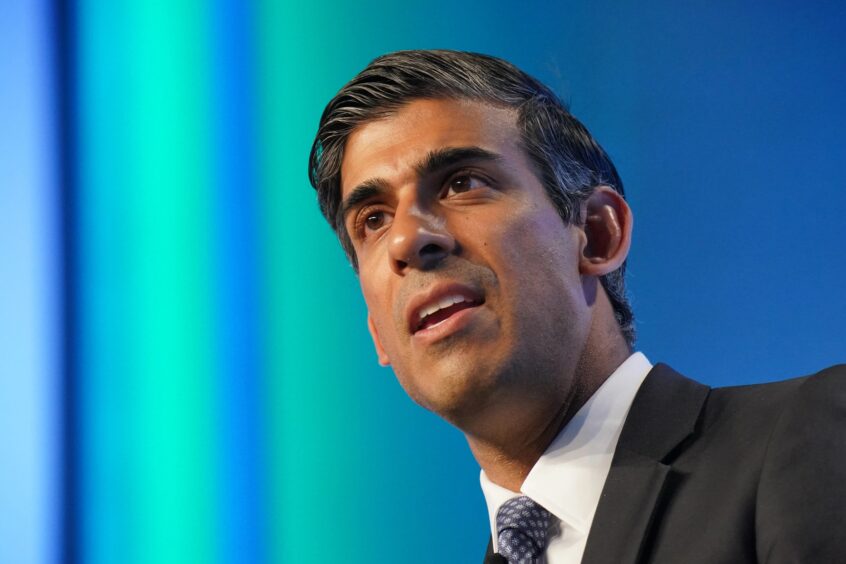 Rishi Sunak says he wants to "max out developments" in the North Sea and pledged to back more than 100 new licences for oil and gas fields – but faced criticism he was behaving like Donald Trump.
The prime minister announced plans to grant fresh oil and gas licences ahead of the trip, attracting support from industry and criticism over the potential impact on the climate.
New oil and gas fields are not compatible with a net zero by 2050 scenario and will derail the UK's climate commitments.
They are also unlikely to go online for several years and the feedstock will be sold on the global market at the best price, rather than domestically – they are unlikely to significantly contribute to the country's energy security.
The prime minister gave his full-throated support to continued drilling in the North Sea during a visit to approve funding for a major north-east "carbon capture" scheme.
He refused to say if he would back the controversial Rosebank field to the west of Shetland, when asked by reporters, but hinted strongly that he would.
Mr Sunak announced plans to grant fresh oil and gas licences ahead of the trip, attracting support from industry – and criticism over the potential impact on the climate.
SNP Westminster leader Stephen Flynn said the Tories "appear to have adopted an almost Donald Trump-like stance of 'drill, baby, drill'."
Speaking on Monday, the prime minister stressed decisions are made through a "regulatory process".
But he added: "My view is we should max-out the opportunities we have here in the North Sea because that's good for our energy security, good for jobs, particularly in Scotland and it's good for the climate because the alternative is shipping energy from half way around the world with three or four times the carbon emissions."
He also hit out at Labour's refusal to support new oil and gas fields, claiming it would be "bad for the British economy and jobs".
'Not serious'
Mr Sunak was at the Shell St Fergus gas plant on Monday to give his formal backing to the Acorn project, which is estimated to create more than 20,000 jobs.
It comes after years of frustration for the scheme which twice lost out on carbon capture funding from UK ministers.
The prime minister said the UK has the opportunity to "lead the world in" the new technology, as he praised the skills base located in the north-east.
But he came under fire from opposition politicians and environmental campaigners for his stance around future oil and gas exploration.
Mr Flynn, MP for Aberdeen South, said he fears the approach of trying to extract "every last drop of oil" will not necessarily attract those in the renewables sector to invest.
He said: "In the short, medium and long-term that's where we're ultimately going to go.
"I don't think the UK Government's in the right place on this. But similarly I would certainly be against those who advocate for an immediate shutdown in the North Sea."
First Minister Humza Yousaf said Mr Sunak's remarks proved the Tories were "not serious about tackling the climate emergency".
He said: "For the PM to announce unlimited extraction of oil and gas, in the week the UN has confirmed July is set to be the hottest month in human history, shows the PM is willing to recklessly gamble the future of our planet for cheap political gain."
'Much needed clarity'
But others welcomed the move, including energy tycoon Sir Ian Wood who said it "provides much needed clarity for the industry".
The Aberdeen billionaire added: "It makes absolutely no sense to reduce our reliance on domestic oil and gas production only to increase carbon heavier imports from overseas and place in jeopardy tens of thousands of jobs with would be both economically and environmentally counterproductive.
"We must proceed to deliver a managed and just transition that protects jobs and encourages our oil and gas industry to make the investments required that will in turn help us accelerate toward new and green energies."
David Whitehouse, chief executive of Offshore Energies UK, described the commitment to new licences as a "welcome boost for energy security and jobs".
He added: "There are currently 283 active oil and gas fields in the North Sea, by 2030 around 180 of those will have ceased production due to natural decline.
"If we do not replace maturing oil and gas fields with new ones, the rate of production will decline much faster than we can replace them with low carbon alternatives."
Russell Borthwick, chief executive of Aberdeen and Grampian Chamber of Commerce said: "We know that oil and gas will be required, albeit in declining amounts, as we transition towards a greener future.
"It makes far more sense for us to produce our own — at lower cost and with lower emissions — than importing this resource from overseas."