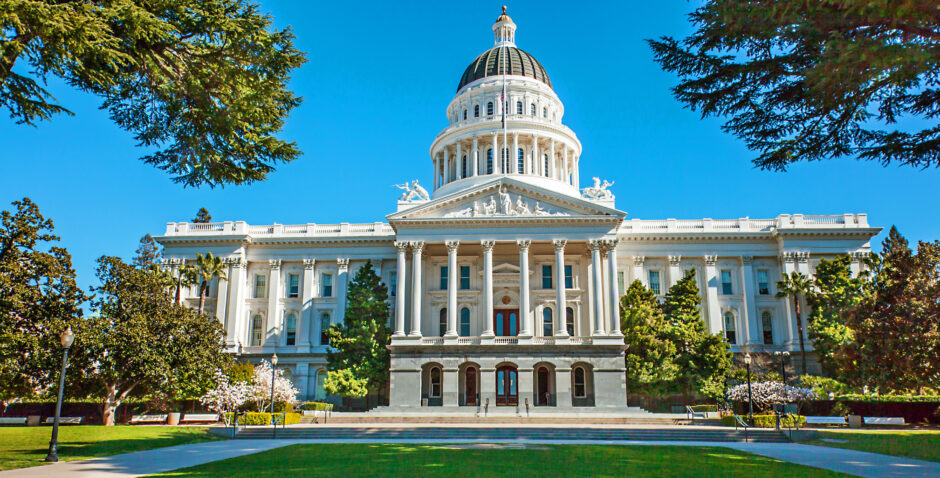 The California Assembly has passed a vote on corporate climate disclosure, approving a proposal that previously lost by one vote in 2022. This has wide-reaching implications for the trajectory of corporate climate risk disclosure and related impacts on the supply chain.
The California disclosure act passed by majority vote, setting the stage for the transformation of mandatory emissions reporting.
The state has a history of implementing climate-friendly policies and leading the charge on expectations of corporate behaviour.
The legislation must still be approved by the Appropriations Committee and Democratic Governor Gavin Newsome. If passed, companies will be required to disclose all Scopes of emissions from 2027.
The proposal could help to change the face of standardised corporate disclosure, especially within the US. As the largest economy in the country, and the largest sub-state economy globally, California's decision will have a cascading effect on policymaking.
"From Hollywood films to the digital revolution, California has led the world in critical new technology," said Paul Dickinson, founding chair of CDP. "They also have a proud history of fiscally material, bipartisan environmental regulation. SB 253 will drive innovation and efficiency throughout the corporate value chain. As Business School 101 tells us, what gets measured gets managed."
What is CA SB 253 – the Climate Corporate Data Accountability Act?
The bill passed by the California Assembly, promoted by Senator Wiener, will require the identification of the largest corporate polluters and supply chain emissions – forcing Scope 3 disclosures from a leadership attribute to a regulatory requirement.
While these requirements will only apply to businesses doing $1 billion a year in the State, there will be a knock-on effect on corporate knowledge and understanding. Any major company required to implement measurement processes in one part of a business is likely to replicate the same practice across the whole of its firm, as is operationally sensible.
More importantly, perhaps, there is likely to be a cascading effect – suppliers to the larger disclosing businesses will be forced to report their emissions if they wish to maintain their custom.
Prior to the vote Mary Nicols, past chair of the California Air Resources Board, urged legislative leaders to not kill SB 253. "California is a big, innovative economy that has proven that economic growth can be decoupled from emissions," she proclaimed. "Now, we must get accurate reporting of those emissions and risks. Our sophisticated government regulatory agencies are up to the task; the expertise of the California Air Resources Board should provide confidence to all parties involved in implementation."
Fighting greenwash
One of the arguments behind Weiner's push for the bill is that large corporations can market currently themselves as being green without disclosing their actual carbon emissions. For example, oil companies can promote sustainable messaging while continuously expanding their drilling.
"We're stopping this with our corporate carbon disclosure bill, SB 253. Oil companies, banks, et al are fighting us tooth & nail," said Senator Wiener. "These commonsense disclosures are already the norm in many markets – we need to standardize them to ensure investors, regulators, and consumers have the information they need to engage with major corporations in a warming world."
"Right now, billion dollar corporations spend more money on anti-climate ads than they would on these disclosures. They impose no costs to small businesses, and they are essential to meeting our climate goals."
There have been accusations of lobbying and misinformation, but there is little question that forcing companies to disclose their emissions will increase the transparency of their performance. Ultimately, the new regulations would open companies up to greater scrutiny of how they are promoting their business.
Corporate support in California
Wiener said that there had been a huge coalition behind the bill, including environmental leaders and leaders in public. Major corporations including Microsoft (NASDAQ:MSFT), Patagonia, Levi's (NYSE:LEVI) and Salesforce(NYSE:CRM) were also in support of the bill, having already started reporting and recognised that it is both important and doable.
Christiana Figueres, former UN Secretary-General said: "To truly move the needle [on climate change] we need transparent, rigorous, high-quality carbon disclosure to be the norm for all large companies."
The week before the vote, Apple (NASDAQ:APPL) went on record with its support. This is not as surprising as it might appear at first glance, because the company has set itself some challenging climate and carbon goals. An operating environment which pushes all companies to disclose climate risk is going to level the playing field, and is actually likely to cut associated costs as the market learns from experience.
Google (NASDAQ:GOOG) added its voice to the discourse the day of the vote, pointing out its own history of climate risk disclosures and supporting the bill.
Amalgamated Bank (NASDAQ:AMAL), which led in the development of the North American Standard for carbon accounting for financials published by the Partnership for Carbon Accounting Financials (PCAF), said in a statement: "We cannot underscore the importance of measurement and of having a full supply chain of emissions data that runs throughout the economy. The proposed legislation will go a long way to ensuring that companies, financial institutions, investors and the public have access to information important to our collective efforts to decarbonize."
One of the lessons from Amalgamated's stance is that any business or financial institution can help to accelerate transition or be overcome and left behind. PCAF, for example, is now the global standard for carbon accounting within the financial sector, used by 430 firms globally with related assets of more than $93 trillion, including 49 US firms. Its use is expanding as it now provides guidance to banks on how they should address financed emissions.
More to the point, the PCAF Standard is relied on in European banking regulations and the Taskforce on Climate Related Financial Disclosures (TCFD) recommendations for banks, which gives banks such as Amalgamated a head start in effective transition.
SEC guidelines still awaited
While the long-delayed SEC guidelines are yet to be published amid the 'anti-woke' Republican campaign, California's move towards climate disclosure changes the playing field. California has long been a market leader in developing emissions programmes, clean fuels and addressing car pollution with ICE cars banned by 2035. It seems likely that its impact in requiring emissions disclosure could follow a similar path.
As the world's fifth-largest economy, the state has an outsized impact on the world outside of its borders. The proposed SEC guidelines to date have failed to include Scope 3 emissions, but it almost seems unnecessary to propose a set of obligations on a federal level that have already been superseded. Given the acceleration of climate disclosure legislation, it seems that corporations must prepare to look beyond their own boundaries and take a wider picture of climate risk and the expected response.
SGV TAKE
The passing of the bill in California highlights a few things. Firstly, it shows how much political appetite for action can change in a year. In 2022, the vote failed by 1 before passing this year by 22 votes. This has perhaps been prompted by continuous stories of extreme weather impacts, with the NOAA having recently reported that the US has already been hit by 23 billion dollar disasters this year – more than ever previously recorded within a single annual period. Collectively, these disasters have resulted in $60 billion in damages, and that's only what has been assessed so far.
There is little doubt that, while stress testing and climate scenarios are being addressed by banks and corporates alike, the reality of climate change is overtaking theoretical assessments. Ultimately, transformative change can only be effected by real and undeniable data. A clearer picture of corporate emissions could make a significant contribution.