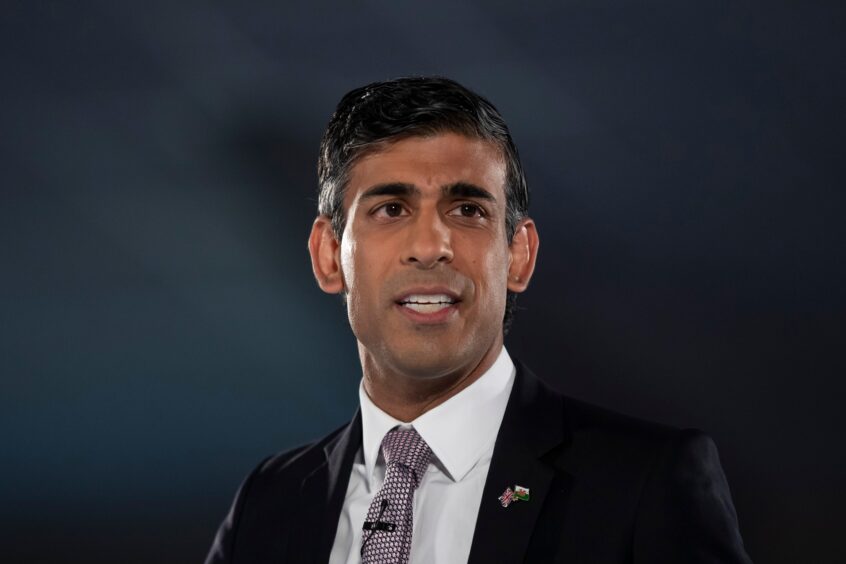 Rishi Sunak confirmed he will push back a ban on the sale of new diesel and petrol vehicles to 2035, as well as net zero regulations that would phase out the use of gas and oil boilers in homes.
UK Prime Minister Rishi Sunak has delayed and scaled back several of the country's clean energy policies.
The move has been widely criticised by businesses across a number of sectors, as well as by environmentalists and politicians.
Sunak's decision comes at the risk of the UK economy as global markets lean towards a net zero transition.
Despite his billing of the decisions as "sensible green leadership" in a bid to "ease the transition", the shift was roundly derided by businesses and investors who described the weakening of key policies as "shameful."
ChargeUK, which represents EV charging service providers including BP and Shell, warned jobs would be put at risk over the decision, while subsea trade body Global Underwater Hub (GUH) said deferring timelines "will have an impact across the board on energy security, infrastructure, manufacturing and the workforce".
Renewable UK said that work should be done to de-couple prices of electricity from expensive gas if Mr Sunak " is really serious about taking bold measures to save money for consumers".
CEO Dan McGrail added: "Today's announcements will undoubtedly knock investor confidence, as many green technology leaders are now nervous about the increasing uncertainty around net zero policies in the UK.
"The Government is going to have to outline clear measures to restore market confidence in the Autumn Statement, not least to ensure that we can compete against the USA, Europe and China for investment at a time when the global race to build new renewable energy projects has never been more intense.
'Unacceptable costs' 
Mr Sunak decried the "unacceptable costs" involved in many of net zero policies, which he said "may not be necessary" to achieve net zero.
He claimed he was "not abandoning any targets or commitments" and said that the UK had "over delivered on carbon budgets", despite warnings from its advisors that their confidence in the UK's ability to meet its allocations had worsened over the past year.
Indeed, he proposed an overhaul of how carbon budgets would be set and agreed by parliament.
In a nod to his government's decisions to continue with new licensing, he also made clear: "Nor will we ban new oil and gas in the North Sea, which would simply leave us reliant on expensive imported energy."
Recognising the importance of new transmission and grid equipment however, the prime minister also announced that the Chancellor and Department for Energy Security and Net Zero would shortly announce a "comprehensive plan for grid infrastructure."
This would go hand in hand with the UK's first ever spatial plan for grid infrastructure and a reiteration of promises to speed up planning and reform the grid connection process.
'Directionless' PM
Mr Sunak is seen as using net zero policy as a battleground for the next election, expected in 2024, while the Conservatives trail Labour in the polls by near double-digits.
It's in response to criticism the prime minister has been timid as a political leader, though the move has sparked backlash across the board.
Labour's shadow climate and net zero secretary Ed Miliband excoriated the prime minister, labelling the decision "an act of weakness from a desperate, directionless Prime Minister, dancing to the tune of a small minority of his party."
Baroness Parminter, chairwoman of the House of Lords Environment and Climate Change Committee, said "I am dismayed by today's announcement and will be writing to the Prime Minister, on behalf of the committee, outlining our concerns and seeking clarification on his roadmap to net zero.
"The overwhelming evidence we have received so far in our current Electric Vehicles (EVs) inquiry is that both industry and the public need policy certainty, consistency, and clear leadership on the journey to net zero. We had that same message from stakeholders consistently in our previous inquiries into the Boiler Upgrade Scheme and into behaviour change needed to meet carbon reduction goals."
'Economic self-harm'
Businesses too were concerned by the news.
An open letter co-ordinated by climate change think tank E3G and signed by more than 250 NGOs and businesses ahead of Mr Sunak's speech noted that watering down net zero commitments would be "the historic mistake of Rishi Sunak's premiership" and leave a lasting impact on the UK economy and the climate.
Ed Matthew, campaigns director for E3G, said: "This would be the greatest act of economic self-harm since Liz Truss's mini-budget.
"It is shaking investor confidence and putting jobs at risk. It also threatens to keep households hooked on expensive oil and gas for longer.
"The large number of signatories to this letter, gathered in only hours, reflects the deep commitment from all parts of society to the net zero transition. Policies to build a prosperous green future are a mission that unites us all and should not be used by politicians to divide us. This is shameful."
Meanwhile, Jenny Curtis, managing director at Vattenfall Heat UK commented: "In the UK, one third of greenhouse gas emissions come from heating homes and buildings. Delaying the phase-out of gas boilers risks removing the incentive for building owners to switch to lower-carbon alternatives.
"The UK cannot afford to stall the deployment of low carbon heating by sending mixed messages about the future of fossil fuels. Companies will stop investing and the establishment of the supply chain and skills base that we so desperately need will fail to happen."
More costly in long run
Earlier on Wednesday, Charge UK, which represents providers of EV charging services like Shell, BP, TotalEnetgies and SSE, said: "Today's extremely worrying news is not consistent with economic stability of confidence.
"It will compromise the entire industry, and place jobs and consumer and investor confidence at risk".
This is latest in a series of issues which the market has said to be harming the UK's green credentials, including a recent failure to attract offshore wind developers in this month's CfD auction round, and a commitment to "hundreds" of new North Sea licences.
Charge UK added: "Government will penalise individual drivers who are doing the right thing. More and more people are making the transition to electric vehicles, as they have been encouraged to do. They are entitled to expect government to keep its promises and continue to support the roll out of charging infrastructure across the UK."
The policy rollbacks come while the UK remains without an answer to the United States' Inflation Reduction Act (IRA), a mammoth green energy spending package introduced over a year ago.
Sam Hollister, head of economics and finance at LCP Delta, said; "The Government is paying no regard to the investment needed to meet net zero, with the latest announcements another nail in the coffin that could see investors take flight to other markets.
"Weeks after a CfD auction which failed to attract investment in offshore wind, and still no answer to the US's Inflation Reduction Act, today's rumours will act as another signal to investors that the UK's commitments and plans for net zero are not guaranteed."
Mr Hollister said LCP Delta's data shows the UK will need billions to meet net zero – and delays will increase the cost further.
"An increase of just 1% WACC (Weighted Average Cost of Capital) will increase the cost of delivering the power generation infrastructure to meet net zero by £35bn, and this quickly increases to £75bn if the cost of capital increases by 2%."
SGV TAKE
Sunak's announcement bucks the trend emerging all over the world. In many countries across the globe, leaders are forging ahead with their most ambitious climate policies yet.
It is hugely concerning to see the UK stepping while others carry on their way to a fair and sustainable future. Those with the power to have their voice heard would do well to consider the long-term consequences of such a reversal of progress. When it comes to climate-related policy measures, standing out from the crowd for all the wrong reasons is likely to come with significant drawbacks.