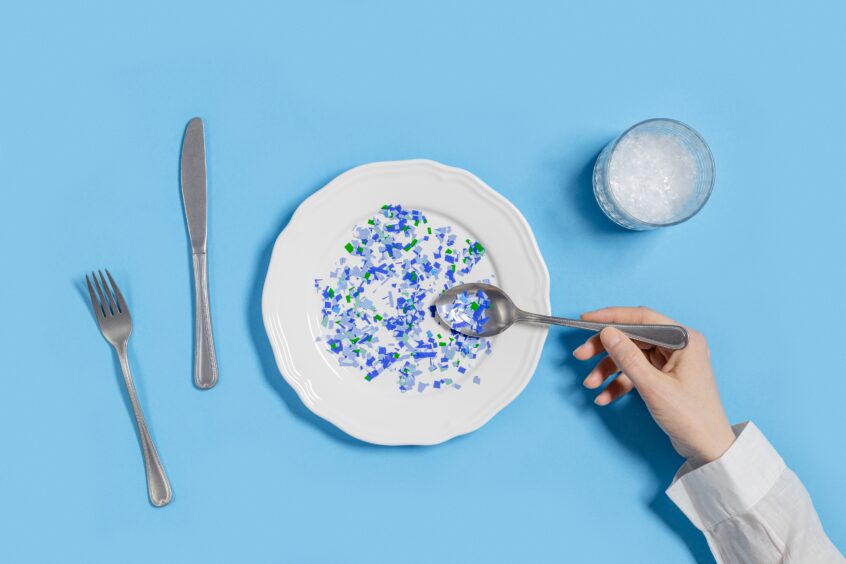 The sale of all loose glitter and microbeads will be banned in 27 countries starting 15 October 2023, with other bans set to follow.
The EU rule 'Registration, Evaluation, Authorisation and Restriction of Chemicals' (REACH) was adopted on 25 September 2023 and spells a change for industries that have traditionally caused large-scale microplastic pollution in the environment.
At least 14 million tonnes of microplastics have accumulated in the world's oceans and 2.5 million tonnes are expected to be added annually by 2050 if business as usual continues, posing disastrous risks to global ecosystems.
The legislation is expected to prevent the release of over half a million tonnes of microplastics into the environment over the next 20 years.
In a few years, the production of products ranging from glittery cosmetics to artificial turfs for football in the EU will need to undergo a transformation, as they were found to churn out over 42,000 tonnes of microplastics into the environment each year, an issue that the European Commission has set out to tackle. 
Legislation for the green transition of EU industry
The legislation restricts the use of microplastics that are intentionally added to products to create a certain texture, colour or fragrance; producers will be prohibited from selling them, alongside the sale of products to which microplastics have been added and from which end up being released into the environment. The definition of microplastics used are synthetic polymer particles below five millimetres that are "organic, insoluble and resist degradation".
Thierry Breton, commissioner for the internal market, said: "This restriction contributes to the green transition of the EU industry and promotes innovative, microplastic-free products – from cosmetics to detergents to sport surfaces. EU citizens will gain access to safer and more sustainable products and the EU industry – especially SMEs – which invested in and developed such innovative products will be more competitive and resilient."
The REACH legislation comes as part of the European Commission's target to reduce microplastic pollution by 30% by 2030 as set out in its Zero Pollution Action Plan. It is expected to cost up to €19 billion over the next 20 years for all stakeholders.
EU countries voted in favour of the Commission's proposal, which was passed by the European Parliament and Council on 25 September 2023. This legislation is in response to the recommendation from the European Chemicals Agency, which assessed the risk posed by microplastics intentionally added to products in 2017 and concluded that microplastics intentionally added to certain products are released into the environment in an uncontrolled and harmful way.
Which businesses are affected? 
The legislation is bound to affect several sectors. Firstly, the sports industry contains the largest source of intentional microplastics in the environment: the granular infill material used on artificial sports surfaces. The ban applies in 2031 to give pitch owners and managers the time to switch to alternatives and allow existing pitches to reach their end of life. 
Secondly, the cosmetic industry uses microplastics such as exfoliators with microbeads and glitter to attain a specific texture, fragrance or colour. While the ban on loose glitter and microbeads is immediate and will take place in 20 days, it may only apply after four to 12 years for other products depending on their complexity, the need for reformulation and the availability of suitable alternatives.
Finally, several other products that need to be reformulated include detergents, fertiliser, fabric softeners, glitter, plant protection products, toys, medicines and medical devices. 
There are exceptions, however, for example products that contain but do not release microplastics during use or their release can be minimised, such as construction materials and those used at industrial sites. Nonetheless,  their manufacturers will have to provide instructions on how to use and dispose of the product to prevent microplastic release. They will also have to report the estimated microplastic emissions from those products to ECHA every year. 
Products already regulated by other EU legislation, such as food, medicinal products and feed are excluded, as well as products that may 1contain microplastics unintentionally, such as compost or sludge.
Microplastics are posing health risks 
At least 14 million tonnes of microplastics have accumulated in the world's oceans and form a permanent pollutant, destined to contaminate for millennia and generations to come. In the EU alone, over 145,000 tonnes are released every year into the environment, with plastic recycling and wear and tear from products such as tyres exacerbating the problem. 
Because they do not biodegrade, they can accumulate in fish and other animals that are also consumed as food by humans. A study in early 2021 estimated that globally on average, we may ingest 0.1 to five grams of microplastics every week through various exposure pathways. Considering that annual waste generation is only projected to increase by 70% by 2050, and plastic consumption is expected to double by 2050, the quantities of microplastics are likely to increase exponentially.
They can associate with and bring toxic chemicals into the body, such as additives, heavy metals, pesticides and pharmaceuticals, which have all been linked to diseases ranging from cancer, cardiovascular and reproductive problems to diabetes. 
Moreover, microplastics have been found in environments and ecosystems ranging from Antarctic snow and krill to the Mariana Trench, the 11-kilometre-deep trench in the Pacific Ocean to Mount Everest. New research on microplastic filtration from wastewater as well as washing machines, however, offers hopes of removing the pollutants at scale from the environment. 
The European Commission has demarcated reducing microplastics as a key focus, as stated in the new Circular Economy Plan and the European Green Deal. It is also working to reduce pollution from plastic waste and litter, or accidental and unintentional releases such as plastic pellet loss, tyre degradation and release from clothing. 
It is also considering other options to limit the release of unintentionally formed microplastics in the aquatic environment, including the development of better and more harmonised methods for measurement and labelling standardisation, certification and regulatory measures for these products. 
SGV TAKE 
The health dangers of microplastics cannot be overstated. Babies have 10 to 20 times more microplastics in their bodies when compared to adults, research conducted in 2021 has shown.
They are even found in placentas and newborns and with microplastics carrying a range of chemical contaminants, it is not imprudent to expect a range of health issues to arise in the future decades as we ingest grams of the material every week. Although the full impact of these is unknown, companies must still address these emissions to avoid harming global human and ecosystem health.
This legislation is a much-needed first step to banning microplastic use but more global action is needed to curb what is threatening to be an irreversible global issue. While the EU rule may cause disruption for some companies in the short term, it will provide an advantage when other jurisdictions follow the bloc's lead.