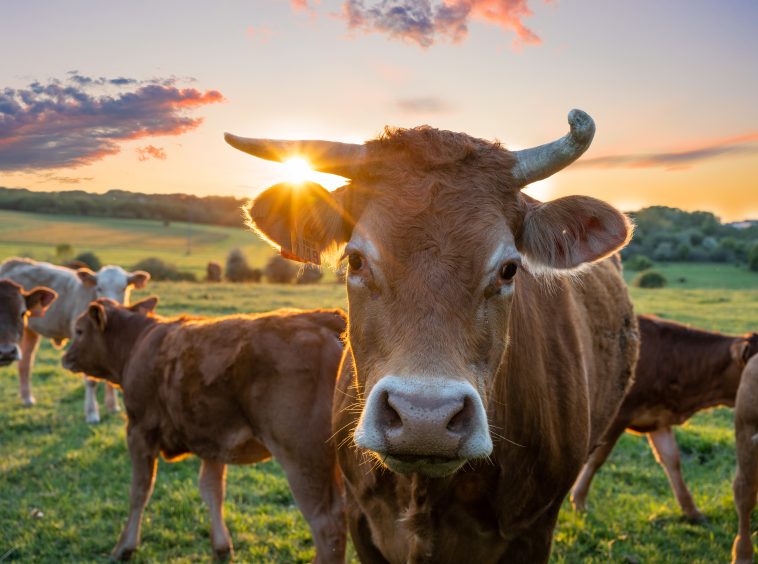 According to Swedish sustainability research group Profundo, global livestock production has an outsized environmental footprint and a relatively small shift in protein replacement could have a major impact on emissions.
Profundo researchers have calculated the impact of replacing 30% of meat with plant proteins.
Such a change could offset almost all global aviation emissions, free up an India-sized carbon sink and save 7.5 million swimming pools' worth of water a year.
Given the impact of such a shift, food companies, large retailers and food service companies are at risk of being pushed to address such a need for change.
Profundo's latest report Impact of the Shift to Plant Protein (commissioned by advocacy group Madre Brava), says that reducing the meat produced and consumed in regions with exceedingly high animal protein intake, plus substituting it with alternative proteins could save large volumes of human-made greenhouse gas emissions as well as land and water. In terms of the impact on a range of sectors, the report points out that large retailers and food service companies have an important role in contributing to such a protein shift.
Nico Muzi, managing director of Madre Brava, said: "In the current context of the triple crisis of climate change, biodiversity loss and water scarcity, the benefits of a modest switch to plant proteins are huge. The current food system incentivizes producing and selling huge amounts of industrial meat, rather than more sustainable, healthier proteins. We need to turn the tide for our health and the health of our planet. Governments and food retailers can play a critical role in ensuring that sustainable proteins are the cheapest, easiest choice for consumers when doing their food shop."
Changes in the food system could have a dramatic impact on meat footprint and water use
Plant protein production, in general, uses a tiny fraction of land compared to animal meat production, thus drastically reducing deforestation and protecting biodiversity. Moreover, plant protein production uses a lot less water, causes less water and air pollution, eliminates the risks of antibiotic resistance and zoonotic pandemics and lowers public health burdens associated with red meat consumption. Read more in our explainer about why we need to switch to alternative proteins.
The report estimated that, in countries where consumption of meat is above recommended levels, substituting 30% of beef, pork and chicken with a mix of whole foods and novel plant-based meat products could lead to net savings of 728 million tonnes of CO2e a year. This is equivalent to offsetting almost all emissions from global air travel in 2022, according to International Energy Agency numbers.
Moreover, the shift would free up 3.4 square kilometres of farmland, an area the size of India, land that can be returned to nature to boost biodiversity and absorb carbon emissions. Due to livestock's enormous water usage, this modest 30% switch to plant proteins would also save 18.9 cubic kilometres of water. This is the equivalent of 7.5 million olympic-size swimming pools worth of water every year.
In terms of animal welfare, the 30% shift to plant proteins would save the lives of 100 million cows, 420 million pigs and over 22 billion chickens per year, which equates to sparing all the cows alive today in the US.
What are the countries of meat over-consumption?
The projected shift to plant proteins modelled by Profundo applies only to the regions of the world with meat consumption above that recommended by widely accepted health and science assessments.
For instance, Americans and Canadians eat six times as much red meat as recommended by leading health scientists and nutritionists at EAT-Lancet, while EU and UK citizens as well as Argentinians and Brazilians eat four times as much. Thus, the 30% switch from meat to plant alternatives is moderate as people will still be able to eat more red meat than recommended by health experts.
Meat consumption around the globe has increased dramatically in the past few decades. High rates of meat consumption are concentrated in a few regions:  more than 100 kilograms (kg) per person per year in countries like the United States, Australia, Argentina, and Brazil; an average of 75kg in the EU and the UK; and less than 5 kg in India, Bangladesh or Burundi.
Global meat consumption is expected to grow
Global meat production increased by 19% in just ten years from 2011 to 2021. Despite forecasts of demand for meat to plateau in rich nations, a growing world population, increasing incomes in developing economies and a higher life expectancy will lead to further global meat consumption rises in the years to come.
Under FAO-OECD's latest projections, global poultry consumption is forecasted to increase by 15% in the ten years to 2032; pork consumption is expected to grow by 11%; and beef by 10%.
Climate scientists agree that the achievement of the Paris goals is going to require a drastic reduction in the production and consumption of industrial meat. To date, strategies have focused largely on improving the efficiency of production to reduce the emissions intensity of livestock products. And while these strategies – such as changing the enteric fermentation process in ruminant animals that produce methane, a super climate-warming gas – are important, they are not enough to align food systems with Paris goals.
"Even the most optimistic estimates of emissions reductions from intensification and efficiency measures are not enough to bring protein production in line with climate goals. As such, structural solutions focused on making sustainable proteins the cheapest, easiest choice for consumers are critical," Nico Muzi concluded.
Cutting meat consumption by a third could have significant impact
If EU and UK citizens decide to go meat-free for two days a week, it could have huge benefits for the health of the planet, according to the Profundo research.
According to the researchers, making Mondays and Tuesdays meatless in the UK and the EU and replacing it with a mix of whole vegetal proteins and novel plant-based meat could save 81 million tonnes of CO2e. This is equivalent to removing almost one-quarter, or 65 million, of all cars from EU and UK roads today. The moderate plant shift could also free up an area bigger than the entire United Kingdom (270,000 square kilometres) and save 2.2 cubic kilometres of water – or 880,000 swimming pools worth of water each year.
Industrial animal agriculture plays an outsized role in driving emissions in the EU food sector. Over a third (36%) of emissions linked to consumption in the EU come from food, with animal products accounting for 70% of that impact. Moreover, meat and dairy production is the single largest source of methane emissions in the EU – the type of emissions with the most immediate and concentrated impact on climate change.
SGV TAKE
It is widely accepted that the production of meat protein using land is an inefficient process. The Profundo research estimates that humanity could produce 14 times more protein on the same amount of land by switching from meat to plant proteins helping to feed a growing world population in 2030. Given the benefits in land use, CO2 emissions, water consumption and health impacts there is no question that this would be a sensible choice.
Given the politicisation of climate action, however, calls for cutting meat consumption seem increasingly to result in backlash. Given that all that's being asked is to cut consumption by a third, this seems further evidence that knee-jerk reactions to requests for shared and collaborative action are going unheard.