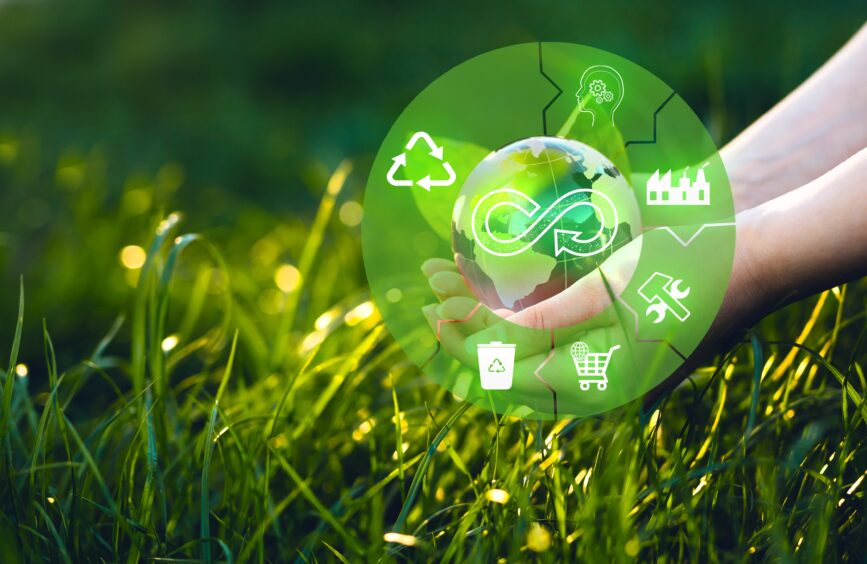 Given the current planetary crises of climate change, pollution and biodiversity loss, addressing environmental challenges has become a vital aspect of modern corporate strategy.
One of the difficulties companies face is identifying where they should prioritise action in terms of engaging with the challenges: should they focus on eliminating waste and pollution, cutting carbon emissions, stewardship of resources, the regeneration of nature, circular economy approaches?
For many, the core action on the environment is a focus on decarbonisation, and that certainly dominates discussion. Today the question is not if a company should address emissions, but when do they plan on reaching net zero and how.
Many companies have implemented plans to cut emissions across Scope 1 and 2, meaning directly controlled emissions and indirect emissions from energy use and travel, but the assumption today is that companies should be addressing their Scope 3, or supply chain and product related emissions.
Many companies are concerned that the process of engaging might leave them open to accusations of greenwash, as there is still a learning curve for action and sometimes corporate misunderstanding of what they can, or should do.
There are simple steps, though, that can help business develop a robust, coherent and authentic approach, including integrating ESG into sustainability strategy, undertaking a materiality analysis, selecting a reporting framework, setting targets, collecting relevant data, tracking performance and reporting. Transparency about the process, as well as long-term plans, can mitigate the chance of greenwashing.
A critical element is understanding the immediate business case for action, as well as the wider implications of corporate behaviour. To be effective in addressing environmental issues, companies must ascertain which issues matter most to their business and sector – that means uncovering which risks need to be addressed, which can range from the cost of, or access to, capital to resource constraint, reputation management and regulatory framework change.
According to Fariyal Khanbabi, CEO at Dialight, an international industrial LED lighting technology and solutions provider, "The first step is to conduct a materiality assessment which evaluates various aspects with the dual lens of the importance to stakeholders and the potential impact on your company. From an 'E' standpoint, this includes things like waste, water and greenhouse gas emissions. The significance of each of these will depend on the industry you are in. For example, the beverage industry requires water to make their products, so water will be a significant piece of their materiality assessment related to their environmental impact, and also their future ability to make product."
At the same time, it's becoming increasingly important to develop an awareness of operational issues that can have an impact on the environment. For shampoo manufacturers one issue is the use of surfactants and propanediol, an ingredient used to keep shampoos liquid, which contribute to both eutrophication – the leaching of nitrogen and phosphorus into waterways, causing algal blooms of algae which kills off other aquatic life – and ecotoxicity, where chemicals are released that directly kill wildlife.
While identifying every element in the value chain and exploring the risks associated with them may sound complicated, it is a question of connecting an understanding of business operations with the material risks that are faced in an ever-changing environment.
Marjella Lecourt-Alma, CEO and Co-founder of Datamaran, a data-driven materiality and ESG risk management platform, says that "Technical experts like to make it complicated when the question is what's the impact, inside out and outside in. Part of the [ESG] community tries to present ESG like finance, but its more about companies' choices, governance and making decisions about actions."
One of the key elements on which most experts agree today is that decisions about ESG actions should be made as part of an overall sustainability strategy, rather than a series of disparate ESG programmes ticking boxes for ratings. Given the interconnected nature of the challenges faced, it is important to take a holistic view of the sustainability questions arising for different businesses and sectors.
Dr. Valentina Fomenko, chief executive of Strategy DNA, a decision-support company that helps organisations respond to rapid change, says that "the distinction is between ESG reporting with management taking actions to improve, versus a strategy-led approach that not only supports but also enhances and frames strategy. This is where true innovation lies."
An important next step is the selection of the framework against which the company is going to report. There are a wide range of different reporting frameworks and approaches for environmental issues.
According to Fomenko, a typical environmental reporting "stack" for a large company with a global footprint should include either a GRI or other comprehensive ESG framework; CDP (if requested) and/or TCFD for carbon footprint and climate-related risks and opportunities, as well as an industry-aligned framework. In terms of framing the story, she suggests that companies might also want to align with the UN Sustainable Development Goals.
Fomenko says that "Frameworks tend to be a "package deal," so you don't necessarily choose the metrics to report on (or not) after committing to a framework. But you can – and should – choose carefully regarding which of your metrics you want to emphasise as part of your corporate story.
This is where it is critical that you go back to the materiality assessment and focus on issues and metrics that are central to your company's core mission. Choose something that demonstrates how your actions align with your values, strengthens your competitive positioning and follows your overall strategic direction."
Setting targets and identifying how they should be reached plays a critical role. In terms of emissions mitigation, for example, the Science Based Targets Initiative (SBTi) provides a clearly defined pathway to achieve emissions reductions in line with the Paris Agreement on climate change. In 2021 it also launched its Net Zero Standard, providing guidance on how to achieve net zero in line with the science, and is developing a net zero standard for the financial sector.
Dialight itself has set a net zero target for 2040, which was formalised with the SBTi in 2021. The company is currently formulating targets in line with the requirements of the recent guidance issued in the SBTi Corporate Net-Zero Standard. It will cover all Scope 3 emissions, including the impact of usage by customers. Of course, it helps that its products have a positive environmental impact.
Dialight LED lighting produces two-thirds fewer carbon emissions vs. legacy lighting. If the customers who bought Dialight LED lighting in 2021 had retained their legacy lights their carbon emissions would have been 2.5m tonnes. As a comparison, highly efficient, long-lasting Dialight LED lighting that they have purchased uses 0.9m tonnes, which is a saving of 1.6m tonnes of CO2 over the 10-year life of the product.
One thing that should also be considered when setting environmental targets, especially in terms of emissions, is the extent to which carbon offsets are to be used. The gold standard is that all possible emissions should be mitigated and only those that cannot be addressed should be offset.
Companies that are evaluating their operations and products with a view towards their environmental impact from cradle to grave and only looking to offsets as a last resort are the ones walking the walk. Like many environmental questions, though, where this level sits varies from sector to sector, and there is no "one size fits all" approach or benchmark that shows how one company is 'better' than another.
Of course there is no point in setting targets if there is no transition plan. If implementation is to be effective, then companies must not simply set an end goal but also have a plan for how that end goal is to be reached. Performance against that transition plan, as well as benchmarking against competitors, is going to be key.
That means that accurate data collection and analysis is just the beginning – organisations still need to use that data to decide how environmental interventions are going to be made. There is no point in collecting data if it can't be turned into coherent, decision-useful information.
There are many legacy systems and unconnected assets involved in managing many operations, and digitalisation of such assets and processes is going to play an important part in effective sustainable growth.
In Europe and the UK, reporting is becoming a requirement for an increasing number of businesses and that is going to raise the profile of both those companies that are taking action effectively, as well as those that are not. Global convergence of standardisation and mandatory disclosure seem only a matter of time. Whether the business prioritises emissions management, water stewardship, pollution reduction, land regeneration or another environmental intervention, reporting on performance to stakeholders is vital.
The way in which a company prioritises action should help stakeholders to understand the vulnerabilities in business operations and the impact of the business on the wider environment. While the ways in which environmental challenges beyond emissions, water management and pollution control continue to evolve, there is no longer any excuse not to act.