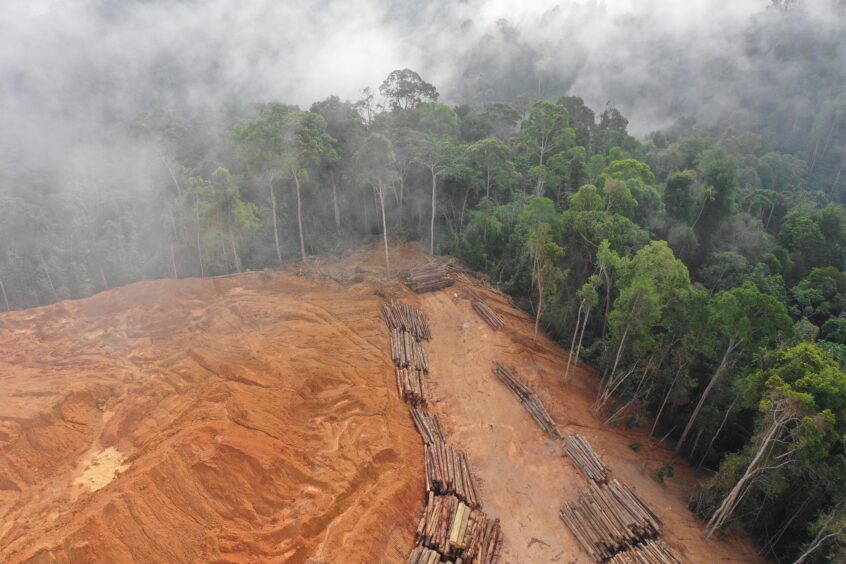 Given the role of philanthropy in climate finance, its interesting to see Global Canopy launch of new guidance for family offices and foundations to help them ensure  deforestation-free portfolios. 
 Global Canopy launches guidance on how to approach a deforestation free portfolio.
Just over 200 of the largest family offices represent $493 billion and its important to keep such funds out of nature destruction – estimated at over $7 trillion.
The EU's latest regulation will drive the risk profile of investment in deforestation and this latest guidance should help family officers to avoid such risk.
 The practical how-to guide from Global Canopy, the Deforestation, Conversion and Abuse-Free (DCAF) Investment Mandate, is intended to keep the destruction of forests, the conversion of other natural habitats, and associated human rights abuses out of investment  portfolios.
Family offices hold a significant concentration of global wealth
According to the UBS 2022 Global Family Office Report, 221 of the world's largest single-family offices cover a total net worth of $493 billion, with the individual families' net worth averaging $2.2 billion. How they choose to invest their money can play a critical role in how companies and asset managers respond to concerns about deforestation.
When invested, this money could be funding destruction, contributing to the more than $7.1 trillion in private finance driving deforestation each year.  This number is generated from  Global Canopy's research on the 500 companies and financial institutions and their  exposure to deforestation risk through beef and leather, soy, palm oil, timber and pulp and paper supply chains.
It's important to remember that agricultural conversion for these commodities drives over two-thirds of tropical deforestation. By setting policies on deforestation and associated human rights abuses, and taking practical steps to implement them, financial institutions – and family wealth offices – can help transform forest-risk supply chains.
Why deforestation remains a critical issue for climate and biodiversity
Deforestation is a leading cause of climate change, responsible for 11% of global greenhouse gas emissions, if deforestation were a country it would be the third highest emitter in the world. Due to its high impact, Race to Zero, the UN-backed campaign striving for a net-zero economy, has called on all investors to eliminate commodity-driven deforestation from their portfolios by 2025.
"Many foundations and philanthropically minded family offices have an impressive record when it comes to giving to tackle the environmental crisis, so it is essential that their investments don't unwittingly cause destruction. Deforestation hidden in their investments could be at risk of outweighing their positive impact. This mandate can help them use their tremendous leverage and influence to lead the way on deforestation-free portfolios, putting pressure on asset managers and financial institutions to clean up their act," said Niki Mardas, Global Canopy's Executive Director.
Regulation around preventing deforestation is on the increase
Another reason that investors should be concerned about deforestation within their portfolios is the significant range of risks that such exposure brings. It's not simply about supply chain risk, litigation risk or consumer pushback but growing regulation on the matter is likely to have a significant impact in terms of time and money.
Despite growing concern about the impact of deforestation, global deforestation rates remain very high – around 10 million hectares of forest are still lost every year, almost 90% of which is caused by the expansion of agricultural production, and the EU has for some time been one of the world's largest importers of deforestation.
Existing international, regional and private sector initiatives to halt global deforestation have clearly not delivered results. Yet the EU recently agreed to halt trade in and out of the EU of any product associated within either deforestation or forest degradation, through its EU Deforestation Regulation.
That means targeting such forest-risk commodities as cattle, cocoa, coffee, oil palm, soy, and wood, as well as any products derived from them. This could significantly affect the meat and dairy industry due to the importance of soy for animal feed and concerns have already been raised that this could prevent trade in particular products, such as South African beef.
If the outcome of COP15 enshrines concrete action on the protection of land and sea, 30% of ecosystems and biodiversity, then the impact on industry and investors is likely to prove significant.
Global Canopy's Deforestation, Conversion and Abuse-Free guidance
Global Canopy's Deforestation, Conversion and Abuse-Free (DCAF) Investment Mandate brings together different tools, resources and examples of best practice, so family offices and foundations can task their asset managers with identifying and mitigating deforestation risks. It provides them with a blueprint of how to engage asset managers and gives them the power to drive positive change through their investments.
Created in consultation with family offices, foundations, asset managers and other stakeholders, the new market-ready guide outlines the steps asset managers should take to play their part in combating deforestation, conversion and associated human rights abuses.
Dr Paddy Walker, the managing director of the UK based family office J. Leon & Company Ltd said: "As an investor, we know there is no way to tackle the climate crisis without an end to deforestation, conversion and association human rights abuses. We have always strived for our investments to be part of the solution, instead of driving the problem. By sign-posting key tools, datasets and examples of best practice, this guide can help us reach deforestation-free investments," said
Global Canopy's Deforestation-free Investment Mandate is the latest in a suite of guidance created for the finance sector. It includes the Finance Sector Roadmap on Eliminating Commodity Driven Deforestation launched at COP26, and the Deforestation-free pensions guidance launched earlier this year. Collectively they show the clear steps needed to ensure investments are not driving destruction.
Traceability will be critical for effective action on deforestation free products
Traceability is the process of tracing the origins, movement, and evolution of products and materials. It is incredibly complex in the agricultural sector as the industry is spread over different geographies and consists of actors operating at multiple and distinct scales, from global players to millions of smallholders around the world.
There is a serious lack of accurate and accessible data on what is actually doing on throughout the supply chain and visibility on product lifecycle is going to be a baseline for effective action.
Legal firm Client Earth has said that "The establishment of a legal framework to address the EU's global deforestation footprint has the potential to mark a watershed in global environmental governance and is a crucial step away from voluntary commitments and market-based measures towards binding legal requirements. It sends a clear signal that change is coming."
It has warned however that there has been significant pushback from industry on the data requirements associated with the proposed EU regulation, especially around geolocation. The proposal requires that operators collect the "geo-localisation coordinates, latitude and longitude of all plots of land where the relevant [Covered Products] were produced", as well as the date or time range of production.  That data has to be disclosed to national authorities for due diligence before products can be considered for the EU market.
While it will prove challenging to build the necessary datasets, data of at that level of granularity is going to be necessary to ensure that supply chains are deforestation free. Client Earth added: "Traceability is … indispensable for a product-based regulation that aims to halt deforestation and forest degradation occurring at the point of commodity production." And that is something that will be necessary to underpin the new guidance on keeping deforestation out of investment portfolios as well.