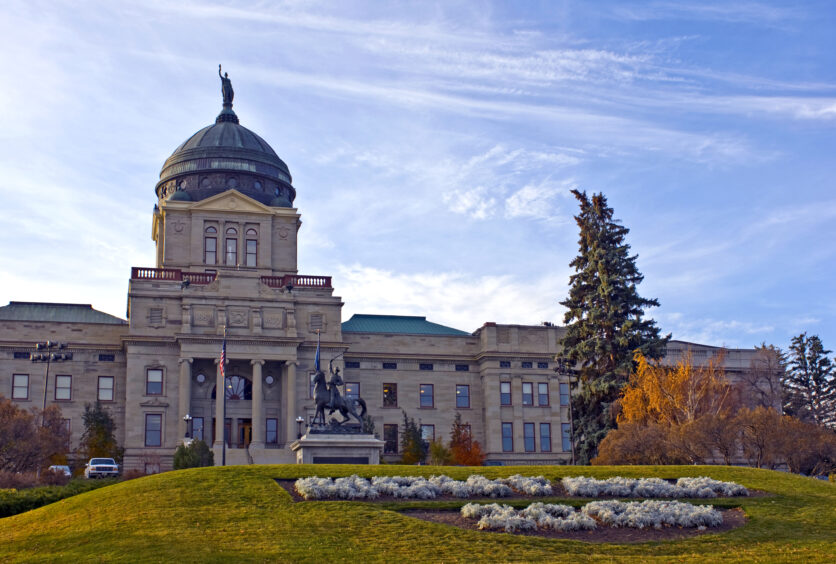 A landmark court case in Montana, US, has ruled in favour of 16 young plaintiffs who had accused their Government of violating their rights by promoting the continued consumption of fossil fuels. 
The Court has ruled that Montana's State Government acted unlawfully in promoting fossil fuels and ignoring the consequences of climate change. 
As the first case of its kind, the judgement sets an important precedent for how powerful actors can be held to account. 
Companies should heed the early warning signs that climate litigants are beginning to see some success.
The Government of Montana has been found to have violated the constitutional rights of its young and vulnerable citizens. Following this momentous judiciary case, powerful actors can now be held responsible for endangering the wellbeing of generations to come. 
"Today, for the first time in U.S. history, a court ruled on the merits of a case that the government violated the constitutional rights of children through laws and actions that promote fossil fuels, ignore climate change, and disproportionately imperil young people," said Julia Olson, chief legal counsel and executive director of Our Children's Trust, which represented the plaintiffs. 
Emotive case reaches damning conclusion
Held vs Montana brought 16 young plaintiffs, aged between five and 22, together in the first constitutional trial against a State Government over its position on climate change. The plaintiffs, represented by Our Children's Trust, the Western Environmental Law Center and McGarvey Law, were fighting for their rights to a stable climate and a clean, healthful environment. 
They argued that the State's Montana Environmental Policy Act (MEPA) was providing continued support for fossil fuels, despite their contribution to climate change. In court, they backed up their case with a combination of scientific expertise, documented evidence and personal tales of being affected by extreme heat, flooding, pollution and associated health issues. 
The State responded with the argument that Montana's contributions to climate change are too small to make any meaningful difference. Its attorneys claimed that overturning or amending the MEPA would have no significant benefit and that Montana's carbon emissions amounted merely to those "of a spectator". 
Having considered each side of the argument, Judge Kathy Seeley has ruled wholly in favour of the 16 brave plaintiffs. At more than a hundred pages, her decision considers the merits of every possible argument before reaching its damning conclusion. 
Ultimately, Judge Seeley declared that the continued consumption of fossil fuels was undoubtedly contributing to climate change, with lasting consequences for the younger generations of today and tomorrow. She added that the State has long been aware of these impacts, and that its continued promotion of fossil fuels is unequivocally unconstitutional. 
Influential ruling sets a far wider precedent
Following Judge Seeley's decision, Montana's State Government has a 60-day period to raise an appeal. While the abundant clarity of her ruling suggests that that there was little doubt over its legal conclusion, there is still the possibility that the case could be retried by the Supreme Court. 
Presuming that the decision holds up, Held vs Montana will transform the State's approach to energy policymaking. All future plans will have to account for the protection of future generations from the destructive impacts of climate change, else they too will be considered unlawful. 
In all technicality, this legal precedent will be confined to the State of Montana. Its symbolic significance, however, is not so easily fenced in. Legal jurisdictions are simply no barrier to hope, inspiration and newfound belief in the power of moral reckoning. 
"This is a landmark decision establishing enforceable principles of intergenerational justice," explained Roger Sullivan, an attorney from McGarvey Law. "Simply stated, the government elected by this generation must abide its obligation to pass on a stable climate system to future generations." 
"As fires rage in the West, fueled by fossil fuel pollution, today's ruling in Montana is a game-changer that marks a turning point in this generation's efforts to save the planet from the devastating effects of human-caused climate chaos," added Olsen. "This is a huge win for Montana, for youth, for democracy, and for our climate. More rulings like this will certainly come."   
The steady rise of climate court cases
The case of Held vs Montana comes as the latest success in what has emerged as a far broader trend. All over the world, climate change is increasingly a matter to be dealt with in court. 
According to the UN Environment Programme (UNEP), the number of climate-related court cases has more than doubled since 2017. This rise in the number of cases has been complemented by a rapid diversification of the types of complaint being raised and the level of authority by which they are heard. 
This trend has been building for the past 20 years, with previous research revealing that annual cases have risen from less than five per year in the early 2000s to over 200 in 2021. Gradually, their success is becoming more likely. 
The rise of climate litigation both reflects and contributes to increasing public awareness. The more people hear of legal action being taken, the more they can learn about the issue in question. The more aware they become, the more likely they are to lodge a complaint of their own. With more plaintiffs emerging triumphant, inspiration is thick on the ground. 
SGV TAKE
The ruling of Held vs Montana should serve not only as a beacon of hope to those who feel underserved by their local authorities, but also as a warning to powerful actors who may not be used to having their actions so publicly scrutinised. With each case successfully closed, the body of legal precedent will only continue to strengthen. 
Already, climate litigation spans beyond local governments to include legal cases against corporate entities or even the individuals behind them. The more cases that can be used as examples, the more likely it is that new complaints will be raised and that courts will have few options but to rule in their favour.  
This could come with significant consequences, ranging from legal fees and fines to reputational damage and frayed relations with stakeholders. Companies may find that their share prices fall, or that they struggle to access their next dose of capital.  
With so much at stake, companies ought to take heed of early warning signs such as the Held vs Montana case. They ought to review their exposure to potential litigation and pay greater attention to the impacts of their operations on generations to come.