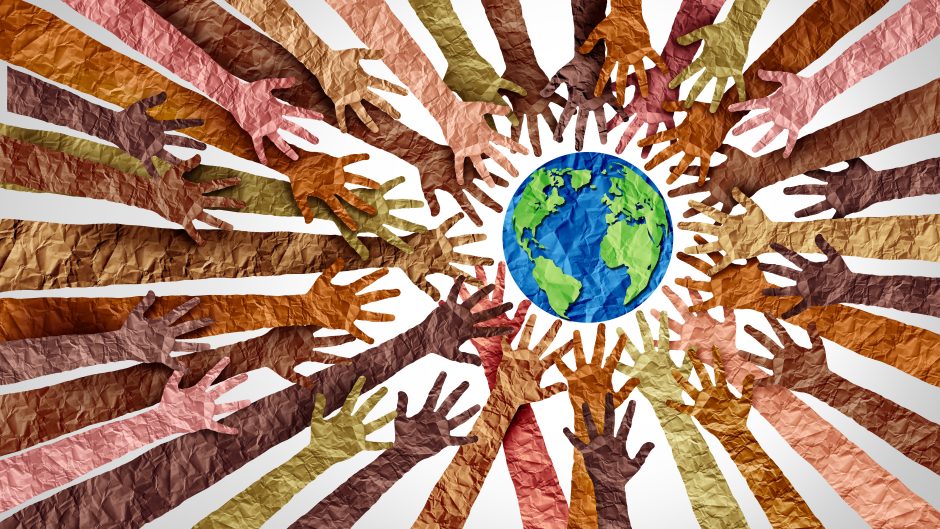 The Blue Earth Summit of 2023 has drawn to a close. Over the course of its packed three-day programme, the inclusion of marginalised voices emerged as a recurring theme.
More than 5,000 people attended the Blue Earth Summit in Bristol to advocate for responsible and sustainable business.
The inclusion of marginalised and vulnerable voices emerged as a recurring theme, with several speakers calling for justice.
Companies that listen to their communities and value their perspective will gain the advantage of cultural insights while improving their chances of staying free from trouble.
Over the course of three days in October, more than 5,000 sustainability advocates descended on the English city of Bristol.  
From entrepreneurs and C-suite executives to non-profits, academics and impact investors, the Blue Earth Summit served as a forum for insightful discussions, innovative ideas and the unlocking of new opportunities. Pitches were given, new friends were made and over 200 speakers took their place on stage.  
The call for a just and inclusive transition
The Summit was dominated by a number of recurring themes, not least of which was the need for justice and inclusion in the drive for transformative change. Proceedings began with a keynote lecture by Professor David Olusoga, a British-Nigerian historian who has been awarded an OBE for his services, a BAFTA for his contributions to film and the PEN Hessell-Tiltman Prize for his book on the forgotten relationship between black communities and the Great British Isles. 
Olusoga peppered his heartfelt speech with some shocking statistics on land ownership and peoples' connection to nature. Citing several studies, he reiterated the fact that ethnic minority groups are underrepresented in the demographic of visitors to the UK's national parks, the distribution of property rights and even the boardrooms of outwardly progressive and liberal industries. 
"The fact that so many people feel disconnected to nature, and that they do so in some of the fastest-growing communities in the UK, is a significant challenge," he warned. Adding that around 30% of the children entering Britain's primary schools today are of ethnic minority background, Olusuga pointed out that a declining connection to nature could lead to less interest in preserving biodiversity, critical ecosystems and the services they perform. 
"If a significant percentage of that 30% in future years feel, as they do today, disconnected to nature, and are less likely to spend time in the countryside – If, by 2050, we are still in a world where the people who go to our national parks, only one per cent of them are from ethnic minority groups, then the business models, the resilience, the reach of thousands of organisations and institutions and companies begins to look a lot more fragile." 
"It's not our fault that British has this un-dealt with toxicity at the centre of it, but it is our problem," Olusuga concluded. 
Accepting the discomfort of decolonisation
Later that day, the topic arose once again with Professor Foluke Adebisi leading a panel discussion on the decolonisation of the outdoors. Recognised for her seminal work on decolonial thought and its intersections with legal education and history, Adebisi's expertise shone through the debate. 
The panel was joined by Dr Geeta Ludhra of Brunel University, Professor Corinne Fowler from the University of Leicester, Go Jauntly co-founder Hana Sutch and Oge Ejizu of Black Girls Hike.  
Ludhra kicked off the discussion by acknowledging the performative nature of current 'diversity' policies. Making the point that 'decolonise' is a verb, she argued that it ought to be practiced as an ongoing process of inclusive engagement and representative action. 
Ejizu agreed, making her case for a deeper examination of current structures, systems and ideologies. Recognising the traditional power of property ownership, she called for an overhaul of land distribution and increased investment in the resilience and accessibility of natural spaces. 
Adebisi noted that the language of 'decolonisation' may bring about some discomfort. Upon further reflection, however, she recognised that such a response may well be necessary when it comes to naming and addressing the problem. Ludhra chimed in, suggesting that the language we use is of the utmost importance when attempting to create welcoming places of safety. 
Rounding things off, Fowler and Sutch provided some practical recommendations. Fowler spoke of reparative land distribution and the need for public transport networks that connect underserved communities to the natural world. Sutch added that urban environments could themselves provide a connection to nature through increased investment in rewilding initiatives. 
The discussion concluded with a couple of urgent takeaways. 
"Think about who you don't see, why not, and how to include them," Ejizu urged. 
"Move beyond sympathy and towards a deeper sense of empathy," Ludhra added. "Be prepared to move aside, and call out rather than observe and avoid." 
On the frontlines of climate justice
Of course, certain voices risk remaining unheard, even at such inclusive events as Bristol's Blue Earth Summit. Thankfully, there are now several organisations fighting for the rights of some of the world's most marginalised and vulnerable groups. 
Two of these organisations were represented on the main stage, during an inspiring conversation between ClientEarth's Laura Clarke and Ana Carolina Salomão Queiroz of Pogust Goodhead. To them, the law is a powerful tool that can be used to accelerate climate action and hold the powerful to account. 
Queiroz explained that law should be seen as the spinal cord that shapes our society, setting important precedents that define right and wrong. By advocating for new laws to be put in place, or using older rulings in new applications, lawyers can demand compensation for damaging events while raising the bar for future safeguarding mechanisms and proactive measures. 
Although ClientEarth and Pogust Goodhead have adopted different models, with the former being funded by philanthropic donations while the latter is bound by its shareholders, Clarke and Queiroz are united by their strategic thinking. ClientEarth has the advantage of pursuing any case it deems fit, making sweeping statements on fundamental legislation such as human rights obligations. With pockets deepened by its corporate structure, Pogust Goodhead delves into more expensive cases that are likely to be met with success if suitably financed. 
While the ultimate goal is always to win, the lawyers recognise the value of teaching lessons, establishing rules and reminding powerful actors of their moral duties. Ever practical in her approach Queiroz made the point that climate litigators are not necessarily against corporations or business writ large, but against specific unlawful acts.  
SGV TAKE
Rather than be afraid, companies should accept their responsibility, follow the latest relevant cases, engage with ongoing discussions and seek assistance to ensure that their operations align with today's expectations of responsible practice.
Those that actively involve their surrounding communities, championing the voices and stewardship of the historically marginalised, will reap the rewards of cultural insights, diverse perspectives, reduced risk exposure and the heightened respect of consumers.