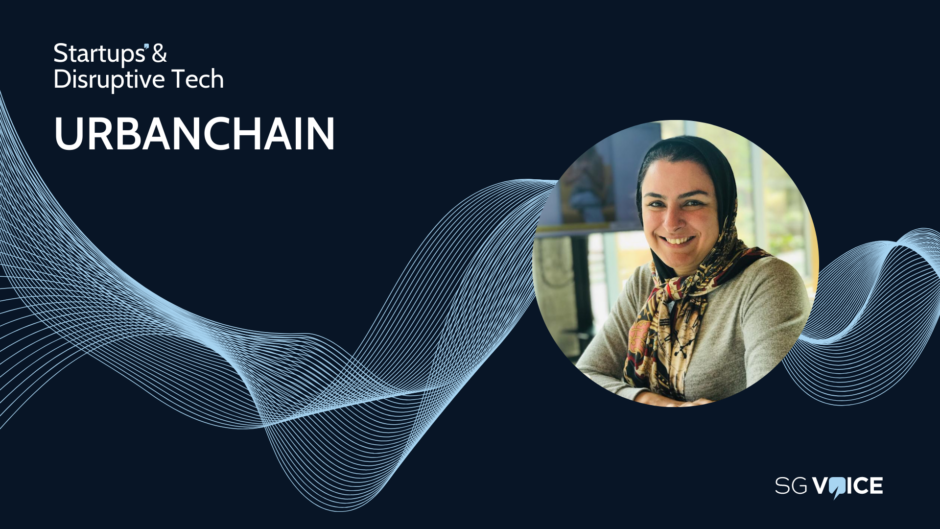 UrbanChain is disrupting the energy market by reducing energy bill prices for businesses and households through the use of AI and blockchain technology in developing a renewable energy marketplace.
The company was founded in 2017, in Manchester, by Somayeh Taheri, Mo Hajhashem, Ayesha Naureen.
Company mission
Dr. Somayeh Taheri says: "As well as our founding mission to alleviate fuel poverty in the UK, we aim to fix a broken inefficient UK energy market model. We do this by making renewables viable without government subsidies while enabling consumers to achieve their NetZero targets and make huge savings.
UrbanChain's drive to make energy decarbonised, digitalised, and decentralised is also key as is bringing transparency and traceability to the energy supply chain via a safe and unique energy market just for renewables.
What problem is the company solving?
According to Dr. Taheri UrbanChain is solving a number of problems. She says: "One of these being that generators of renewable energy don't need to sell to the intermediaries. And those intermediaries don't need to sell the energy to the wholesale market, buy it back or go through layers and layers of unnecessary bureaucracy.  Our technology has enabled us to remove all of this while maintaining the security of the energy provision. It simplifies the complexities that have existed in the energy market for too long."
The energy market has remained static in structure for decades but the advent on machine learning and smart contracts has enabled the disruption of the traditional energy markets. Through the capabilities of AI and blockchain technology the company can reduce prices, search cost, commodity and non-commodity costs. As a result the whole cost of energy provision significantly goes down.
This is done by directly connecting renewable energy generators with consumers. Dr Taheri says: "What drove us was our mission to alleviate fuel poverty in the UK."
The indirect impact of households' fuel poverty on the economy is around £4 billion annually in the UK. At the University of Manchester, prior to launching UrbanChain, the founding team had researched this area by working with data models on climate change and fuel poverty.
Dr Taheri added: "We found that the difference between the price of energy bought from renewable generators, and the price offered to households and businesses was about four to five times higher. As of yet, nobody has researched the impact of fuel poverty on businesses."
What is the technology and how does it work?
Urban Chain has created a unique energy market just for renewables where participants could buy and sell green energy amongst themselves.  It's called the peer-to-peer (P2P) energy exchange. It's an artificial intelligence (AI) and blockchain platform – and the only one in the UK.
Through the AI and blockchain technologies the company connects generators of renewable energy to consumers directly. Dr. Somayeh says: "We then enable the direct transaction to happen between generators and consumers. We profile both consumption behaviour and production pattern, then find the best match to reduce the imbalance cost. It results in reducing the cost of energy provision."
To use an example, earlier this year Urban Chain launched a groundbreaking UK-first partnership with renewable energy provider Rebel Energy. Through UrbanChain's AI and blockchain driven renewable energy market, the peer-to-peer exchange, 3,000 homes across Britain are now powering their households with 100% green, clean, traceable and above all affordable energy. Dr Taher adds: "So, just like our clients in the private and public sectors – they are receiving clean and green energy that is hyper-local and cheaper."
Who do you consider UrbanChain's biggest rivals?
Dr Taheri says: "It's interesting when it comes to the question of rivals because we're offering something unique. On one side people compare us with the PPA providers. But they are very small and are working in totally different areas as brokers. They introduce small generators to off-takers and those off-takers are mainly supply licence holders and energy suppliers, who are intermediaries, not end users.
"We are not an auction platform. We are providing PPAs called P2P PPAs which are accurate because we match generators with consumers on a half hourly basis. We match 100% of the portfolio for both generators and consumers, not part of the portfolio. Another big difference is we are matching multiple generators to multiple consumers so both sides can use 100% capacity.
"The consumption and generation profiles are 95% matched. Therefore the amount of imbalance is low. So, we are not similar to these PPA providers at all.
"Others have compared us to blockchain energy companies in Europe, however we are entirely different. We are focused on the trading and provision of energy while other blockchain energy companies are mainly focused on asset management."
What do you perceive as being your biggest challenge?
The company considers the biggest challenge as the uncertainty in the market at the moment. Three different Prime Ministers in as many months is not the best practice for any business and has been a big issue.
Dr Taheri says: "There's no stability from this and it makes life very difficult. Having said that, other problems come from market uncertainty as you cannot predict the behaviour of other market participants. From an economic and social perspective these are very challenging times."
What do you think it will take to scale up your technology/product and on what timeline?
Dr Taheri says: "When it comes to scaling up we are doing well." There are many disruptive trends such as the war in the Ukraine, lack of policies at home due to changes in the Government and market uncertainty. However, this and other factors, has led people to think about their energy bills more than ever because prices have been going up and there is no real help being provided.
She adds: "We are in a good position and in two years time expect to be fully scaled."
What is the next big goal or milestone?
The next big thing for UrbanChain is to get 15% of the market and to make more people aware of what exactly a peer-to-peer energy exchange is. This is very important for the whole industry, for consumers, generators and investors.
It's a win-win for all these parties, a triple win really. Return on investment for investors for example is massively different than what they will be used to in this industry. And the risk profile is lower. This triple win situation is really important as it's a game-changer.
Dr Taheri says: "We are one of the few companies who are focusing on delivering 100% Net Zero while considering the economic climate. We are delivering in terms of reducing energy prices and also delivering on zero carbon emissions targets. "
To date, the company has been heavily funded by Innovate UK and Government bodies. Dr Taheri says: "They all put trust in us which we are very thankful for. They have seen the reality and the truth of what we are doing. And they understand that what we are doing is the future. In total we have received £1.6m in funding so far."
What's the one question we haven't asked?
Dr Taheri's response is that the key question is, "How, considering the big mess in the energy retail market, can you help current market participants?"
She says: "We've answered this in ways but the past few years have been unprecedented to say the least and the cost of living and inflation are soaring. It's really important that we all think this through properly. As in, how we are going to get out of the mess.
"We can't do it individually, as people or as companies or organisations. The private and public sectors must work together closely across the country and place trust in innovation and technological solutions as they exist and will only grow in stature if supported. It's having the bravery and courage of conviction to do this that will take us all where we need to get to."