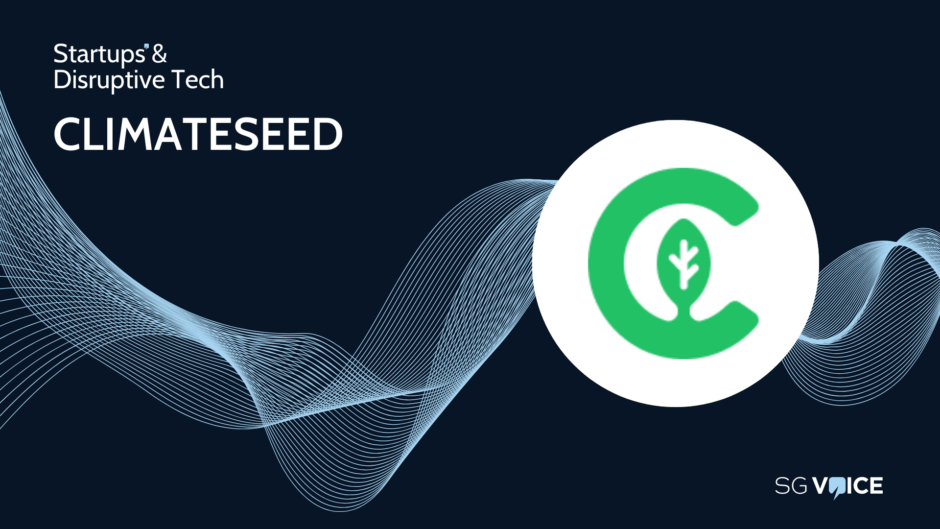 ClimateSeed helps businesses of any size to calculate, reduce and offset their carbon footprint while monitoring and disclosing their progress in doing so. 
The startup was founded in Paris at the end of 2018 by Sébastien Nunes, Edoardo Bertin, Édouard Blin, Jessica Denoyelle, Alexandre Razzi and Vincent Loubinoux. It was established as a non-profit business by BNP Paribas Securities, before being acquired by AXA IM's impact fund in July 2021. 

Company mission:
According to the company's founders, "ClimateSeed aims to maximize its positive social and environmental impacts for the benefit of the climate, biodiversity, and local communities. We aim to make it accessible and easier for all companies to decarbonize, whatever their size or sector. Through our activities, we want to raise awareness and engage more and more companies in the fight against global warming". 
"The private sector accounts for a large percentage of global greenhouse gas emissions, and global warming is correlated to the number of tons of CO2 released into the atmosphere. We, therefore, have a collective role to play in limiting global warming and increasing the planet's capacity to absorb CO2. ClimateSeed was launched to address this dual challenge and to leave a better world for future generations." 
What problem is ClimateSeed solving?
ClimateSeed has simplified and streamlined the carbon management process to provide an end-to-end service that accommodates businesses in almost every sector, with the exception of heavy industries such as fossil fuels, aviation or cement. Thanks to this simplification, organisations of any size can use the company's digital emissions management platform, which its founders describe as "accessible to all and intuitive to all." 
This is particularly useful for small to medium-sized enterprises (SMEs), which typically lack the funds, knowledge and time that are necessary to effectively manage their carbon footprint. Improving the accessibility of carbon management services could help such businesses to unlock a range of benefits, such as market competitiveness, energy and cost savings. 
Furthermore, ClimateSeed's platform can be used to generate reports that align with several recognised standards, including CDP's disclosure framework, the greenhouse gas protocol and the recommendations of the Taskforce on Climate-related Financial Disclosure. This makes the carbon management process more transparent, while also enabling users to demonstrate a lower risk profile to investors. 
By offering a range of carbon offsetting opportunities, ClimateSeed hopes to tackle problems far larger than those of its customers. Through its three-tiered vetting process, the company offers a choice of verified offsets from 35 different projects in 24 separate locations. These projects are extremely diverse, ranging from forestry and blue carbon schemes to energy efficiency and waste management programmes. 
The provision of high-quality offsets will be vital in bringing the voluntary carbon market to scale, as it ensures that vital funding is channelled into projects that are truly making a difference. The founders explain that: "Our portfolio of carbon reduction projects, which we offer to our clients, addresses the majority of the UN's Sustainable Development Goals, such as biodiversity protection, gender equality, access to safe water and sanitation, and poverty eradication. Its co-benefits are both environmental and social, such as the creation of jobs for many women." 
End-to-end carbon management
ClimateSeed's core offering is its digital emissions management platform. The tool enables businesses to map out their company's structure, gather data on the full scope of their emissions and conduct robust calculations based on the firm's extensive database of emissions factors. 
According to the company, its platform supports collaboration by engaging key stakeholders in reliable data collection and making its clients' transition plans more manageable. Each user gains access to a customised dashboard that can be easily interpreted and reported through various recognised frameworks. 
Although the platform can be used autonomously, ClimateSeed also offers advice and support from its team of carbon experts and consultants. This includes helping its clients in setting science-based emissions reduction targets and the development, implementation and monitoring of their efforts over time. 
Finally, for emissions that cannot be mitigated, ClimateSeed's customers can access its climate contribution module. Here, they can choose to support any of the pre-vetted offsetting projects within ClimateSeed's portfolio. As the company has already entered into multi-year financing agreements with each project, its clients can rest assured that they will have long-term access to high-quality credits for a guaranteed price.  
How does ClimateSeed plan to scale up?
As ClimateSeed's technology has already been developed and commercialised, the firm's current growth strategy is to expand its development team. Its next objective is to expand further across Europe, with several new offices expected to open in the near future. 
The firm does recognise one potential challenge, however. "Large companies are already involved in an environmental strategy, notably because they are constrained by the law. However, our challenge is also to convince SMEs to get involved in their turn, even though they are not obliged to do so, and to make them understand the many benefits of measuring their carbon footprint," said its founding team. 
The company may not have to be overly concerned by this issue, with research from the UN-backed SME-Climate Hub suggesting that the vast majority of small businesses would be keen to reduce their carbon footprint if they were able to access the tools they need. Furthermore, the regulatory measures that ClimateSeed has identified as only applying to larger firms will inevitably begin to trickle down to impact smaller organisations. SMEs will face increasing pressure to measure, report and reduce their emissions, which drive the demand for ClimateSeed's services. 
Can ClimateSeed stand out in a crowded space?
ClimateSeed has identified a number of potential rivals, including Sweep, Greenly, Ecoact, and Southpole. Nevertheless, it believes that it has a couple of unique selling points that will enable it to stand out from the crowd. 
"We have a different background than our competitors. We started up as a consulting team and developed a carbon footprint measurement & reduction platform based on the experience cumulated. This platform aims to address the pain points of the carbon footprint, especially the measurement of scope 3 and the implementation of a reduction strategy." 
According to its founders, ClimateSeed's consulting expertise helps to improve the customers' journey. "Our consulting team, specialized and certified in carbon management, offers personalized assistance adapted to the company's size, sector & requirements. Reduction and compensation strategies are custom-made," they explained. 
The founders also highlighted the thorough process through which ClimateSeed selects the offsetting schemes it supports: "We have a more advanced selection process than others (reputational, economic, and environmental risk analysis)." 
"We have a robust three-level verification process: we require a project certification by an international or national standard, we conduct banking due diligence (including anti-money laundering and reputational analysis), and our external Sustainability Committee reviews and challenges the claims made by the project carriers before validating the project." 
What makes ClimateSeed a sustainable business?
ClimateSeed considers itself a sustainable business in the ways that it operates as well as through the service it delivers. It practices the same process of measurement, reduction and contribution that it recommends to its clients, and takes care to limit the environmental impacts of its activities. 
"Most of our consulting activities are done remotely to minimize CO2 emissions from travel. In addition, our technology solutions use a programming language that generates low CO2 emissions," the founders noted. 
"We also take to heart our mission to raise awareness on this issue to accompany and accelerate awareness and action on the part of companies. In this regard, we have partnered with the Women's Forum to highlight the existing inequalities between men and women in the fight against global warming. Women's Forum and ClimateSeed also want to show that climate change impacts women more than men and that they are, therefore, more prone to precariousness."