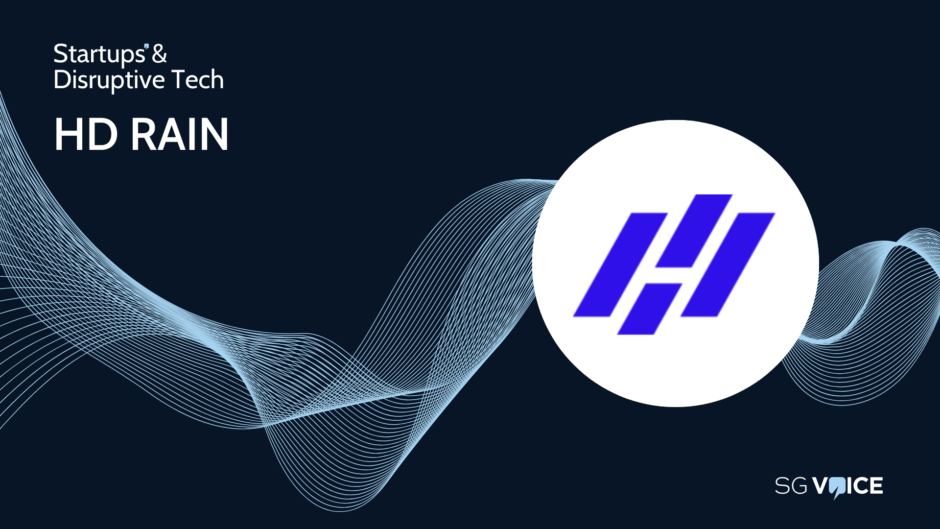 SG Voice is interested in startups disrupting the status quo. HD Rain uses technology to improve the accuracy and accessibility of weather data, helping individuals and organisations take action based on the impacts of extreme weather.
The company was founded in Paris in May 2018 by Ruben Hallali, François Mercier and Duminda Ratnayake.

Company vision
HD Rain was formed by two meteorologists and an electronic engineer who realised the limitations of traditional weather infrastructure in light of the growing impact of climate change on individuals, organisations, and governments, as well as the benefits guaranteed by data production via signal attenuation.
The company's mission is to use technology to improve the accuracy and accessibility of weather data, and to help individuals and organisations make better decisions and take action to protect against the impacts of extreme weather.
What problem is HD Rain solving?
Climate change is accelerating much faster than predicted a decade ago, according to the Intergovernmental Panel on Climate Change 2022 report. Local disasters are expected to increase, with damages caused by hurricanes, severe storms, drought, flooding, wildfires, winter storms, and freezing costing $2.2 trillion since 1980 in the US alone. Extreme weather events attributed to climate change have cost the world $2.9 trillion from 2000 to 2019.
According to HD Rain, resilience to climate change begins with excellent weather data. Traditional infrastructure is no longer enough, cities and businesses won't be ready for what's to come without reliable information on weather patterns, the startup says.
Climate change affects everyone, regardless of whether people live in a historically weather-sensitive region or not. In 2020, heavy rains had already impacted 34.2 million people. By the end of 2022, 27.7 million children in 27 countries, 14 European countries and 1.4 million people in 19 countries in West and Central Africa, have already been impacted by floods.
Camilla Auvray, development director, says: "These numbers are only for heavy rains – imagine the overall numbers if we added heatwaves, hurricanes, storms or wildfires. $159bn of economic value was reached across markets and is expected to reach $360 billion in damages per year by 2030."
"How can we keep insuring weather events? How can cities and public safety providers insure their people's safety? How is Europe dealing with the pressure of climate change and its energy transition? We cannot be indifferent with these figures. Climate adaptation is not [just] needed anymore but vital for everyone."
Target market
HD Rain's data is being used by insurance and reinsurance companies to log sets to build risk maps, as well as predetermined payout amounts called parametric indexes based on the occurrence of a specific event. Cities and firefighters use real-time forecasts to respond quickly and develop contingency plans after weather events, and energy providers optimise their facilities' operations, to ensure reliable and efficient delivery of energy to customers, as well as planning operations disruptions.
It currently has 30 customers in the insurance, public and energy market.
What is the product and how does it work?
HD Rain has developed a state-of-the-art weather forecasting platform that uses advanced algorithms and data from multiple sources, including satellite imagery and ground-based weather stations, to provide highly accurate and detailed weather forecasts.
It deploys a proprietary network of smart sensors, deep learning, and assimilation techniques that measure, analyse and forecast weather events with a resolution of 500 metres per minute; no matter the weather event type, intensity, or risk.
Auvray explains: "We measure and predict rain by measuring the attenuation that it provokes on electromagnetic signals coming from commercial telecommunication satellites. Our sensors connected to the TV antennas provide 'transect' data from the bottom to the top of the atmosphere from the TV antenna to the rain-snow limit (ice not attenuating the signal). Thus, a network of HD Rain sensors captures the rain 'in 3D' on an inclined line approximately 5 km long."
"Today, with the same device we are also able to measure temperature, humidity, pressure, frost, sunlight and we are already testing the correlation between signal attenuation and the presence of snow and hail…and we are only starting!"
What are HD Rain biggest challenges?
Auvray says: "In 2022, we saw a significant shift in the way that companies and cities are approaching the challenges of climate change. While previously our biggest challenge was to raise awareness of the need to access weather data of quality, this year we saw a much greater recognition of the value of using weather expertise, analysis, and forecasting to adapt to these risks."
"Companies and cities are now actively seeking out ways to strengthen the resilience of their operations and develop contingency plans to prepare for the impacts of climate change and extreme weather events."
She adds: "This shift reflects a growing understanding of the importance of taking proactive measures to address these challenges, rather than simply reacting to them after they occur."
What do you think it will take to scale up your product and on what timeline?
Auvray continues: "For the past four years, we have focused on our technological advancements and go-to-market strategies. 2022 enabled us to enter a pre-industrial stage in which we have built strong partnerships and strengthened our operations and processes."
Over the 2023-2024 period, HD Rain expects to expand into new countries and use its analysis of forecasting models to integrate a diverse range of weather data, then mix them together with the data generated with on-the-ground sensors.
Funding to date
The company has started its Series A funding round. To date, HD Rain has raised €1 million in seed funding with NewFund, ResiliAnce, Kima Ventures and Business Angels.
Is HD Rain a sustainable business?
Sustainability, inclusiveness and humbleness are the company's values.
Its sensors are assembled in France, the equipment used for its installations comes from Europe and is supplied by a French and local company in the South-East of France. Its installers are local and work in their department of residence in order to reduce their carbon footprint as much as possible.
The team is made of people from various backgrounds, expertise and horizons, with some being in professional retraining having had careers in very different fields before joining HD Rain. In addition, the company that houses its sensors is also French and employs people with disabilities.
As for humbleness, Auvray says that "even though we can predict extreme events with 99% accuracy, we must keep our focus, and modesty and remember that weather is difficult to predict".
Who do you consider your biggest rivals?
Auvray says: "Our biggest rivals are also our biggest incentive to keep innovating. Today, our technology is usually compared to traditional and to other signal attenuation technologies, however we are the only ones to use TV antenna satellite dishes/signal treatment."
"Other companies use other kinds of signal treatments using satellites and telecommunication dishes. The main obstacle to their technology is getting access to
the data that is sold by telecommunication companies. Right now, HD Rain spends €0 in rent for the installment of its TV antennas, which is a major advantage in our operations. Other competitors can also be found selling weather stations, radars, or software."