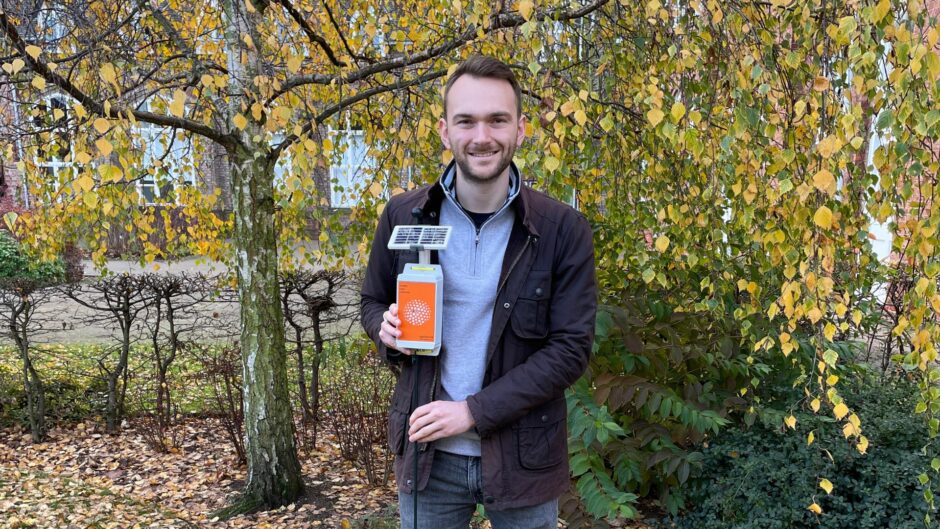 AgriSound combines acoustic monitoring with environmental sensors to better understand the factors causing bee and insect population decline. 
UK-based AgriSound was founded by in January 2020 by agritech expert and scientist Casey Woodward. It has received over £400,000 in grant funding, largely thanks to Innovate UK, alongside £700,000 in private investment from angel investors.
Woodward has 10 years of experience in science and has a particular interest in the role technology plays in agriculture. In 2021, he was named one of the UK's Young Innovators of the Year.
What's the industry of operation?
AgriSound works within agricultural technology to develop new ways of monitoring pollinators to the benefit of agriculture, reversing their decline and protecting biodiversity.
Pollinators play a crucial part in the natural systems, but human activities have caused a significant reduction in population numbers – threatening not only nature, but also human health. Indeed, their decline has been linked to an estimated 427,000 deaths each year. 
This is because bees and other insects pollinate more than 90% of the most common crop types, alongside a vast range of wild plant species. Without them, it is estimated that global crop production would fall by as much as 8%, depriving people of vital nutrition derived from a wide range of fruits, vegetables, nuts and legumes. This drop in production has been calculated to cost around €153 billion per year to the global economy.
What is the company's mission?
AgriSound says: "We're a very mission-driven business – our team consists of people who are passionate about nature and reversing the decline of pollinators. We're proud to provide farmers, agricultural leaders, crop producers, and anyone with an interest in ESG with the technology to monitor their pollinators, understand how to nurture them, and have a higher awareness of biodiversity."
What is your product and how does it work?
The Polly is a device equipped with a microphone and environmental sensors, measure temperature, light and humidity. Each one is completely solar-powered. The Polly listens 24/7 to the sounds of insects and uses advanced sound analysis to translate the data into activity scores. These are automatically sent back to the cloud, where the farmer or food producer can view them via an app or web application.
This information, available in real time, can be used to target the introduction of pollinator-protection measures to the areas of greatest need, and also determine actions such as the planting of wildflowers or creating new habitats. The technology, designed to look after bees in hives as well as monitor them in commercial agricultural spaces, is intended to revolutionise beekeeping and farming culture around pollinators.
"Our newest project aims to revolutionise the understanding and care of mason bees, making ground-breaking steps into new markets that could potentially change the face of agricultural pollination using mason bees," the company adds.
The new device will allow food producers and farmers to use mason bees to increase crop yields. This is because they will be able to better understand, control and sustain these prolific pollinators as the device will not only detect where the mason bees are by listening out for their distinctive sounds, but also ascertain their health and wellbeing.
By detecting the density and nature of buzzing sounds of the mason bees around the new device, the farmer or food producer will be able to view on an app or desktop application, analytical data identifying which areas of land may be lacking in mason bees, or where the mason bees there are not thriving. AgriSound claims the new mason bee habit embedded device will even detect how happy the bees are to be in their relevant areas and be able to tell when they are chewing out of their cocoons.
What do you perceive as being your biggest challenge?
The startup wants to commercialise one million Polly instruments and has set a five-year target of expanding worldwide. 
"This would give us the largest databank of information on pollinators in the world and open new possibilities for developing the Polly and utilising its data," it adds.
What is your next big milestone?
The next big milestone is a Series A raise scheduled for summer 2023. Another goal is to develop the Polly to listen to mason bees and understand them better than ever before, which could lead to huge changes in how we utilise mason bees in agriculture.