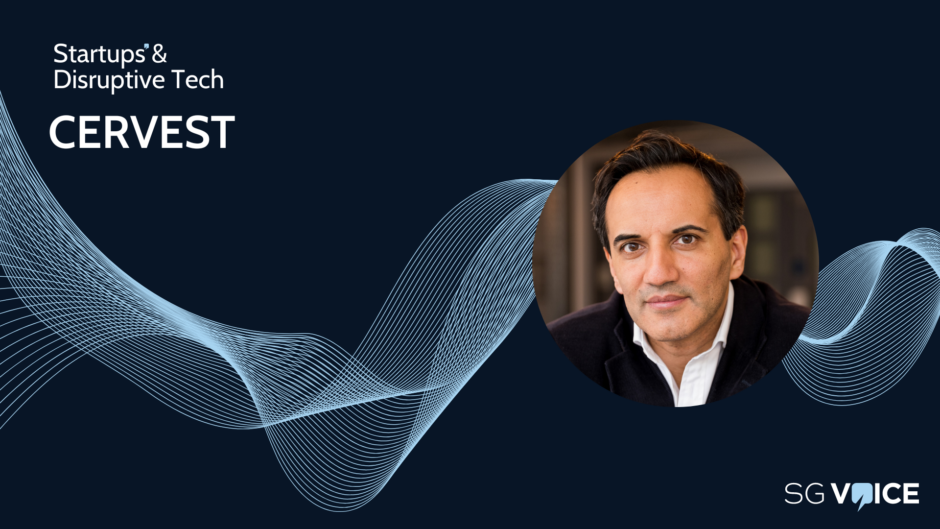 Cervest's climate intelligence (CI) platform helps enterprises, governments and financial institutions connect and de-risk decisions on critical assets such as hospitals, data centers, airports, warehouses and investments.
Founded by Iggy Bassi and Karan Chopra in 2015, UK headquartered Cervest has over 100 employees across the UK, Europe and the US.
What does Cervest do?
Its flagship CI product EarthScan is powered by the company's Earth Science AI technology, and features Cervest's climate risk ratings. As a tool what it allows decision makers to do is analyse climate risks and opportunities on millions of global assets – simultaneously across multiple emissions scenarios, time horizons and climate hazards, including heat stress, drought, wildfire, flooding and precipitation.
By making it possible to rate, reprice, and rewire every built and natural capital asset for climate resilience, Cervest will power a Climate Intelligence Network whose collective adaptation decisions create a chain reaction of climate-aligned actions to protect the world's most valuable assets.
Climate intelligence for asset management
According to a 2022 report by IDC Climate Intelligence: Today and the Future Market Perspective, the increasing frequency and severity of extreme weather events are making climate intelligence a strategic priority for organisations worldwide.
Based on market factors, including the economic impact of accelerating climate events and that over 60,000 firms face mandatory climate related financial disclosure in the next 1-3 years, Cervest has conservatively estimated the CI market to be worth in excess of $60 billion.
The company sells directly to large enterprises, and public sector organizations, as well as through a network of tier-one professional service partners that offer sustainability and risk consulting.  Iggy Bassi, founder and chief executive says: "We are currently monitoring assets linked to over $1 trillion of market cap on behalf of more than 100 organizations across multiple industries, including retail, manufacturing, logistics, hospitality, healthcare, financial services and ESG consulting.
What problem does Cervest solve?
Climate risk is complex and so is the climate science behind understanding it. 'Science for scientists' is not especially useful for business and government decision makers. That's where Cervest comes in.
Bassi says: "We reduce the barriers to understanding climate risk and using climate intelligence (CI) in everyday decisions. We do the hard work of unifying climate data and interpreting the latest peer-reviewed science to generate dynamic, decision-useful insights that help climate-align asset decisions and investments – from supply chain management to portfolio allocations to adaptation planning at asset-scale. "
Bassi says that Cervest's initial climate intelligence product EarthScan has an intuitive UI that makes it easy to extract decision-ready CI insights – no climate science expertise needed. Importantly, EarthScan's insights are dynamic. Accelerating climate events practically guarantee that information in traditional static reports will quickly become outdated.
What is the product and how does it work?
Business and government decision-makers access climate intelligence (CI) insights through EarthScan. EarthScan fuses cutting-edge Earth Science AI, data modeling and machine learning to turn multiple datasets (including climate simulation, historic, asset, observational, topographical, flooding and geospatial data) into decision-useful, science-backed insights.
The temporal aspect to the analysis means that companies can get a clearer picture of what is happening over time, which will play a critical role in understanding how exposed critical assets are to a range of climate risks.
Looking back to 1970 and ahead to 2100, decision-makers can access insights into acute and chronic risks, including flooding, heat stress, wildfire, precipitation, wind and drought. This enables organisations to baseline, monitor and forecast climate risk and make decisions about whether to invest, retrofit, relocate, replace or retire assets in your portfolio.
Addressing one of the biggest challenges of our time
Sometimes it is hard for people to see or 'imagine' something beyond what they already know.  Bassi says: "One of the most challenging things we've had to overcome is to galvanize people towards our vision and its importance: a world where climate is at the core of every decision enabled by standardised, asset-level climate risk ratings powered by Cervest's climate intelligence."
Demand for science-backed climate intelligence insights is growing as economic losses amounted to $329 billion in 2021 alone and as organisations are starting to feel the regulatory pressure from emerging climate disclosure requiring them to quantify and integrate climate risk into their decision-making and planning frameworks.
Increasingly, pressure is coming from an array of stakeholders such as B2B partners, shareholders, insurers and financial institutions for clear risk management strategies and transparent climate metrics.
How is Cervest facing the challenge of growth?
Bassi says: "Like most fast-growing companies, we are resource constrained. There is never enough time, investment or people to tackle everything, so we are vigilant in staying focused. On the time and investment fronts, this necessitates setting measurable, time-bound objectives and sticking to budgets. Discipline, with a healthy dose of scrappiness coupled with a relentless focus on customers, are the keys to our growth.  "
In today's market, there is huge competition for talent. Our workforce is 100% remote, which helps overcome the limitations of finding talent in specific locations. This strategy has enabled us to attract top talent from across North America, mainland Europe and the UK.
We grew exponentially in 2022 – onboarding dozens of companies on to EarthScan. These first CI pioneers needed an off-the-shelf solution for screening their assets for climate risk and incorporating CI insights into their climate impact reporting. We expect to onboard hundreds more companies this year fueling an upward growth trend throughout 2023 and continuing at pace over the next 3 years.
What is the next big milestone for Cervest?
2022 was a milestone year for the company in many ways. It announced multiple partnerships with global sustainability, health & life sciences consulting companies, and asset management companies.
There were also developments in terms of new EarthScan functionality, including:
Releasing Cervest Ratings – the next evolution of our ratings methodology for climate-related risk
Deepening signal capability with decision-ready insights and globally comparable risk ratings for wildfire
Expanding geographical coverage with over 600 million discoverable global assets.
2023 is already shaping up to be a monumental year for Cervest. Based on market signals and customer demand, we will be introducing more capabilities aimed at delivering a unified view of their climate risk, that includes natural capital assets and the ability to access a 360' view of climate risk that includes the 'trifecta' of physical risk, carbon assessment, and transition risk – all from the Cervest CI platform.
The future of climate risk quantification
Cervest aims to be the single source of truth for asset-level climate risk quantification globally. Bassi says: "We see a world where climate is at the core of every decision, enabled by standardized, asset-level climate risk ratings powered by Cervest climate intelligence (CI).
We believe standardised and universally accessible climate risk ratings will be a game changer, not only for transforming our understanding of asset-level climate risk, but also for incentivising adaptation measures that drive behavior change at scale. "
Assets are owned, but the climate risks on those assets are shared by multiple parties – so everyone 'in an asset's network' has a common interest in protecting it. This Climate Intelligence Network is key to unlocking a more sustainable future for our assets – from the built environment to natural capital. These things are only possible with a standardized quantification that all parties can access.
What do clients gain from working with Cervest
In 2022, the company  onboarded its first wave of customers and partners, including Capgemini, Arjun Infrastructure Partners, Lexica. Bassi said: "We're proud to work with these early CI pioneers to protect their most valuable assets from climate risk, and to harness climate-related opportunities – ultimately creating economic gains and a massive competitive advantage. Early CI adopters are reaping tangible rewards. "
Understanding and mitigating climate risk has multiple benefits. For example, assets with lower climate risk are likely to enjoy insurance and financing benefits, and businesses can use CI insights to scrutinize exposure and strengthen resilience throughout their supply chains.
We've got some exciting partnerships and customer announcements lined up for the first half of 2023. Stay tuned.
How is success measured at Cervest?
As a fast-growing company, the team looks at regular key performance indicators such as revenue growth rate, qualified leads, etc., but as Bassi says, " at the heart of things we measure our success based on our customers' and partners' success."
He continues: "EarthScan's asset-centric insights help our partners and customers navigate the complexities of assessing climate risk. Our science-backed climate intelligence is the most advanced, business-useful available today and fundamental to managing business performance by supporting:
Economic resilience – inform business decisions based on a reliable, shared source of truth
Competitive advantage – layer climate risk into strategic decision-making
Product innovation – boost innovation in production and operational processes
Business development – pinpoint opportunities in new or emerging markets
Investment and funding – attract investment based on climate-aware risks
Bassi adds: "What we call a successful outcome is when our customers and partners use CI insights to ignite innovation, achieve resilience and competitive advantage, but most importantly when they understand, quantify and act upon their climate risk by developing adaptation strategies to protect their assets.
What is Cervest's mission
Bassi says: "Ultimately there is a greater purpose behind the work we do and the technology we are developing – to ensure a better future for the next generations and for our planet.
"Our mission is to empower everyone to adapt with climate change and make better informed decisions to protect assets, lives and livelihoods now and in the future. This adaptation will also encourage people, businesses, organisations and governments to make decisions that will lead to fewer negative effects of climate change in the future. All of these actions will help build a resilient future for our planet."
Alongside its product and commercial traction, the company remained steadfast a commitment to be a mission-led business. In 2021, the company achieved Certified B Corporation status, and was named to The Escape 100 list of great purpose-led organisations to work for.