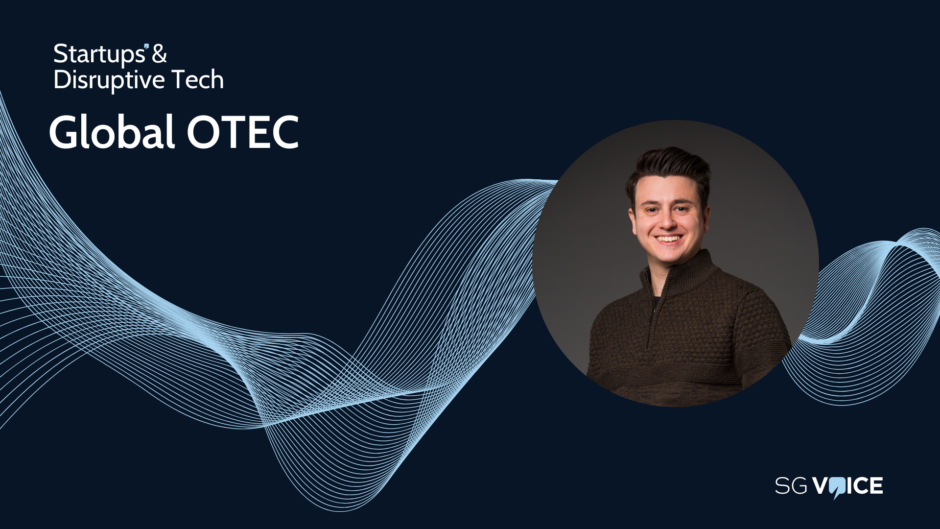 Global OTEC has developed a technology that uses ocean thermal energy conversion to provide clean energy to tropical island states.
Global OTEC was founded in 2017 in the UK by Dan Grech. It has raised $5 million to date in a mix of soft grant and angel funding. Early backers include Stefano Bernardi at Unruly, Peet Denny at Climate.VC and Sundeep Ahuja at ClimateCap.
How did the company start?
In 2015, Grech worked as a marketing manager for a luxury fashion company, but watching a Frozen Planet episode prompted him to quit his job to work on climate solutions. During his research, he came across ocean thermal energy conversion (OTEC). 
He thought it had the potential to provide affordable, clean energy to the Small Island Developing States (SIDS) that are struggling to secure stable supplies of clean energy. The company said that developers had been distracted by huge, mega-scale OTEC systems, which inspired Grech's vision to start small and reduce tropical island nations' reliance on fossil fuels through OTEC. He assembled OTEC and offshore engineering professionals and launched the startup in 2017.
How does the technology work?
The company has designed a floating platform which uses OTEC to harness the solar heat energy stored in the oceans into power. It works by using warm surface seawater to evaporate a fluid, which produces a vapour that spins a turbine. Cold water from deep in the ocean is then used to cool the vapour and condense it back into a liquid so the cycle can continue.
In the tropics, the surface of the ocean remains at a consistent temperature of between 25-28°C. At around 800 meters deep, however, the water is fed by currents coming from the polar regions and remains a chilly 4°C.
During an average day, the 60 million square kilometres on the surface of tropical oceans absorb one quadrillion megajoules of solar energy. Releasing the same amount of energy through fossil fuels would require burning 170 billion barrels of oil.
Why focus on tropical island states?
SIDS experience some of the highest energy costs in the world and are heavily reliant on fossil fuels. Global OTEC intends to provide a solution for small island states to generate power from their main natural resource, the ocean, cutting the impacts of their current energy generation.
Ocean energy can help tropical island nations lower long-term energy costs, generate employment, reduce trade imbalances from fuel imports and address the challenges arising from climate change. This could positively impact the 50 million people living across the tropics.
The company said: "We have designed the first commercial OTEC system to transform the energy landscape for these countries. By commercialising OTEC, we aim to free SIDS and coastal cities from the need to import expensive and dirty fossil fuels and help them meet the Sustainable Development Goals (SDGs)."
Who are your biggest rivals?
Across the OTEC space, funding and advancements in new technology have been accelerating. Several technology developers are from universities or research institutes, with a handful of private interests. There is a variety of focus across different OTEC by-products such as seawater air-conditioning, electricity generation and aquaculture.
Global OTEC said it is unique with its approach of de-risking a small, yet commercial, offshore deployment which can be fabricated in a serialised way.
What is your next big goal or milestone?
Global OTEC is looking at a timeframe of two years from commencing detailed design through to the deployment of its first full-scale system.
To unlock the billions in energy project finance available to conventional renewables, OTEC requires a permanent floating system to de-risk the technology. Global OTEC plans to achieve this while developing a bank of intellectual property so that proven designs can be licensed to independent project developers around the world.
The deployment of the first floating OTEC platform, named Dominique, is planned to happen in the Democratic Republic of São Tomé and Príncipe. It is expected to be an example to the rest of the world of how diesel fuel imports can be replaced with clean energy from the ocean.
What do you perceive as being your biggest challenge?
The great challenge is to generate awareness around OTEC, which is not a new technology but remains relatively unexplored. It is the same challenge that small island states face: investors may think most infrastructure projects are too risky and the returns too small, even though they could be transformative for millions of people.
The greatest technical challenge in deploying OTEC plants offshore is the connection between floating platforms and riser pipes, the company said. Global OTEC has developed IP in this space with subsea riser pipe experts and has a lot of experience solving similar problems in oil and gas, it added.