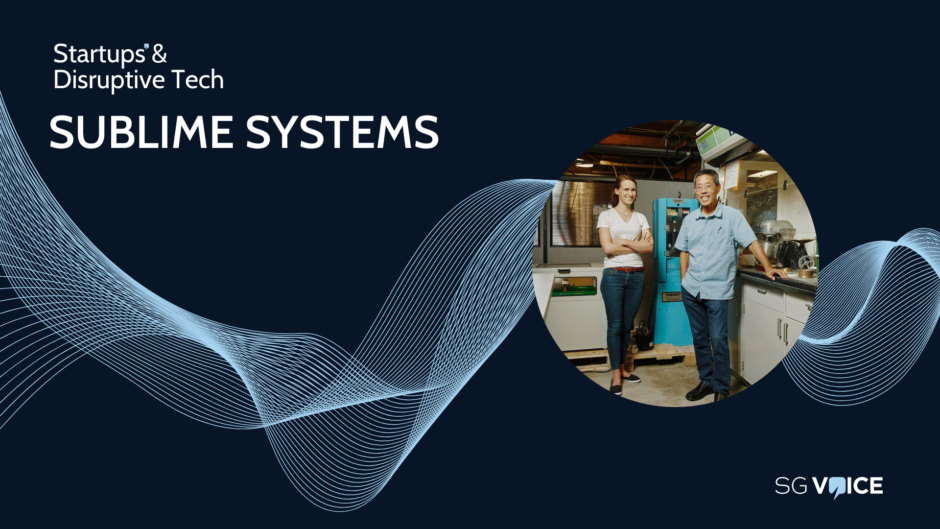 Sublime Systems is commercialising technology to produce decarbonised cement by replacing the industry's legacy fossil-fueled kilns with an electrochemical process.
Sublime Systems was founded in 2020 by Leah Ellis, PhD, and Prof. Yet-Ming Chiang, both with a background in materials science, electrochemical systems, and sustainability research. The company currently has 44 employees and is based in Somerville, Massachusetts.
Ellis is a co-owner of a patent for making sodium-ion batteries, while Chiang has been a professor at the Massachusetts Institute of Technology's Department of Materials Science and Engineering since 1985.   
What problem does Sublime solve?
Cement is the largest source of industrial CO2 emissions, responsible for 8% of global CO2 emissions. If it were a country, it would be the third largest emitter after China and the US. Reducing CO2 emissions is a global imperative for the world to achieve net zero by 2050 and limit global warming to 1.5°C, but the demand for cement will continue to rise with the need to house the world's growing and urbanising human population. 
It is estimated that 75% of the infrastructure that will exist in 2050 has not yet been built, which will lead to a massive increase in demand for cement, which necessitates new approaches to producing low-carbon cement. 
Sublime's response is to avoid – not capture – CO2 emissions from limestone and fossil fuels while producing cement that meets the needs of ready-mix concrete producers. It says that its process is the only one that can produce an industry-accepted calcium-based cement without using fossil fuels or limestone and without the extra energy, cost and complexity associated with carbon capture and storage. 
Making cement without limestone
Today's cement is made in coal-fired kilns, in which limestone (calcium carbonate) is thermally decomposed and sintered with silicate to make Portland cement. The process requires very high temperatures, in excess of 1400°C, which are generally achieved by burning coal or gas. The limestone input material releases nearly half its weight as CO2 during the process. Limestone and fuel emissions from cement amount to 8% of global CO2 emissions.
Portland cement is the most common type of cement in general use around the world and is usually made from limestone. It is a basic ingredient of concrete, mortar, stucco, and non-speciality grout. It was developed from other types of hydraulic lime in England in the early 19th century by Joseph Aspdin, and is usually made from limestone.
Sublime's technology avoids both sources of CO2 emissions by using an electrochemical process to break down calcium-bearing minerals and convert them into reactive cement. That allows the company to create the same hardened cement that society depends on at ambient temperature, meaning that it can be easily powered by renewable energy without releasing carbon dioxide. It can source lime not only from limestone but from a variety of abundant calcium sources, including noncarbonate sources and industrial wastes such as coal ash. 
Its product, called Sublime Cement, is an ASTM-compliant drop-in replacement for today's carbon-intensive Portland cement. ASTM International (formerly known as American Society for Testing and Materials), functions as an international standards organisation.
The technical standards are developed via consensus by committees of industry professionals for a wide range of materials, products, systems, and services. The standards are developed and updated regularly in an open and transparent process which includes test methods, specifications, guides, and practices. 
Where is Sublime in its journey?
The company can currently produce cement at a rate of 100 tons per year. It raised $40 million in January 2023 to ramp up production at its pilot plant, conduct product testing with customers, procure advance offtake agreements, and prepare for the construction of a larger demonstration-scale plant.
The next big milestone for the company is to deploy Sublime Cement in the field across 2023 and early 2024. It is also hiring new people to expand its team.
What is your target market or what is the total addressable market?
The total annual cement market is approximately $492 billion, with a production rate of 4 billion tons per year, which is only projected to increase. Within this vast market, the demand for low-embodied-carbon construction materials is accelerating, driven by public sector regulations and incentives, private sector net zero commitments, and efforts such as the First Movers Coalition. First Movers Coalition is a group that includes the US government and 65 companies, committed to scaling technologies to address industrial emissions through advanced offtake agreements. 
Sublime says its business model is to sell cement to ready-mix concrete producers. Ultimately, it may consider a licensing model in order to have a swift and massive impact on global CO2 emissions.
What are your biggest challenges?
Sublime sees their biggest challenge in convincing others that their solution completely re-imagines the cement-making process, yet still produces the same end product.
The company says: "This takes some time to wrap your head around, and we've faced some considerable—and understandable—scepticism. But we've been able to prove that our process works, and product testing and validation are a huge focus of ours. Test after test has shown that our cement meets or exceeds a host of industry standards, from strength to flow rate to set time to durability. Beyond that, we're facing the same challenges as any other company working to rapidly decarbonize heavy industry."
What's your next big milestone?  
The next big milestone for the company is to see the deployment of Sublime Cement in the field within the next twelve months. It is also hiring more people to expand its team.
With the close of its Series A funding, the company plans to complete piloting the development of its product and will begin the process of scaling its solution. The next step in its plans is to build a demonstration plant capable of producing up to 40,000 tonnes a year, which Sublime expects will be completed in two to three years. At that point, the company will be able to fill silos with its cement, and supply the minimum quantity needed for ready-mix concrete suppliers to start using its cement commercially. 
The company adds: "Our final phase will be to scale production to one million tonnes a year by 2030, if not sooner. At that time, we're confident that we'll meet cost parity with today's cement. As we finish our pilot phase and work towards our demonstration phase, our current focus is on product validation, building our team, and daily conversations with our customers to understand their needs and secure advance offtake agreements."
How can you create synergies in your sector/where would you like to see collaboration? 
Sublime says that it is in constant contact with major players from the cement and construction industries to understand their needs and how best to bring its technology to market. Although there is a lot of interest in decarbonisation within the cement industry, the company says, it must first prove itself on the basis of performance, price, and scalability. It has found a willingness among industry players to collaborate, and is actively looking for partnerships.
Who are some of your major clients and/or partners?
Siam Cement Group (SCC.BK), the largest cement producer in Southeast Asia, was a strategic investor in Sublime's Series A round. According to Sublime, SCG is highly tech-forward and committed to sustainability. For example, it announced a $3 billion investment into renewable energy development and towards decarbonising its chemicals and building materials business in December 2022.