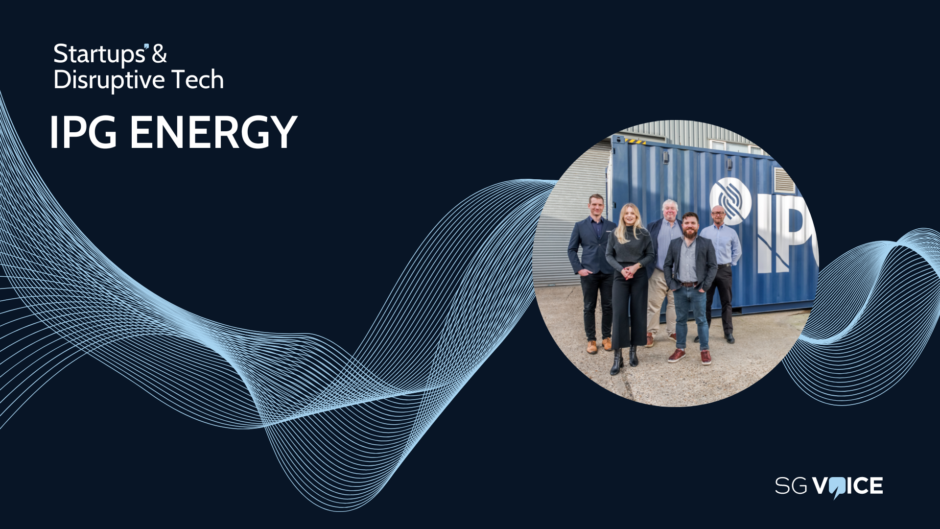 IPG Energy has developed a fuel-agnostic generator to help companies in hard-to-abate sectors transition away from diesel while ensuring security of supply.
IPG Energy was founded in London, UK, in 2016. Its founding team includes Toby Gill, Martin Rushton-Turner, John Grainger, Brett Moolenschot and Lauren Franklin. To date it has secured £7 million in funding. This includes £4 million in pre-seed capital from its founding team and a £2 million seed round, led by angel investors in March 2021.
This was followed by a second seed round in September 2022 of £1 million, led by existing shareholders and EIS fund GreenTribe, with over £300,000 coming from equity funding platform Seedrs.
What is your product and how does it work?  
The company has developed the IPG Flameless Generator, a fuel-agnostic generator that uses its patented flameless combustion technology to deliver pollutant-free power from any fuel. Unlike incumbent generators, or single-fuel renewable generators, IPG's generator is designed to operate on hydrogen, biogas, biomethane and hydrotreated vegetable oil, as well as natural gas and diesel. 
According to IPG, this enables businesses to decarbonise their operations without uncertainty in hydrogen or biofuel supplies, therefore diminishing the risk to energy security. This is expected to accelerate the transition from diesel generators thanks to the guarantee of energy security.
What problem does IPG solve?
The company's mission is to accelerate the transition away from diesel in hard-to-abate sectors, starting with the construction industry. The diesel generator market is projected to almost double to $30 billion by 2030, but the continued use of this polluting technology is stalling the transition to net zero in these sectors.
IPG says: "We are working with construction companies to demonstrate that our pollutant-free, fuel-agnostic generator offers businesses in hard-to-abate sectors the most rapid and secure route to accelerating the transition to renewable fuels and replacing their diesel generators at scale."
"From construction sites, to festivals, and even wind farms, diesel generators are everywhere. To switch from the diesel genset to a renewable alternative such as hydrogen fuel cells, businesses need confidence they will be able to access the fuel they need, when they need it, at a price they can afford," the company adds. "At a time when supply and costs of renewable fuels are still uncertain, businesses are forced to make a decision between failing to meet their climate targets or putting their operations at risk by sacrificing energy security."
By replacing their diesel generators, IPG says it can offer significant lifetime carbon reductions and sustainability benefits for its customers, including cutting pollutant emissions which cause up to 36,000 deaths in the UK a year.
What do you perceive as being your biggest challenge?
IPG's biggest challenge is validating the cost-effective and rapid route to scale up production capacity. It has addressed it by designing a product that does not rely on expensive or complex manufacturing processes. 
It is also working with the Institute for Advanced Manufacturing and Engineering, and manufacturing experts SDE Technology to co-develop the blueprint for manufacturing its product. The collaboration is intended to ensure a rapid and low-cost route to scaling volume production capacity through 2025. IPG is looking to build confidence in the performance and reliability of its product among its customers, so that it can secure an initial order book and match production capacity with customer demand.
What is your next big goal or milestone? 
Over 2023, the startup will conduct a large-scale trial with a major UK construction company to demonstrate how its product can support the decarbonisation of their day-to-day operations at scale. It plans to work on further trials in the UK and US markets, expanding to additional sectors where replacing diesel generators poses an equally significant challenge, such as the marine, mining and microgrid industries.  
It is also launching a Series A funding round in the second quarter.
Who do you consider your biggest rivals?
The company says that its main rival is clean generators developer Mainspring Energy, though UK engineering group Cosworth and US-based generator maker Cummins are also bringing fuel-agnostic generators and platforms to market. 
"These offer the same generic benefits of fuel-flexibility to businesses, but use different core technologies to achieve this. The type of technology used influences the applications to which each are best suited," IPG comments. "There are also battery storage solutions and single-fuelled renewable generators like hydrogen fuel cells. But we believe there is a place for all these solutions in our future net-zero energy mix."
Indeed, the startup says that other, single-fuelled renewable generators are not achieving market share. This is because it is difficult to grow the alternative generator market if the market of its equivalent fuel is stalled, as generators are intrinsically linked to the fuel they use. As such, it reckons that fuel-agnostic generators can break this link, as their market can grow unconstrained by the fuel's.