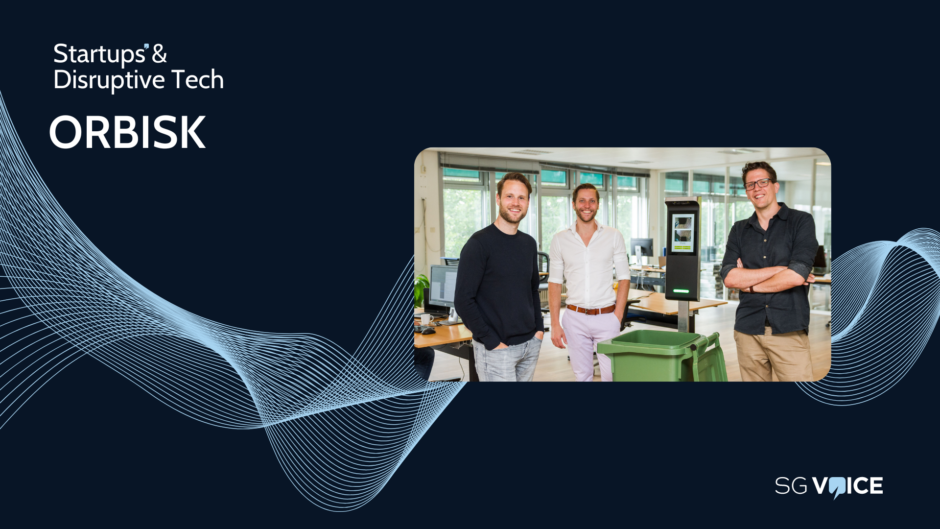 Orbisk's technology helps professional kitchens to reduce their food waste while saving an average of up to €60,000 per year. 
The company was founded in 2019 by Olaf van der Veen, Richard Beks and Bart van Arnhem. Based in Utrecht, it has received grants from Stichting DOEN, the European Commission and the Eureka Network. With the addition of its pre-seed and seed fundraising rounds, Orbisk's total investment to date stands at approximately €5.4 million. 
What problem does Orbisk intend to solve?
According to the UN Food and Agriculture Organization, roughly a third of the food produced worldwide is wasted rather than consumed. This is concerning not only in terms of food supplies, but also the inefficient use of scarce resources such as fresh water and arable land. At the same time, food waste is a major driver of environmental degradation, pollution and climate change, with estimates suggesting that it accounts for between eight and 10% of global greenhouse gas emissions. 
At the later stages of the supply chain, the carbon intensity of food waste reaches its peak. This is because the emissions associated with its production and decomposition are added to by those of its processing, packaging and transportation. As such, the impact of food wasted by the hospitality and food service sector is even more severe than that of food wasted prior to leaving the farm. 
Orbisk was founded with the mission of eliminating this waste, thereby addressing its multiple consequences. "We believe that it is our responsibility to be a part of the solution. By providing innovative technological solutions, we aim to make a positive impact on the world and contribute to a more sustainable future," says  Olaf van der Veen, the company's chief executive.
Target market
With its focus on reducing the food waste of professional kitchens, Orbisk has also been able to devise a notable value proposition. "This is where the savings potential is high and where a lot of impact can be made in terms of food waste," Van der Veen explains .
Indeed, the company claims that the use of its technology can help an individual restaurant to save between €20.000 and €60.000 each year.  According to digital marketer Jeroen Feron, this is the equivalent value of between 3,000 and 9,000 kg of wasted food.
To date, Orbisk has largely targeted caterers, restaurants, and hotels. As its business grows, it will continue to explore further opportunities in industries such as healthcare or aviation. Already, it has launched a number of pilot projects, extending from the Netherlands to enter additional markets including Germany, France and the UK.  
Currently, more than 200 of its devices are active in 11 countries spread across five different continents. Initial partners include Harbour Club restaurants, Leiden University Medical Centre and Albron catering. 
How is Orbisk tackling kitchen food waste?
Orbisk has developed a plug-and-play solution that relies on its advanced camera system to tackle kitchen food waste. The automated device uses artificial intelligence (AI) to identify ingredients that are being thrown away, generating valuable insights that are displayed on a simplified dashboard.  
With this data in hand, users can then begin to optimise their supplies, purchasing and menu planning. By making practical changes based on its quantified insights, Orbisk claims that an individual restaurant can reduce its food waste by over 5,000 kg per year. 
What challenges does Orbisk face, and how can they be overcome?
According to Orbisk, each kilogram of food wasted by professional kitchens represents around 4.5 kg of CO2 emissions and 7,000 litres of freshwater consumption. Perhaps more alarming to businesses, this single kilogram also translates into an average loss of €7. 
Currently, however, the company says that its biggest challenge lies in the fact that most kitchens are yet to notice or measure these issues. 
"Awareness about food waste is far from universal. This means that professional kitchens do not know the impact of food waste or are unaware of their own food waste and how to prevent it," Feron observes, noting that technology can only go so far without a broader shift in mindset and motivation. 
Orbisk believes that this challenge can be overcome by the simplicity of its system. "Technology should never impede the kitchen process or take up too much time," says Feron. "The chef is busy managing his kitchen and satisfying his guests. There is no time or room for people to stand next to the bin and register in a busy place like the kitchen." 
By offering direct insights into the savings opportunities of reductions in food waste, without requiring any additional time or resources, the company has devised a solution that does not compete with the needs of a smooth-running operation. The idea is that this will highlight the issues associated with food waste while lowering the barriers to the adoption of effective solutions. 
"With this mindset, we will expand our current product range in the future. Together with clients worldwide, we are looking at how we can offer a solution for every professional kitchen to combat food waste," adds Van der Veen.  
What next for Orbisk?
The company's next steps will be to expand further across the globe, with its ultimate ambition being to see its equipment becoming a standard feature of every new kitchen built. It is also working with various parties to maximise the value of the data it collects. 
"It is extremely interesting to be able to combine your food waste data insightfully with, for example, data on purchases, sales, recipes, reservations, etc.," Feron explains. "Based on this, we are working on consumption predictions. Think for instance of predicting what you need to buy in a kitchen, when food is about to expire, or how many guests are approximately expected. The last example can also be further refined with external datasets, such as weather forecasts or Google Trends." 
As these developments unfold, Orbisk plans to develop an integrated 'Smart Assistance' platform, essentially creating an AI-powered helper that can offer a wide range of guidance. This could include advice on purchasing and sales, an estimate of how many guests are expected, recommendations on how many staff will be needed, or the management of dynamic pricing strategies. 
With these added capabilities, Orbisk's solution would become even more useful to professional kitchens, potentially reaching those that are yet to recognise waste as a problem. As they look more closely at their data and take note of its high cost, those vital shifts in mindset and motivation may begin to appear of their own accord.