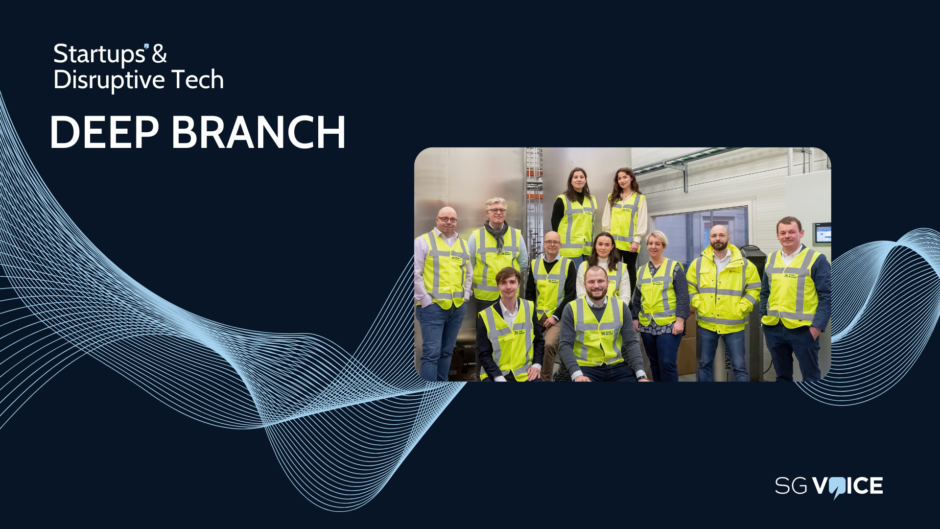 Deep Branch has developed a gas fermentation platform to produce sustainable animal feed.
Deep Branch was founded in 2018 by Peter Rowe, now its chief executive, Rob Mansfield, now its chief technology officer, and Bart Pander, who is no longer part of the business. It is based in Delft, the Netherlands, and Nottingham, UK.
What does the company do?
Deep Branch uses clean and renewable carbon and energy sources to create ingredients for a more sustainable food system. Its proprietary gas fermentation platform, (R)evolve, uses carbon dioxide and hydrogen to enable natural microbes to produce a range of high-value products.
Its first product is Proton, a single-cell protein developed for the animal feed industry. It is made from locally sourced ingredients and has a bespoke nutritional profile produced from microbes grown on clean and sustainable carbon dioxide.
The company says that Proton provides security, transparency and traceability and is 60% less carbon-intensive than conventional proteins. Its nutritional profile can also be tailored using the (R)evolve gas fermentation platform to meet animal feed producers' demand for precision nutrition.
What problem is Deep Branch solving?
The company is targeting traditionally carbon-intensive industries, such as aquaculture, to help them become more sustainable, as there is a strong demand for sustainable animal protein and nutrition. For instance, the environmental footprint from feed ingredients accounts for over 78% and 69% of the cumulative footprint of broiler chicken and farmed salmon production, making animal feed a key element to address.
"With Proton, we aim to offer a sustainable alternative to other aquafeed protein ingredients with higher environmental impacts," the company says. "However, lower-impact feed ingredients are just one factor for a significant reduction in CO2 to be realised in the final product that reaches end consumers. The entire value chain needs to participate in reducing its carbon footprint, from ingredient provider to farmer and distributor to retailer."
It adds: "While we're currently focusing on developing Proton for salmon feed, poultry feed, shrimp and other fish, we already have a solid product development pipeline for second and third-generation biomass derivatives and non-biomass products. These include amino acids, carotenoids and even markets non-related to food systems, such as bioplastics and fine chemicals."
What is the driving force behind your business?
The company says: "Our team is driven by a shared desire to positively impact the world by using natural microbes in a new biotechnology process. Moreover, our locally-produced ingredients have up to 60% smaller carbon footprints than traditional alternatives, with no arable land requirements and minimal water usage. With benefits such as these, we are tackling the climate crisis and addressing biodiversity loss by helping secure the future of the global food system without consumers compromising on nutrition or quality."
It adds: "Our mission is to utilise clean and renewable carbon and energy sources to create high-quality ingredients. We also intend to collaborate with local providers of our strategic raw materials to identify the best sites that offer sustainable input supply, subsequently helping to develop local economies."
What do you think it will take to scale up your product and on what timeline?
The company plans to develop its current lab-scale and pilot production of Proton to full commercial-scale output after 2028. It is expected to have a capacity of 3 tonnes per annum, and it will help de-risk industrial sources of CO2 and H2 and finalise feed optimisation.
Once the pilot production is fully operational, the next stage of the commercial rollout strategy will be unveiling its market launch facility, which is expected to have an annual Proton production capacity of 250 tonnes. From there, Deep Branch plans to move into commercial-scale production of 73,000 tonnes of Proton per year.
Funding to date
Deep Branch closed an €8 million Series A investment round in March 2021. It was led by Novo Holdings and DSM Venturing, with the participation of Total Carbon Neutrality Ventures and Barclays Sustainable Impact Capital.
In June 2022, it secured £4.8 million in funding from the UK Government's Department for Business, Energy & Industrial Strategy £1 billion Net Zero Innovation Portfolio. The grant was part of the £20 million Carbon Capture, Usage and Storage (CCUS) Innovation 2.0 programme intended to accelerate the deployment of next-generation CCUS technology in the UK.
The company is targeting a Series B funding round during the second half of 2023, deemed "a crucial stepping stone toward our next growth phase" to enable the construction of its market launch facility. While the majority of the Series B funds will be used to finance the construction, they will also help fund the expansion of the team as well as research and development facilities in the Netherlands. Additionally, some money will be used for feasibility studies and the design of the first commercial plant.
What do you perceive as being your biggest challenge?
Deep Branch acknowledges that there are potential risks in scaling and demonstrating its technology. Two of its biggest challenges relate to scalability and the safety of the fermentation process, during which hydrogen – a flammable compound – is mixed with oxygen. This means there is a safety risk that must be controlled with the proper precautions.
The company adds: "We're working with two external parties to overcome these challenges. One party is helping us to develop the concept and determine the feasibility of our commercial plant. Meanwhile, we're working with another company on our reactor design, the safety of our fermentation process and overall plant configuration."
Who do you consider your biggest rivals?
LanzaTech and Calysta were early movers in the gas fermentation market and are now producing at commercial scales, Deep Branch notes.
"We're part of the second wave of gas fermentation technologies using aerobic technology alongside the likes of Novo Nutrients, Air Protein and Solar Foods," it adds.