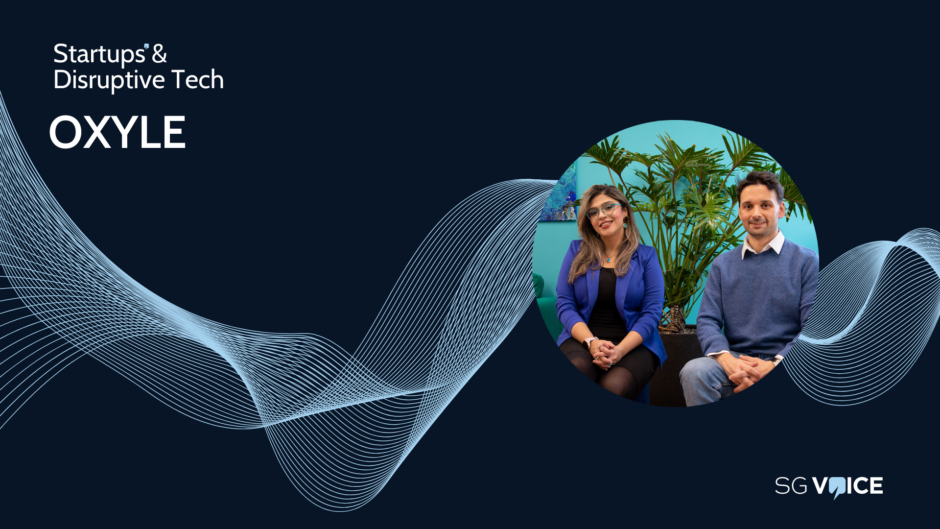 Oxyle has developed wastewater treatment solutions for the complete elimination of micropollutants for industrial customers.
Oxyle was founded in Zurich, Switzerland, in 2020 by Dr Fajer Mushtaq, Dr Silvan Staufert, Prof. Bradley Nelson and Prof. Salvador Vidal.
What does the company do?
Oxyle provides wastewater treatment solutions for the complete elimination of micropollutants such as per- and polyfluoroalkyl substance (PFAS), industrial chemicals, pesticides, pharmaceuticals and others, using its oxidation-driven catalytic process.
Unlike its competitors, its technology does not rely on the use of filtration or absorption to remove pollutants from water, as Oxyle says this "simply shifts the problem from one source to another". Instead, it uses its patented water treatment process which is driven by its novel nanoporous catalyst activated by clean energy sources such as vibrations, bubbling, stress and light towards the complete degradation of micropollutants in-situ.
What is your product and how does it work?
Oxyle has developed a decentralised water treatment and real-time monitoring technology. Its plug-and-play, modular reactors treat wastewater containing persistent and toxic pollutants. The reactors are integrated with the startup's novel catalyst that mineralises micropollutants, leaving behind water that is safe to discharge or even reuse on the customer sites.
Additionally, it has integrated the reactors with sensors that provide real-time feedback on water quality data and guarantee effective treatment for customers. In the future, Oxyle plans to provide this real-time data on specific micropollutant concentrations to customers as part of its analytics services.
The startup claims that this process provides its industrial customers with a scalable, sustainable, and efficient treatment while imposing low operational expenditure and footprint.
"By using our technology our customers will be able to reduce their blue water consumption by reusing treated effluents," the company says. "Additionally, our treatment directly replaces the use of incineration for handing wastewater, by putting an end to burning of wastewater and eliminating incineration of used absorbent materials such as activated carbon. Hence, we empower our customers to reduce their carbon footprint, reduce their water use, and protect the health of our natural resources against micropollutants."
What market are you targeting?
The company works with industrial customers such as chemical and agrochemical industries, textile and pharmaceutical companies. The industrial wastewater treatment market is expected to reach $174.9 billion by 2029, with annual growth of 5.8%.
This will be driven by the increasing prevalence of waterborne diseases, stringent water treatment regulations and a lack of freshwater resources, according to researchers. Stronger demand for energy-efficient and advanced water treatment technologies and increasing demand for wastewater recycling, reuse of water, and biogas generation are expected to create significant opportunities for companies in the space.
Oxyle is also addressing the remediation of PFAS-contaminated waters, which is estimated to total $6.1 billion across this decade. The topic has been less prominent in Europe, but has been gaining traction rapidly at the start of the year following an investigation that revealed the extent of the damage in the region. Indeed, the total cost of required remediation projects globally is forecast to be $1 trillion.
How much money have you raised to date?
It has raised $7 million so far, including from EU grants and competitions and a $3 million pre-seed round in November 2022.
Who do you consider your biggest rivals?
According to Oxyle, the main rivals are the new technologies that are treating wastewater using filtration methods, since filtration is a highly scalable and market-validated technology.
The startup notes that, however, even the most innovative filtration technology requires to treat the concentrated wastewater left behind from their filtration process. As such, it does not consider filtration technologies as direct competitors but rather as "a strong synergistic partner" to grow and tackle the micropollutant problem completely.
What do you perceive as being your biggest challenge?
The company says: "Scaling our operations with standardised products in a big, fragmented, and diverse industrial wastewater technology market."
"We are currently setting up several customer pilots in Europe to gain customer feedback and testimonials. We will be launching our first full-scale implementation industrialised batch reactors by end of 2023."
What is your next big goal or milestone?  
"Building our executive team and obtaining customer contracts in key segments," Oxyle concludes.