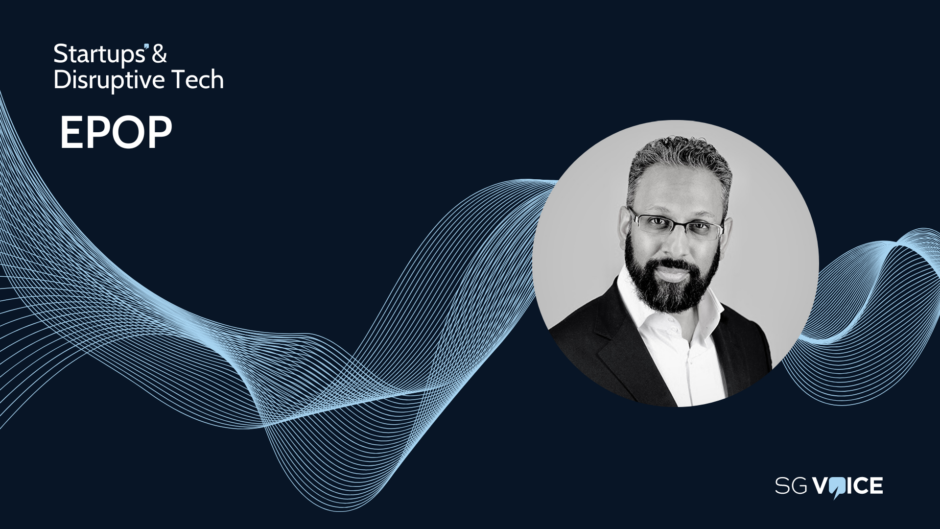 ePOP has developed an app to provide digital receipts, eliminating the need for paper copies, while delivering retail merchants data, analytics and insights on their customers.
ePOP has designed a platform to generate digital receipts and store them in one place.
The classic 'paper' receipts cannot be recycled because they are coated with an industrial chemical used in plastic manufacturing, making them a plastic hybrid.
As many countries move to cashless payments, the digital receipts industry is expected to rise rapidly, reaching $2.3 billion by 2027.
ePOP was established in 2021 by Sunil Rajan, Sunay Shah and Amber Skinner-Jozefson. It has offices across New York, London and Dubai. It closed its first $2 million seed round in 2022, led by Bonbillo Ventures. It is raising an additional $2 million seed round in February 2023.
What is your product and how does it work?
ePOP is an ecosystem connecting consumers and retailers to generate digital receipts, eliminating the need for paper copies. The benefit for consumers is that they can collect their receipts in one app, instead of receiving multiple email receipts, while taking steps to reduce their individual carbon footprint. By using the platform, they do not share their email address with the retailer.
Retailers, in turn, are rewarded with consumer behaviour data. The technology anonymises all consumer data, which ePOP says does not comprise data privacy laws nor impinges upon any GDPR regulation. Moreover, the merchants gain free marketing from appearing on the platform, and can position themselves as an eco-conscious businesses to their customers.
The startup also plants trees on behalf of its users to achieve carbon-negative transactions, when consumers register onto ePOP or when they accumulate digital receipts. To date, it has planted 150,000 trees across four continents, from Redwoods in California to Mangroves in Honduras, Madagascar and Nepal.
To ensure the quality of these credits, Rajan says that ePOP works with "several high calibre tree planting agencies", such as American Forests, Ecologi and One Tree Planted. "We work with Veritree that verify, digitise and store the ePOP impact through blockchain," he adds.
What is the driving force behind your business?
ePOP's mission is to eliminate paper receipts, as 90% of them cannot be recycled because they are coated with a thermal film called BPA (Bisephenol-A), an industrial chemical used in plastic manufacturing. This means they are a hybrid plastic which can only end up in landfill. Each paper receipt produces 2.5 grammes of carbon from production, through print and to landfill. The UK alone produces 11 billion from the 300 billion global annual receipts.
In 2022, 90% of transactions in Europe were contactless: our society is moving towards a cashless society so, according to ePOP, it appears "archaic" that end of a retail transaction we are handed a paper receipt, impacting the environment. Indeed, the digital receipts market is estimated to reach $2.3 billion by 2027.
How did you get the idea of addressing paper receipts?
"Working in large corporates for most of my career meant I was exposed to the laborious and painful task of expense submission. This took the form of taking photographs of receipts for submission," says Rajan. "However, I later learnt that the mounting residual paper receipts themselves cannot be recycled."
He adds: "My cofounder and I were shocked to learn there was no solution that could produce a digital receipt instantly at the 'Point of Sale'. This was the problem we went to solve – developing an ecosystem connecting consumers and retailers whilst promoting sustainability for all."
What do you perceive as being your biggest challenge?
The startup says that its biggest challenge is retailers not moving forward to a more sustainable solution for fear of change.
What do you think it will take to scale up your product and on what timeline?
Since its launch in January 2023, ePOP reached over 8,000 people in its ecosystem. Scaling the platform will require a steady engagement model with retailers and community building with consumers. This is why ePOP launched the BeOne community, intended to bring together ethical and sustainable retailers with environmentally minded consumers.
What is your next big goal or milestone?
ePOP's next big milestone is launching its Consumer Environment Impact Score (CEIS). The idea is to capture the product level carbon impact of every item that consumer purchases, reflecting back an individual's Environmental Impact Score on how well they are selecting items that produce a low carbon footprint. This is "similar to how a credit score measures an individual's creditworthiness ePOP is measuring an individual's environmental integrity", explains Rajan.
Who do you consider your biggest rivals?
"ePOP's biggest rival are the retailers," says Rajan, "because they often have loyalty apps that could capture a digital receipt. However, the consumer challenge is that an individual may need to download 100 retailer apps to capture their receipts. ePOP is agnostic and aggregates all receipts across all payments cards in one place – whilst protecting consumer data privacy."