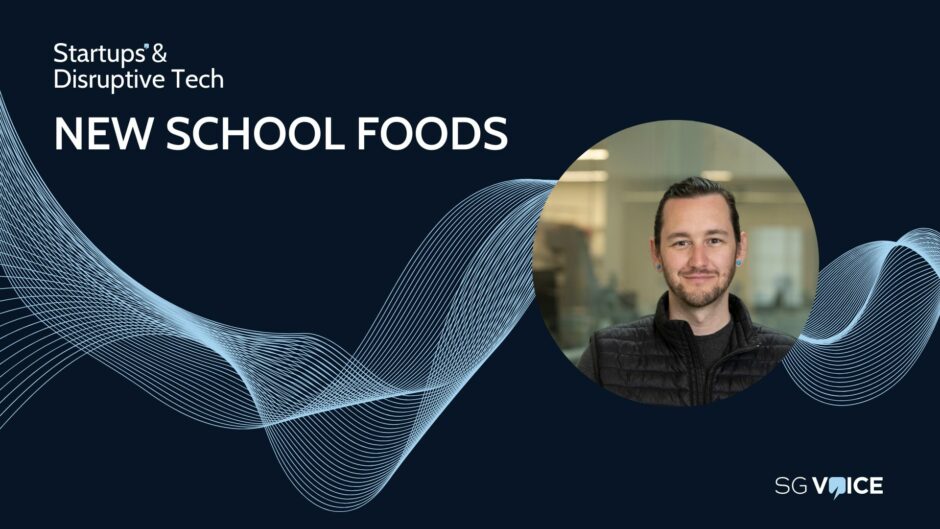 Canadian startup New School Foods has developed a proprietary platform to create whole-cut, plant-based salmon that starts raw and cooks like wild fish.
New School Foods was founded in Toronto, Canada in 2020 by Chris Bryson.
What is your product and how does it work?
The startup has developed a proprietary muscle fibre and scaffolding platform to create whole-cut meat alternatives using cold-based production processes.
It claims its technology marks a number of firsts for the meat alternative industry because it replicates muscle fibres made from plants, creating a whole-cut presentation. These fibres are tuned to replicate the diameter, length, strength and structure of fish muscle fibres while delivering the same texture and mouthfeel, resulting in a whole-cut product.
Moreover, the cold-based processing technology creates a filet that starts raw and cooks like wild fish, unlike many other products in the market that are pre-cooked by production. New School Foods says it uses off-the-shelf equipment, so its technologies can operate at a global scale.
"We believe whole-cuts are the next frontier for the alternative protein industry. Thanks to this unique processing technology, we were able to create a plant-based salmon filet that looks, cooks, tastes, and flakes just like ordinary salmon – and it's the first of many more to come," the company says.
What drove this choice?
New School Foods works in the meat alternative/plant-based foods industry that exists to create a kinder, more sustainable food system by emulating the same texture, taste, nutritional benefits, and cooking experience of conventional seafood.
From greenhouse gas emissions generation to animal cruelty, the meat industry we know today can be extremely harmful to the environment. This drove Bryson to invest in the alternative protein space, the company says, "but he quickly learned that there are limited tools in the production toolkit available to create plant-based alternatives, especially when it comes to replicating whole-cut structures."
Indeed, the plant-based meat alternative industry is dependent on high-moisture extrusion, one of the few processing techniques that can achieve scale, but which sacrifices product quality. Moreover, longstanding techniques that rely on high-temperature processing pre-cook the food and denature proteins, resulting in a ground, pre-cooked product that lacks texture, structure, and taste.
"We set off to address both of these issues when New School Foods was first founded. Chris Bryson conducted a call for research proposals in search of new technology tools that make recreating the texture, taste, and raw-to-cooked transition of conventional meat and fish accessible and scalable. We received responses from the most highly esteemed food science programs," the company adds.
"This overwhelmingly positive wave of responses brought us in contact with scientists and researchers that shared our passion to open up the plant-based industry to new possibilities. As a result, six proposals were accepted and received funding. One of those proposals – written by food scientist and post-doctoral researcher, Auke de Vries, PhD – gave us the directional freezing and scaffolding technology we use today for whole-cut products. Since then, Auke has joined New School Foods full-time as Lead Food Materials Scientist."
How much money have you raised to date?
The company announced $12 million in seed funding in February 2023. The round was led by Lever VC, with participation from a range of investors. New School Foods also received grants from agencies including Sustainable Development Technology Canada and Protein Industry Canada.
What do you perceive as being your biggest challenge?
New School Foods says that a key challenge has been finding professionals with the expertise required to recreate the sensory experience we get from cooking and eating conventional meat and fish. Being based in Canada added to this issue because of the lack of established alternative protein companies in the region.
The company comments: "To draw in the right candidates, we needed to focus our efforts on finding creative ways to grab their attention and developing an attractive environment they would want to work in. The first step was running ad campaigns on LinkedIn and Facebook targeted to employees of our competitors that highlighted our new, unique technology and guided them to a microsite designed to entice them to apply."
"As we identified top candidates, we flew them out to Toronto so they could see our facility. It's worth noting that Toronto is one of the world's most desirable cities to live in, and we spent months finding the right location: a 30k square foot facility in the heart of downtown that's zoned for us to support a large R&D lab, a pilot assembly line, and a beautiful office space," it adds. "Touring the facility helped us seal the deal – they were able to see firsthand how our technology is poised to revolutionize the meat alternative industry and the way we eat."
Since then, New School Foods hired a senior scientist from Beyond Meat (NASDAQ:BYND) and a director of flavour and sensory experience from outside Toronto, although it is still expanding its team. It says that its candidate pipeline includes talent from major industry players such as Impossible Foods and Beyond Meat.
What do you think it will take to scale up your product and on what timeline?
According to New School Foods, its technology process is both scalable and sustainable. This is because it uses basic, off-the-shelf equipment that allows them to work efficiently and produce at scale, without relying on unproven technologies that lack scalable production hardware.
Its pilot facility is currently being designed to produce an amount of output comparable to a standard high-moisture extrusion facility. Scaling production, however, remains a large focus for the startup at the moment.
Who do you consider your biggest rivals?
The company says most plant-based protein companies today are largely focused on red meat and ground products, such as nuggets and patties, attempting to recreate red meat. "This is a testament to the limited production toolkit available to these companies – what exists today is great for burgers and nuggets, but cannot produce a raw, whole-cut filet," it adds.
As such, it identified "a major market opportunity" in plant-based seafood and whole-cuts, the latter of which represent the majority of all meat sales in the US. One of its major competitors in those two spaces is Plantish, which also created a whole-cut salmon filet. There are other companies in the broader plant-based seafood space, such as Bluu Seafood, ISH Company, and Gardein, taking different approaches to developing their products.
New School Foods adds: "We see the growing number of companies entering the plant-based whole-cut and seafood spaces as a positive for the industry because many of us have the same goal: addressing a large part of the food chain to ensure the greatest environmental impact possible."
What is your next big goal or milestone?
"With alternative seafood products, there's a generic 'fishy' flavor that doesn't quite distinguish the unique flavors we taste from different fish," the company concludes. "Now that we've unveiled our salmon filet, we're working in collaboration with the chefs and restaurants enrolled in our chefs-only pilot program to fine-tune how our product tastes and make sure it's on par with the wild salmon served in restaurants."